Remember Mike Sherrard?
Probably not.
The Dallas Cowboys picked the wide receiver in the first round (No. 18) in 1986, and he started out pretty well until he broke his leg. He eventually went on to play with several other teams and broke his leg or other important bones at every stop before retiring after 11 painful years.
So FOX Sports in its finite wisdom named him the Cowboys worst ever draft pick.
Troy Aikman was named the best draft pick.
They're wrong on both counts.
Aikman was the most productive and successful Cowboys quarterback of all time and worth every penny he ever made in Dallas. But the team was so awful the year before, they had the first pick of the 1989 draft. Picking Aikman was a given. That took no brains or balls. Even Jerry Jones couldn't screw that up.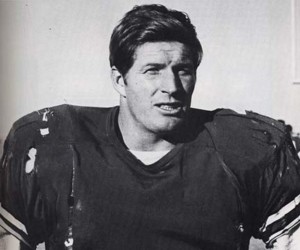 The best all-time draft pick for the Cowboys was the team's first ever — Bob Lilly in 1961 with the 13th pick. Here's a brand new franchise in North Texas needing to make a big splash to win over fans who weren't interested in pro football at the time, and the Cowboys choose a quiet, unassuming defensive tackle?
It turned out to be a masterful pick. Lilly was a local kid who played at Texas Christian University, anchored the Cowboys "Doomsday Defense" for 14 years, became known as "Mr. Cowboy," sacked Miami Dolphins quarterback Bob Griese for a 29-yard-loss in the Cowboys first Super Bowl victory in 1972, and was enshrined in the Pro Football Hall of Fame.
My favorite memory of Lilly is him throwing his helmet almost the length of the field after the Cowboys lost its first Super Bowl the year before on a last-second field goal by the Baltimore Colts.
Which brings us to the worst draft pick.
Sherrard was a disappointment, sure. But he worked his ass off, persevered through numerous injuries, and was one tough SOB. For the same reasons, I can't call Billy Cannon Jr. the worst. Cannon was drafted 25th overall as a linebacker in 1984, but suffered a spinal injury his first season and was forced to retire.
The worst draft pick was running back Bill Thomas, taken with the 26th pick from Boston College. He lasted a year with Dallas, never carried the ball in a regular season game that first year, and played with three different teams in three years before leaving the NFL.
Having said all of this; a new best or worst pick might be on the horizon.
The 2013 NFL draft begins tomorrow.