When Randal Goodwin heard the rumble outside his home in rural Cleburne, just before 8 p.m. on April 17, he thought it was thunder.
"We were edgy," Goodwin said. "We were still reeling from the Boston bombing on Monday and the nonstop news coverage. And it's weird to hear a single rumble of thunder, with no other weather indicators outside." He and his wife, Grace, searched the sky and turned on the TV but could find nothing to explain the sound. Until the phone rang.
Nearby, in the offices of the Johnson County Emergency Services District, Mike Johnston was working uncharacteristically late. The executive director was talking over the potential of students in a new emergency medical technician (EMT) class with the instructor. The first class session had broken up around 7:30 pm.
"It was really strange," Johnston said. He speaks in a confident, casual way — the kind of guy you want to have in charge in a crisis. "We heard the rumble, and we were sure it was an earthquake." Then one of the ESD dispatchers rushed into his office — there had been an explosion in West, in McLennan County, about 50 miles away.
Johnston and the dispatcher quickly mustered first-responder teams from around the county. "We had a group heading out within the hour," Johnston said.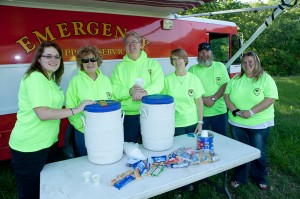 Johnson County sent its mass casualty trailer, a well-stocked vehicle that the district had put together only last year. "Grandview sent a heavy rescue truck, Joshua sent an engine and staff, Rio Vista went, Alvarado sent a tender [water tank truck], and Keene sent an engine, I believe," he said. The ESD coordinates 14 first-responder agencies in Johnson County. Some are volunteer firefighters from tiny flyspecks of rural towns. Others come from larger population centers that may have volunteer departments, paid departments, or a combination.
At the Goodwins' home, it was the dispatcher on the phone. "McLennan County needs anything and everything," Goodwin recalled her saying.
Randal is chief of the Johnson County Emergency Support Services team, and Grace is the assistant chief. The ESS truck is usually parked at the end of their long driveway.
"We didn't have a lot of details," Randal said, "but we knew it was an explosion in West at a fertilizer plant and there were a great number of fire companies responding." Grace began calling members of the team, as Randal got ready. "We were on the road in about 45 minutes," he said.
The ESS team doesn't fight fires, although many on its volunteer squad are current or former firefighters. Its mission is to provide essential backup services on a fire scene. The truck is a respite center for firefighters and emergency medical personnel, providing high-tech help such as circulating cold-water vests for quickly lowering body temperature, along with water, ice, sports drinks, and snacks. The ESS team can also refill firefighters' breathing apparatus and check first responders' vital signs, looking for indications of dehydration or pulmonary or cardiac problems. They tune in to each firefighter who comes in for support.
"We pay attention to how they are doing physically, emotionally, and mentally," Randal said. "We ask what we call grounding questions like, 'Have you eaten?' and 'Have you called your wife?' … Anything to indicate to us that this guy or gal is coping just fine."
When the ESS team arrived in West, Goodwin saw more fire trucks, ambulances, and rescue crews than he'd ever seen in one place.
"It was like a sad parade," Randal said. "Red, blue, and white lights flashing as far as the eye could see in the dark. I've never seen so many apparatus in my life" — everything from small brushfire rigs to ladder trucks.
Police from numerous cities were directing traffic — no easy task, since West had lost all its communications capabilities. Radios, cell towers, and phone lines near the blast site were working intermittently at best.
"It was chaos at first," Randal said. "Then we got a call to 'hold.' That was frightening." There was real concern about a secondary explosion, he said. The Johnson County team braked their truck to a stop immediately.
"I don't want to say that I have trepidation at every fire scene we go to," Randal said, "but that night and the idea of a second explosion brought my accident back to me in an instant."
 ********
Randal lost both of his feet and lower legs as a result of a firefighting accident in 1988. He was helping fight an out-of-control grass fire, walking near a downed power line.
"There was an arc as I walked parallel to the wire," he remembered. "I later learned it was 69,000 volts that entered near my forehead and exited out of my feet. I had second- and third-degree burns over 87 percent of my body." He also lost the sight in his right eye. He was 20 years old.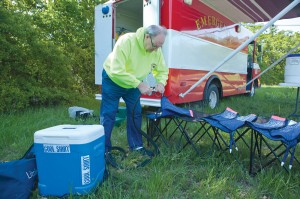 "As far back as I can remember, I had only one desire in life, and that was to be a firefighter," Randal said. He speaks in a crisp, almost military cadence, a no-nonsense guy, with an organized and earnest attitude. He'd started working with the Briaroaks Volunteer Fire Department in Johnson County when he turned 18.
Like everyone in the small, close-knit communities of Briaroaks and nearby Joshua, Grace Houghtaling knew of Randal's accident and checked on him through his parents during his two-month stay in the burn unit at Dallas' Parkland Hospital.
"After a time, I could go home for a few days and return for therapy and rehab in Dallas two or three days a week," he said. He and Grace were already close friends.
Grace's dad was a firefighter and fire commissioner in Cairo, N.Y., her two brothers both became firefighters, and she's always felt part of that brotherhood. She can remember, as a young girl, her father being called to go fight fires. "I'd run over to the window and watch him walk about half a block to the fire station," she said.
When she relocated to Texas in the mid-1980s after a divorce, along with her daughter Melinda, it was no surprise to anyone that she became friends with the young strapping volunteer firefighter and his family.
Grace was a student at what was then Tarrant County Junior College ("Junior" is no longer part of the name), taking classes to become a physical therapy assistant.
"When Randal started coming home from Parkland, his bandages still had to be changed, and his mother simply could not do it." Grace said. She offered to help, and during those visits, the two talked and laughed.
"When I got down — and sometimes, of course, I did — Grace would tell me to stop feeling sorry for myself," Randal said. "She was a great supporter, full of encouragement. She's been the same way as my wife, as a mother, and in every aspect of her life."
With a new husband and, soon, another daughter, Brittney, Grace's dream of working in physical therapy went unrealized. She now has a business making wedding and specialty cakes, and Randal's disability payments help with the bills.
But her penchant for healthcare and Randal's drive to somehow stay involved as a first responder motivated the two to establish the Johnson County Emergency Support Services. The nonprofit uses and distributes supplies from various donors  and receives about $15,000 a year in support from the Johnson County Emergency Services District.
"After what happened to Randal, we just want to do whatever we can to make sure every one of these firefighters goes home," Grace said.
Like Randal, she was upset by the Boston Marathon bombings, knowing what many of the victims will be going through. "Randal will be 46 years old this year, and he's had 44 surgeries. A lot of people who lost limbs are about to go through months if not years of struggle."
In Randal's case, surgeries were necessary to help fully heal the remaining parts of his legs and to reshape each area to fit better into prosthetics. "There's a lot of testing and changing and re-amputations," Randal said. "For instance, my prosthetics are made to fit the pair of Nikes I was wearing that day. So those are the only shoes I can wear, unless we decide to have my prosthetic legs remade." That takes a long time and costs a lot of money.
  ********