In West that night, after an agonizing wait, the radio crackled to life. The hold was lifted, and the Johnson County ESS was routed to a secondary staging site.
At first, fire crews walking by their spot asked for an assignment — "We're ready, where do we go?" — but ESS didn't have an answer. "There were so many crews responding, and the communications were difficult," Randal said. It was eerie for the team to see multiple buildings on fire and to see crews silhouetted by the smaller blazes. "We could smell the smoke coming from all these structure fires nearby," he said.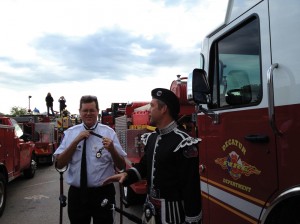 Fairly quickly, the emergency efforts became better organized. As it turned out, the Johnson County ESS team wasn't immediately needed to help firefighters, so they turned to organizing the supplies that were pouring in.
The supplies came "from regular people who just wanted to help," Randal said. "We had pallets of bottled water, a hundred cases at least, and sports drinks, blankets, ice in ice chests, snacks, and fruit." They quickly sorted supplies that could be better used by the Red Cross and took them to that staging area.
ESS team member Donna Montgomery realized that Johnson County dispatchers had mobilized the county forces toward West well before the news story broke. Her full-time job is as one of those ESD dispatchers. She knows firsthand how well and rapidly the emergency coordination can work.
"I don't know if you ever get used to disaster," Montgomery said about the scene she encountered in the middle of the night in West. "We just moved from one staging area to another. You do your job, and you don't think about it."
Grace's responsibilities include monitoring vital signs for firefighters on scene and coordinating supplies and food distributed from the truck. "People around a fire and especially in West are so generous," she said.
When the ESS team decided to stay and cover as many days in West as possible, they put out calls for other supplies. Sun Town RV store in Waco sent sleeping trailers to a nearby campground for the volunteers. Randal and Grace contacted several area restaurants to rustle up more substantial meals for the firefighters whose shifts were ending.
"Many places kicked in down there," Randal said, and the local Veterans of Foreign Wars (VFW) post assembled a cafeteria of sorts to feed displaced civilians and emergency workers alike.
"We can't say enough about how the community of West pulled together to help each other. How neighbors fed their neighbors and offered spare bedrooms, clothing, everything that had been lost," Grace said.
  ********
Even 25 years after his own accident, Randal still hates the smell of hospitals. "That smell brings it all back to me," he said.
But about a week after the explosion, the Goodwins went to Hillcrest Baptist Medical Center in Waco to talk to some of those injured in the tragedy.
Like other hospitals in the region, Hillcrest activated its disaster plan on the night of April 17. About 50 people were treated and released the same night. A dozen residents of the nursing home that was in the path of the blast were treated and sent to other nursing-home facilities. Two pediatric patients were transferred to a children's hospital in Temple.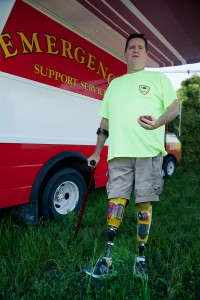 Another 28 people were admitted to Hillcrest itself, including five first responders. All survived their injuries, and three were discharged last week. As of Monday, two are still receiving treatment there.
The Goodwins couldn't talk about whom they visited with, because of patient confidentiality laws. "I'm on call for firefighters who are going through something similar to what I went through," Randal said.
He performs a similar service for Parkland Hospital's Burn Center. And since he completed the initial recovery from his own injuries, Goodwin has volunteered at Parkland's burn camp that helps children have fun despite their injuries and the long journey through rehabilitation.
"I bring the freak-show factor," he said, laughing. "I'm walking around telling the kids, 'Hey, life is this way. There are a lot of people worse off than me and a lot worse off than you.' "
He said children at the camp are quick to approach him to talk. "I think they immediately see that I know what's what," he said. "I like to turn their negatives into a positive every way I can."
Both of the Goodwins understand the ongoing requirements of physical rehabilitation and the need for emotional support, for those who have sustained catastrophic injuries — and for those who fought the fires and helped the injured.
The Goodwins and Donna Montgomery expect to be part of the long-term recovery process for Johnson County emergency personnel who worked the West tragedy.
Some of the Johnson County ESS volunteers have also been trained in critical-incident stress management, a program of education and emotional and psychological support for emergency workers following serious or catastrophic events.
"A lot of what we do can be low-key," Randal Goodwin said. "We provide education about what problems they may have after an event," offer informal counseling, and provide referrals to psychologists, psychiatrists, and other therapists.
"I really enjoy helping people. We both do," Grace said. "I just want to see them go home safe to the people who love them."
  ********
People around the country reacted with horror to the one-two punch of the Boston Marathon bombing and then the West explosion. But Randal's reaction to the Boston tragedy was a little different from most.
"You know what my first thought was, when I heard about the victims in Boston? I thought, they weren't firefighters — they didn't expect to be in harm's way or know that it was a possibility, as I always did."
In West, the firefighters and EMTs who responded early became the first victims. "You can be sure they knew they were heading into hell in West," Randal said.
Of the 14 known dead in the blast at West, 11 were firefighters or EMTs. They included Jimmy Matus, Morris Bridges, Cody Dragoo, Joseph Pustejovsky, Douglas Snokhous and Robert Snokhous of the West Volunteer Fire Department. The firefighter victims from departments in other towns included Kenneth "Lucky" Harris of Dallas, Cyrus Reed and Jerry Chapman of Abbott, Kevin Sanders from Bruceville-Eddy, and Perry Calvin, a volunteer for the Navarro Mills department.
City folks used to seeing municipal emergency crews may not realize how much of Texas is covered by volunteer firefighters.
"In Texas, 78 percent of firefighters belong to a volunteer fire department. That's approximately 1,400 all-volunteer departments, 250 combination units, and 140 fully paid fire departments," said Chris Barron, executive director of the State Firemen's and Fire Marshals' Association of Texas. His organization offers certification programs to paid and volunteer firefighters alike.
In Johnson County, Mike Johnston has run the ESD for nine years. He's seen shifts, consolidations, and budget shortfalls that have caused several small fire departments to merge or go all-volunteer. His organization fosters cooperation among all first responders in the county.
"Texas has 330 ESDs," he explained. "We are a taxing entity, so when you pay taxes, we manage our part of that money and distribute it to local first responders to make sure each area is covered by personnel and equipment. We provide training and continuing education and get people certified as well."
One of the balancing acts in a disaster response, Johnston said, is to keep enough resources in the home county to make sure any local problems can be taken care of.
"If firefighting gets in your blood, it never leaves you," Johnston said. He's had 34 years of firefighting experience, both with boots on the ground for the U.S. Park Service and in administration with Johnson County.
Firefighters know what they're letting themselves in for, he said. "There's always the danger that you could get hurt." He said that the hundreds of colleagues he's known during his career had at least one thing in common. "We know we take a terrible risk, but we're trying to help somebody. That's what makes the risk something we're willing to take."
North Texas freelance writer Annabelle Massey Malloy can be reached at annabellemm@sbcglobal.net.