"These were clean-cut Baptists indulging their wild side," Jaci said about the Cellar's regulars.
At a time when the city didn't have proper strip clubs, the Cellar was a place where male customers could watch waitresses working the tables in their bikinis, knowing that they'd get better tips that way. Occasionally young women from off the street would strip too, under the influence of alcohol or just a need for attention. (Being pretty was sometimes connection enough to get a drink.)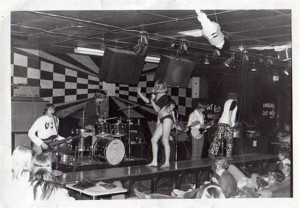 Crossing the line with the women, though, meant incurring the wrath of the club's famously tough bouncers, who occasionally instigated violence themselves and hospitalized unruly customers on a fairly regular basis. While police were kept at bay with favors and free drinks, the club also had a system of lights above the stage to signal when the cops were coming and when all was clear.
And then there was the music. The Cellar started out as a beatnik bar, and customers originally listened to jazz and folk music along with spoken-word performances. After a few years, the club shifted to blues music and then, in the late 60s, to acid rock.
"After the Beatles hit, it became full bands and not just some dude in a beret with a guitar," said local music scholar Mark Nobles, who worked as a producer on the Fort Worth music documentary Teen-a-Go-Go and is now lending assistance from afar on You Must Be Weird. "There was more of a melting pot here than there was in Dallas. The white kids could go into the black bars in Fort Worth and hear music there. There was also a country-music influence on Fort Worth blues that you didn't get in Dallas."
Yet African-American patrons were kept out of the Cellar, often being referred to a sign advertising a $999 cover charge that white customers were free to ignore.
"A black man ran the kitchen, and black musicians played there," said McCrary. The couple did not interview African-Americans for their film, despite attempts to find the club's employees. They hope someone will come forward.
McCrary described the segregation policy as a response to the half-naked women inside and the prevailing racism of the day. "Hell would have broken loose if a black man touched a white woman. Pat Kirkwood didn't want the club shut down," he said. Still, the policy was bad enough that Joe Ely vowed never to play the Cellar after his African-American friends were turned away.
The club even landed in the Warren Commission Report about President John F. Kennedy's assassination. The night before the president's fatal trip to Dallas, Secret Service agents had asked then-local reporter Bob Schieffer where to go for a drink, and Schieffer took them to the Cellar.
Musicians would play for an hour and then take an hour off to hear others. The scene quickly turned competitive, with axmen vying to outplay each other and occasionally stealing each other's licks outright. In this environment, breakneck guitarists like John Nitzinger and the late Bugs Henderson and more technical guitarists like Jimmie Vaughan learned from one another.
The night-shift hours encouraged musicians to take amphetamines to stay awake. Those who couldn't could grab a few hours' sleep on cushions that were laid out on the club's floor. Nitzinger was one of the musicians who spent time effectively living at the Cellar, playing at night and shifting for himself during the daylight hours.
"The hours gave them lots of time to play," said Nobles. "It was like a school. Even now, people from the Cellar call themselves graduates."
  ********