As part of our Music Awards every year, we induct outstanding members of Fort Worth's scene into the Fort Worth Music Hall of Fame, a metaphoric institution peopled by the likes of Delbert McClinton, Vaden Todd Lewis, Dewey Redman, Kelly Parker, Robert Ealey, Prince Lasha, Mace Maben, Buddy Miles, Q.T. Tubb, Stephen Bruton, Brian Forella, John Nitzinger, and more. For this year's class, we've got a young upstart with an international profile and an underground scribe and musician with Fort Worth music pumping through his veins. Congrats to Casey James and Ken Shimamoto, and congrats to all of this year's Music Awards nominees. Winners will be announced at a private ceremony on Sunday, July 7, and online on Monday, July 8. — A.M.
Casey James
There has always been a laundry list of reasons for haters to dismiss guitarist/singer Casey James. He's young, blond, handsome, talented, and, most of all, he made his national mark as a runner-up and fan favorite on the ninth season of American Idol. But whenever he takes the stage, James has a knack for making himself disappear and letting his smooth and earnest voice, accomplished guitarwork, and superbly crafted country-pop songs take the spotlight. His 2012 self-titled debut album suggests he's living in the wrong era –– the mid-'70s FM pop-rock of artists like James Taylor and Jackson Browne seems better suited to his sly charms. But the album only hinted at his natural gifts as a live performer –– he was honing them at North Texas venues for years before offering himself to Simon, Randy, and Paula. While Idol slowly wanes as a pop-culture phenomenon, James has maintained his loyal international following through constant touring and promotions. He proves that, in the end, the arc of the universe bends toward real talent. — J.F.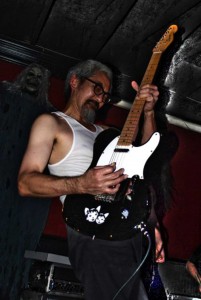 Ken Shimamoto
Flashback to 2002. Nearly 90 percent of the nominees in that year's Music Awards were from Dallas and Denton. All that Fort Worth media –– which amounted to the Star-Telegram and the Weekly (blogs did not exist then) –– knew of Fort Worth was maybe a handful of bands (and just the really popular ones). Enter: Ken Shimamoto, who was a major part of the writing team at this paper that gave credibility to artists who for years had been flatly ignored by the local media and who had probably resigned themselves to being ignored in perpetuity. Initially a freelancer, Shimamoto soon became a part-time staffer and for a time the face of the paper among underground dwellers –– and, you could say, the face of a hyper-local movement that now finds Fort Worth home to one of the most fertile creative music scenes in the country. After Shimamoto left the paper in the late-aughts, he created his own blog, the popular Stash Dauber, and began writing scene-related books (Wreck Room Stories, Haltom City Nights). He also started playing again. (A killer guitarist, he had gotten his start in local music by performing at blues open-mics.) In addition to the sonic art project Hentai Improvising Orchestra, Shimamoto started Stoogeaphilia, a proto-punk repertory band, with some of the best musos in town, including Pinkish Black's Jon Teague and Goodwin/Pablo & The Hemphill 7's Matt Hembree. Along with wife Kat Shimamoto, Ken is now 100 percent occupied by caring for his grandson but still manages to connect with the scene outside the smoky bars of his misspent middle age, mostly via his blog and social media. Without exaggeration, Fort Worth's music scene would be a different, definitely less-cool place without my dear friend Ken's influence. — A.M.