Ahmed has seen a lot of places in the world and a lot of changes. "As early as I can remember, my mother taught me to respect … all human beings," he said. He grew up in Hyderabad, India, where mosques and Hindu temples stand in close proximity. He lived through the time of Gandhi and saw an independent India emerge from British rule.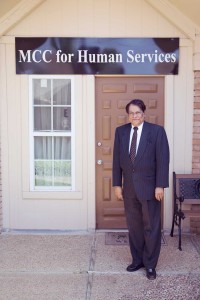 One of his uncles was a doctor. "He lived to be 95. He was not only a great physician but a great activist," Ahmed said. "When he saw that people had no money, he stopped taking fees and even gave money to some of his patients. This made a tremendous impression on me. I always looked toward him as a mentor."
Ahmed got his college education in Karachi, Pakistan, and Glasgow, Scotland. He came to the United States 35 years ago to teach psychiatry at Missouri University's St. Louis campus and to serve as medical director at the St. Louis State Hospital.
In addition to his longtime practice as a board-certified psychiatrist, he has taught as an assistant professor at Albert Einstein College of Medicine, New York, and as a professor at the University of Texas Southwestern Medical School in Dallas. A past president of the Islamic Medical Association of North America, Ahmed and his wife, Shakila, also a physician, have a son and a daughter, both successful corporate attorneys.
Ahmed is a prolific essayist, sharing his thoughts with an extensive e-mail list. His medical papers and advocacy reports have been widely published. World peace is a frequent topic.
"I'll tell you what that is going to take," he said, leaning forward across his desk. "The key to world peace is successful dialogue, not war. The success of that dialogue will be if you lower your ego a little bit, and if you are willing to give up a little something."
He received the Dallas Peace Center's Peacemaker of the Year award in December — the most recent in a string of honors recognizing his community service and humanitarian work. The Tarrant County Medical Society named Ahmed its "Physician Humanitarian of the Year" in 2008.
"Every one of these is a very great honor," he said. "I measure my success by the ability to touch even one life, to improve even one person's quality of life."
Vora, the Arlington doctor, called Ahmed "a champion of people in need. A lifetime of experience has prepared him to be effective. He truly says to himself and to others, 'Hey! Let's make this world a better place.' "
Ahmed serves on the board of the Multicultural Alliance of Fort Worth; he speaks each year at the Interfaith Seminary Retreat. The retreat gathers representatives from 18 Christian seminaries in Texas — both Catholic and Protestant — as well as Jewish religious students.
"He's a wonderful person to reach across all different faiths," Dr. Cheryl Kimberling, president of the Multicultural Alliance, said. "He does a nice job of bringing people together."
Even though he has retired from his practice, Ahmed said he will never retire from the rest of his life's work. "For years, when I turned 50 and beyond, I always lectured about how to survive healthily in old age," he said. "You must continue some kind of work. You must have something to live for."
Noting Ahmed's long resume of humanitarian work, Kimberling said, "Basheer's retirement would be most people's full-time jobs."
North Texas freelance writer Annabelle Massey Malloy can be reached at annabellemm@sbcglobal.net.