It didn't take long for Clark to figure out that acting wasn't as easy as it looked, and auditions were a nightmare. She tried out for a role in Fat City to be directed by John Huston that featured a young Jeff Bridges, fresh off his role in The Last Picture Show (1971). Actress Margot Kidder had the inside track on the part, but Clark caught Bridges' eye during a screen test. She fell for him instantly.
"We just had an instant rapport, and we started dating that day," she said. "We went steady for four years. It was one of those things –– you get the part and the boyfriend."
What was the attraction?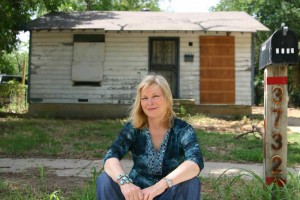 "Just his beauty, his nice personality," she said. "Handsome and charming and funny and cute and nice. It just happens. It's happened to me a few times in my life. It's always great."
She nabbed the female lead, and Huston quickly noted his new actress' lack of experience. But he was patient with her, even after many blown takes.
"He would say, 'Let's try it again,' " she recalled. "Then you'd do it again just the way you did it, and he'd say, 'Let's try it again.' I had a lot more scenes, but they got cut because I just had no idea about acting."
Watching that movie now makes Clark cringe.
"I can see that I don't pick up cues," she said. "And I kind of have a whine. They even brought an acting coach to the set to teach me how to act."
Despite her struggles, the movie performed well at the box office, and film critic Roger Ebert called it one of Huston's best efforts.
After the movie wrapped, Clark had something on her resumé. But she continued to struggle in auditions, and the rejections kept coming. Her spirits flagged when she auditioned for the role of Debbie in Graffiti. Charles Martin Smith had already been chosen to portray Toad, and he was several inches shorter than Clark. They looked silly as a couple. "I kind of gave up and didn't try very hard, and that came off as naturalistic," she said.
Her aloof audition captured the spirit of Debbie, and the height difference worked perfectly in a comical sense. She got the part.
The movie was filmed in San Francisco on a small budget ($850,000). Clark and Smith drove there from L.A. in her undependable little blue Volkswagen, which, naturally, broke down on the way.
"I had to have my engine rebuilt on a Sunday," she said. "It was horrible. By the time we arrived in San Francisco, it was midnight, and they were all in a panic looking for us. We got there groggy. They said, 'You have to do wardrobe now!' "
To get in character, Clark imagined her teenage years. She dressed Debbie in the clothes that Clark yearned for in her youth but couldn't afford.
"I always wanted a pair of Capezio shoes because that was the hot ticket back in Fort Worth in the 1960s," she said. "I got to wear them in the movie, so I finally got my Capezios. And I always wanted a spaghetti-strap dress."
Huston's patience and multiple takes during Fat City filming were a thing of the past. Graffiti filming moved quickly with only one or two takes per scene. But Clark had improved as an actor and felt more comfortable.
The entire story happens at night, and so filming began at sundown and lasted to sunup. Even Phillips kept the late hours, long before drug problems would ruin her career.
"She was just a cute kid that was wise beyond her years," Clark said. "When she did the movie she was 11 but because of her background she acted like a grownup. She was one of the gang, and that's how we treated her."
Clark and the other actors stayed in the same Holiday Inn and hung out for four weeks, creating bonds that still exist. One night Howard, who was 18 at the time, called them to his room for a private screening. He'd won second place in a Kodak student film contest and wanted to show them his sci-fi movie short.
The year after Graffiti's release, Howard starred in the television sitcom Happy Days, loosely based on the movie. Then he began his Oscar-winning career as a director. But in 1973 he was just a kid with a hand-cranked viewer. Clark loved the student flick and saw his potential as a director, but a few years later she declined when Howard asked her to co-star in Eat My Dust. He'd made a deal to star in the movie in exchange for being allowed to direct Grand Theft Auto the next year.
"He wanted me to be his love interest in the movie, and I didn't really like the script, and I really had my eyes set on something with a little more prestige," she said. "I turned him down."
He never offered her another role (and she still wonders if she hurt his feelings), but they remain friendly. She describes him playfully as "Mister Apple Pie."
Though Clark was a natural as Debbie, she worried about a couple of her lines, particularly one that included a slang term for being hungry for sex.
"When I did that movie I was very prim," she said. "I had to say the word 'horny,' and I was mortified. When I was growing up, my mother was a big cusser, and I think it traumatized me. I never cussed until I was, like, 30 years old. Now I'm used to it, mothahfuckah."
Only two movies –– The Exorcist and The Sting –– did better at the box office that year. Graffiti's success and Clark's Oscar nomination put her firmly in Hollywood's radar.
Meanwhile, she was still head over heels in love with Bridges, and they took time off to travel. Clark got a smallpox shot for the trip, and it became infected while they were in South America.
"I remember being in the shower and water going into this smallpox vaccination," she said. "I came back, and it was time for the Academy Awards. I remember looking in the mirror that night while I was getting dressed. I said, 'Wow, you look so tan!' It turned out I had hepatitis."
Tatum O'Neal ended up winning the Oscar for her role in Paper Moon, but Clark had a great time at the event and attended as many after-parties as she could.
She was set to star as an undercover cop in the 1975 movie Report to the Commissioner. Instead, she found herself in a hospital bed.
"I begged them to please wait for me, but I was bedridden for a month," she said. "They said they couldn't wait, and they hired Susie Blakely. I went to see the movie, and there was Susie Blakely in my wardrobe."
Clark was sick for a year. "It killed my momentum," she said.
It also put her in the excruciating position of notifying fellow actors about her contagious condition. "I had to call all of them up and tell them they had to get a gamma globulin shot," she said. "Do you know how embarrassing that is? It seemed like hundreds of people. When you are nominated for an Academy Award you're the center of attention. I got hugs and kisses. I had to call whoever I could think of who I had contact with."
Recuperation required giving up alcohol and watching her diet. She looked as emaciated as co-star David Bowie by the time she was ready to work on her next movie, The Man Who Fell to Earth, in 1976. The oddball film confused some viewers and received limited release. Critics offered mixed reviews, although appreciation of the film has grown over time.
It was moviegoers' first glimpse of Bowie, the androgynous glam rocker with a hefty cocaine habit. His role as a humanoid alien wasn't much of a stretch for the guy who'd recorded the concept album The Rise and Fall of Ziggy Stardust and the Spiders from Mars.
"He was perfect," Clark said. "He had that orange hair, eyes with two different colored pupils, and he was really thin. He had a look of an otherworldly alien. He was like an elfin character, really easy to be with."
They shared a nude love scene, which was difficult.
"I've never been an exhibitionist in real life," she said. "You'd think David Bowie would be used to being naked, but I could tell he was really uptight when we did the love scene. He was practically giving me sheet burns flipping me around. We just wanted it to be over with."
The physical results of her hepatitis and his drug habits were easy to see.
"To me it's not an attractive couple," she said. "We're both very pale and very skinny."
Clark's illness, her three-year absence from the screen, and the mixed reaction to the movie combined to lower her career's trajectory. Other movies came along, but roles became smaller and scripts flimsier. Even More American Graffiti, the 1979 sequel to the smash hit, faltered at the box office. The movie followed the characters into the late 1960s, but the script was darker and lacked the original's charm. Seattle movie critic Robert Horton called it "ambitious" but lamented that "the old magic is dissipated."
She worked with Robert Mitchum in The Big Sleep (1978) and Roy Scheider in Blue Thunder (1983). She filmed a shower scene with O.J. Simpson in Cocaine and Blue Eyes (1983).
In the mid-1980s, she ran into Sean Penn at a nightclub. He was about to star in At Close Range and mentioned that the director was looking for a "Candy Clark type" for a supporting role.
"I said, 'Why don't you just hire the real thing?' "
She got the role but didn't have many scenes.
Her most recent movie credits include The Informant! (2009) and Bob's New Suit (2013). And she still nabs the occasional television part, such as her role as Sandy Jareau on Criminal Minds. Although juicy parts are mostly gone now, Clark has appeared in movies in every decade since the 1970s.
  ********