Last summer Pamela Cannell read about two local drownings of children in one day. Not long after that, a 4-year-old boy jumped into the water in North Fort Worth to try to save a 3-year-old girl. His young friend survived, but the little boy died.
Then, at the beginning of the 2012 school year, a Paschal High School teen drowned, with a lifeguard present, during a band party.
Cannell, whose involvement with swimming has been lifelong, felt like she had discovered a terrible secret.
"It is my opinion [that] we have a silent public health epidemic in our area," she said. In May, she and a group of volunteers created the Fort Worth Drowning Prevention Coalition to lower those fatality numbers.
Nationally, drowning is the second most frequent cause of accidental death among children. Texas led the nation in 2012 with 74 drownings, and Tarrant's nine fatalities ranked second in the state, behind only Harris County.
These tragedies don't all take place in  deep lakes and murky rivers. So far this year, six out of 10 drowning incidents in Fort Worth have occurred in pools. Between 2010 and 2012, pools were the most common location of drownings in Texas — followed by bathtubs.
In poor areas, Cannell said, drownings are related to lack of access to pools, meaning there are few free or public places where kids can learn to swim. But at least in Fort Worth, she believes, much of the problem stems from too many pools –– residential pools accessible to kids who haven't been taught basic swimming safety and who aren't under proper adult supervision.
The band party drowning particularly caught her attention. It happened at the Lockheed Martin Recreation Association facility, "the same pool my swim team swims every morning," she said. As a member of the Team Ridglea Master Swim Team, she got her teammates involved in the coalition, along with Texas Christian University swim coach Richard Sybesma and local firefighter Starrett Keele. The group offers the public training in how to deal with swimmers in distress, water safety education for parents and caregivers, and the SwimSafe program that teaches children — even those who don't swim — how to float long enough for help to arrive.
Cannell and her supporters needed a way to begin their work immediately, without waiting to go through the sometimes-lengthy process of being approved as a federal nonprofit charity. The solution they found was to work temporarily under the aegis of Texas Health Resources, a major nonprofit organization that operates 25 hospitals in North Texas.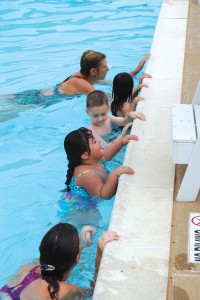 The collaboration allowed the coalition to quickly begin collecting donations to fund their work. Cannell said the coalition might organize as an independent charity in the future.
May 2013 was chosen as the launch date because it has a special significance. "It was apparent that we have a spike in drownings beginning in May," she said.
The coalition is partnering with a long list of local and state organizations including the City of Fort Worth, Safe Kids of Tarrant County, the local YMCA, and the University of North Texas Health Science Center.
"That level of cooperation is unusual," Cannell said. "There are many cities in which one entity has taken the lead. Typically the YMCA, as in Houston and Memphis, has a community collaboration formed to provide learn-to-swim opportunities for minorities in their city. But there are no other community collaborations in the country bringing drowning prevention to their cities."
Misty Vento serves on the coalition's advisory board and works as an active volunteer. It was her 4-year-old son Xander who drowned last summer trying to save his young friend. Vento knows how quickly a drowning can occur: She was at the pool when it happened.
"I was about 10 feet away, and it happened in seconds," she said.
"My mission as his mother now is to carry on what I've learned, in [Xander's] name, and work for safety and knowledge for parents and children," Vento said.
The coalition's classes for parents and caregivers train adults to be vigilant around water and include basic CPR instruction. They are taught by the Fort Worth Fire Department.
"The theme is, two seconds is too long to take your eyes off a child," Sybesma said.
Dry land education involve basic concepts like wearing a life jacket and a "throw-don't-go" approach to water safety. Advocates of that approach recommend throwing a lifesaving flotation device to a swimmer in trouble before jumping into the water to attempt a rescue.
"This is not a 'learn to swim' program, but [a program that helps] children and adults to be aware of how easy it is to drown and also several ways to prevent drownings," said Sybesma.
The SwimSafe program began as a collaboration between the Alliance for Safe Children and the Australia-based Royal Life Saving Academy. According to the website, SwimSafe has the goal of "teaching the children water safety and survival swimming skills." The two groups based the lessons on years of research by UNICEF and other nonprofit groups. A recent UNICEF study showed that SwimSafe techniques have led to an 80 percent reduction in drowning deaths in Bangladesh.
The program teaches children four sets of skills: feeling comfortable in the water, floating techniques, treading water, and how to travel 10 yards to safety. The main emphasis is on training children to float long enough to call for help, a technique known as "self rescuing."
The coalition doesn't offer regular swimming lessons but refers children and their families to the YMCA or TCU for those classes.
In this country, studies have shown that about 80 percent of African-Americans and 70 percent of Hispanics don't know how to swim. Cannell sees Fort Worth as an important place for her group to begin its work.
In its first few months of operation, the coalition has provided training to 113 children and 13 adults. Cannell said the group needs more volunteers in order to reach more people.
Fort Worth City Council member Joel Burns, who recently led the initiative to restore the Forest Park Pool, said what the coalition and its partners are doing is "priceless and a potential life-saver."
Fort Worth freelance writer Edward Brown can be reached at ejb0017@yahoo.com.