A photo exhibit at The Sixth Floor Museum in Dallas is powerful enough to transport viewers into a time warp, even though many of the photos have been seen before.
The American President: Photographs from the Archives of The Associated Press consists of more than 70 photos spanning 150 years. The photos, without relying on the written word, provide revealing glimpses into the lives of the most powerful men in the free world.
The exhibit begins with Abraham Lincoln, who gave an AP photographer unprecedented access to the White House and became one of the most photographed early presidents. Black-and-white photos of Lincoln, Franklin Roosevelt, Dwight Eisenhower, John Kennedy, Richard Nixon, and other presidents slowly segue into more modern, color photos. And yet a common thread uns through the exhibit –– the presidents are depicted in extremely human and sometimes vulnerable terms.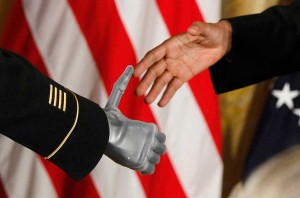 "These pictures illustrate the fun times, serious times, painful times," said Nicola Longford, executive director of The Sixth Floor Museum. "It's just a frozen shot in time."
Some of the familiar photos include Roosevelt with a cigarette holder clinched in his teeth, Nixon meeting Elvis Presley, and Kennedy and Eisenhower strolling through a garden with heads bowed. But oftentimes a well-known photo is displayed next to an unfamiliar one, and the two work in unison to give visitors a rounded picture. For instance, the exhibit offers the famous photo of Lyndon Johnson holding up his pet beagle by the ears. But next to it is a much less familiar photo of Johnson on horseback herding a yearling at LBJ Ranch.
And a photo of a glowing Nixon shaking hands with ecstatic supporters is contrasted by a photo that shows him distracted and looking at his wristwatch while unenthusiastically shaking a well-wisher's hand.
Another unfamiliar photo includes Warren G. Harding standing with an entourage in the bleachers at a baseball game while shaking hands with New York Yankees star Babe Ruth. The normally stern- looking Harding appears giddy and laughing with his entourage, whereas the usually ebullient Ruth appears grim. The photo makes you wonder what was said prior to the picture being snapped.
"These photographs all tell stories," Longford said.
Sure, you can find many of these photos online, but seeing them all together, printed and mounted in large frames and organized chronologically, makes for a powerful impact.
"You can wander around and reflect, and you hope that people are having conversations with other visitors," Longford said. "When you look at something up close and see it in context with other photos, you may be seeing them differently."
[box_info]
The American President: Photographs from the Archives of The Associated Press
Thru Oct 27 at The Sixth Floor Museum at Dealey Plaza, 411 Elm St, Dallas. $13-16. 214-747-6660.
[/box_info]