When retired Army Chaplain Herman Keizer Jr. comes to Fort Worth, strangers, seeing his Purple Heart cap, sometimes pay for his dinner.
Keizer appreciates the pride and feelings of support that Texans often show to veterans, both of current wars and earlier ones. His work in North Texas, the thing that brings him here for about a week each month, is a new kind of effort to help veterans of all those wars — and of future conflicts.
The group he works with, based at Brite Divinity School on the Texas Christian University campus, doesn't provide psychological counseling or job referrals or help in obtaining veterans' services. In fact, the group rarely counsels individual veterans.
The Soul Repair Center, which Keizer co-directs, does work to help veterans with the injuries they sustain in war. But the hurts are the unseen kind — pain that goes even deeper, perhaps, than closed-head physical wounds or post-traumatic stress disorder. The purpose of the Soul Repair Center is to help veterans and the rest of society recognize and deal with moral injury — the wound that so many veterans of war feel inside for years or decades afterward, from the things they have learned, seen, kept quiet about, or done.
"If there's one thing that is truly hurt when you go to war, it is your soul," said Stacy Keyte, a veteran who will be a featured panelist at a Soul Repair Center conference this weekend on how the community can help veterans recover from such injury.
"Even if you aren't physically hurt, there is a part of you that is damaged, no matter what you see or what you hear or what you smell," she said. "And it will forever be there."
What the center's founders hope to do, in the long run, is to change this country's conversation about war and its way of thinking about those who have served or may serve, beginning with the decisions of young men and women to join the military.
The center works with churches, families, and veterans' groups on how to treat suffering veterans in innovative ways. Its directors travel around the country giving presentations on moral injury as one of war's inevitable results. They field dozens of calls and e-mails each day from those who have heard of the center's work and want to know more. The body of scholarly work on moral injury is rapidly developing. Keizer and center founder Rita Nakashima Brock stay current on the literature and add their own writings on the subject.
They emphasize letting veterans tell their stories in all their anger, disillusionment, and sometimes-horrific detail, rather than forcing the ex-military personnel into stock categories of patriots and heroes.
What they have discovered is "how much unresolved grief there is," said Brock.
She and Keizer collaborated a few years ago on putting together something called the Truth Commission on Conscience in War, a New York City event that allowed veterans of all political persuasions to say whatever they felt about their experiences in combat and in returning to civilian life.
"You don't know what kind of impact it makes to have those kinds of stories out," Keizer, himself a Vietnam veteran, told participants at the end of the forum. "Because that's the kind of narrative that we need to build on, and hopefully that'll start a third kind of conversation in our society about how easily we go to war."
Along the way, Brock and Keizer have made common cause with other groups also seeking new ways to help military veterans. Keyte, for example, works with the women veterans support group called Grace After Fire. She recently attended a Soul Repair Center workshop.
"I really, really enjoyed it," she said. "And I support it."
Through workshops, web presence, and word of mouth, the Soul Repair Center's message about moral injury is making the rounds. Mike Prysner, an Iraq War army veteran, works in Los Angeles with March Forward!, an activist association of veterans and current service members. He speaks eloquently about moral injuries firsthand, from having lived through them and come out the other side. His group gives veterans the support they need to work out the truth of their own deep-seated moral misgivings.
"I think we have to stop talking about whether the war is just," Keizer said, "and we have to start looking at what war does to people."
"We have a right … to have our voices be part of that narrative," Prysner said.
********
At the Soul Repair Center, the windows look out onto Texas Christian University's calm Fort Worth campus, where life seems to go on as peaceably as it has for decades. There is no hint that this country is still involved in its longest war ever or that national leaders have recently been talking about whether to launch yet another military action, this one in Syria.
That disconnect of the general public from the war is one of the problems that returning veterans deal with, and one that Keizer and Brock believe helps get this country into military conflicts.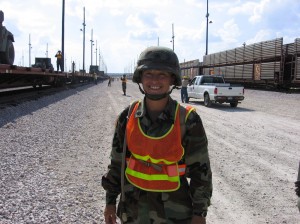 Both Brock and Keizer have come to their work on moral injury after substantial careers in related arenas. Having witnessed the long-term human effects of the wars in Vietnam and Korea, they see young people as far too often going into military service unprepared for what it will cost them.
Brock's own life has been influenced  heavily by the struggles veterans face. She was born in Fukuoka, Japan, but raised in the United States. She and her father, a former World War II prisoner of war and Vietnam War medic, argued intensely. He passed away in 1976 without having made peace with his daughter.
Brock eventually earned a doctorate in theology and taught religion and women's studies in various colleges for 20 years. In 2002 she left academia to become an independent scholar, doing volunteer work and lecturing around the world. In 2004 she founded Faith Voices for the Common Good, a nonprofit organization that involves progressive religious figures in the quest for a peaceful and sustainable world.
During the Iraq War buildup, she marched in anti-war protests, but she soon became disenchanted with the demonstrators, whom she felt had little understanding of the military or the real issues its members face. She was concerned not only with opposing war but with helping those who had been through war find ways to deal with it.
Brock is now centering her career on the study of the human aftermath of war. She knew some of the indicators of that toll in this country: An average of 22 veterans commit suicide each day, nearly one every hour, and already more have died at their own hands than at the hands of Iraqis or Afghanis.
She knew that the U.S. Department of Veterans Affairs had made strides in treating PTSD and other psychological problems. But she also knew that PTSD wasn't the only source of anguish for veterans.
Departing from the leagues of protesters, she organized 2010's Truth Commission, for which she recruited Keizer as a co-host. The commission's website claims it was "the first nationwide attempt to critically examine the questions of conscience facing our nation's service members, military regulations governing freedom of conscience, and the moral and spiritual injuries of war."
Afterward, she felt she knew what direction her life and career needed to take.
Brock felt that moral injury had been left out of the conversation on war. She took the term coined by psychiatrist Jonathan Shay in the mid 1990s and expanded it by co-writing the book Soul Repair: Recovering from Moral Injury After War with theologian and author Gabriella Lettini, published in 2012. She also searched for funds to bring the conversation about moral injury to the public. 
She applied to the Lilly Endowment, one of the world's largest private philanthropic foundations, for funds to start the Soul Repair Center.
The Lilly Endowment's board was so enthusiastic about the proposal that it sent a check to fund the center's first two years on the same day it approved the proposal.
At TCU, Brite Divinity School President Newell Williams was familiar with the issue of moral injury in war. He offered Brock and Keizer office space for the center. Coleman Baker, a Brite graduate, became the center's program manager.
Brock relocated to Fort Worth from northern California. Keizer commutes from Grand Rapids, Mich. Together and separately, they travel to seminars and other events, repeating their message about how veterans in particular and Americans in general need to deal with the personal scars of war.
 ********