The West 7th corridor has no shortage of laidback, quasi-divey hangouts. There's Poag Mahone's, The Abbey, Wired Willy's, Lola's, and more. Into nearby So7 comes Max's Wine Dive, and despite the name, Max's is no dive. Your biggest clue is on servers' backs. Black t-shirts emblazoned with the company's "Why the hell not" slogan, they're casual-corporate, which stands to reason: Max's is part of a chain with locations in Austin, Dallas, Houston, and San Antonio.
Your next largest hint is Max's dazzling wine list, offering reasonably priced by-the-glass wines and good deals on bottles, including Napa Valley's outstanding Cakebread chardonnay, which is sold near retail price. If you can't decide, your server will give you mini-pours of two options. On the food side of the biz, half the menu consists of gourmet comfort-food standards. The rest changes seasonally with the whims of Dallasite chef Stephon Rishel.
A guest and I started with appetizers from the seasonal side, beginning with a clever take on hot wings, the buffalo frog legs. Featuring the biggest, plumpest frog legs I'd ever seen –– and I also had never seen them served with the pair joined at the hip –– the plate was rounded out by classic spicy wing sauce, gorgonzola cheese foam (in place of traditional blue cheese dressing), and cute micro-green garnish. I didn't like the soft, slimy, almost watery texture of the meat, but my dining partner had no such issues and thought it tasted like crab. Either way, the appetizer was done properly and beautifully presented.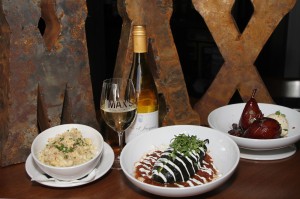 Our second appetizer choice was a lovely, creamy cauliflower soup, with coconut milk, curry spice, and, on top, dices of pickled cauliflower. The curry spice level, thankfully, was gently warm rather than mouth-searingly hot. The base was a little under-salted, but that was remedied by the cauliflower.
A place touting its "award-winning" fried chicken is waving a red cape at a food writer: Our chicken is unbeatable! Whether made with your standard flour or Max's gluten-free batter, the bird soaks in a slightly spicy buttermilk marinade before getting fried "slow and low," as the menu says. The result: The gluten-free batter was crunchy and tasty and as flavorful as the real thing, and the chicken was impeccably moist on the inside. The entrée comes with awesome smoky greens but average homestyle mashed potatoes.
We also tried the bison sliders: three small, square patties covered in delicious caramelized sweet onions and topped with a pickle apiece. Buffalo burgers, much like fried chicken, are hard to get just right –– the meat's so lean that if the chef isn't watching carefully, the burgers come out dry. Not the case here. Maybe it was all the butter or grill rub from the onions, but the whole package tasted great.
Max's offers four dessert options, served only at dinner. The peanut                  butter cheesecake (also "gluten friendly," with a puffed rice base) was a luscious, oozy morsel topped with peanut brittle and served with a schmear of berry compote.
The offerings at Max's run from the sublime (a bone marrow and foie gras appetizer) to the cheeky (fried bologna sliders,  a grilled pimiento cheese sandwich served with tomato soup). Regardless, Max's Wine Dive is actually a high-quality eatery, with excellently trained servers and a chef who likes to use local ingredients whenever possible.
[box_info]
Max's Wine Dive
2421 W 7th St, Ste 109, FW. 817-870-1100. 9am-3pm and 4pm-10pm Sun, 4pm-11pm Mon-Thu, 11am-3pm and 4pm-12am Fri, 9am-3pm and 4pm-12am Sat. All major credit cards accepted.
Bison sliders …………………… $11.50
Buffalo frog legs …………….. $12.00
Curried cauliflower soup ……. $8.00
Gluten-friendly fried chicken $16.00
Peanut butter cheesecake …. $8.00
[/box_info]