Food portions at most restaurants are too large as it is, so when an eatery makes a point of promoting its sandwiches as so "huge" they require a knife and fork, all kinds of gluttonous images come to mind –– usually involving a sign on the wall that reads, "Diners who can finish the meal get it for free!" But Little Red Wasp, downtown's new purveyor of upscale casual American fare, sits next to fancy Capital Grille and across the street from pricey Ruth's Chris Steak House, so Wasp owner Adam Jones isn't exactly courting the eating-contest crowd. The menu's vaunted "knife + fork" sandwiches weren't as colossal as feared, but they managed to be large, appealingly simple, and elegant at the same time –– a description that fit even the non-sandwich entrées that a guest and I tried on a recent Saturday afternoon.
Not to be nitpicky, but the reuben and the ahi tuna sammys didn't actually require a knife and a fork. (Or maybe our hands are just freakishly large.) Nor were they especially messy. But they were feats of fresh, imaginative ingredients composed for maximum flavor value. The reuben arrived on thick slices of toasted, seed-flecked rye stuffed with tall layers of house-made corned beef from Texas-raised cattle. The cow flavor was full and rich and, thankfully, trumped the saltiness of the curing process. The crunchy red cabbage slaw and smooth, nutty melted Swiss mixed well with the tangy (but not overpowering) Thousand Island dressing  and a swipe of what tasted like dijon mustard.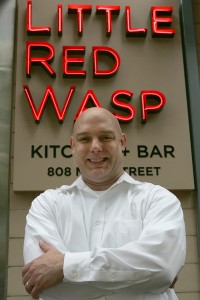 The ahi tuna on soft grilled buns was less reliant on condiments but more flavorful. Silky, pale Bibb lettuce leaves, bright red tomato slices, and zesty strips of pickled yellow and red pepper provided expert support to the sumptuous yellowfin steak, which had been grilled tender and flaky on the outside but kept bright-pink medium rare and satiny delicious on the inside. A mayonnaise-based lemon aioli sauce barely registered and wasn't really needed.
The Wasp serves brunch until 4 p.m. on Saturdays and Sundays, so we dug into that side of the menu. The corned beef hash with eggs was the best I'd ever tried, a hot mess of lean, juicy, brisket-like cuts of cured beef mixed with roasted red and yellow pepper strips and crisp and thinly sliced potatoes and topped with a pair of picture-perfect sunnyside-up eggs. We broke the yolks and let the warm gooey yellow mix with the beef, taters, and peppers into heaven on a plate, something that Cookie might've made on the chuck wagon if he'd had chef training.
The chicken biscuit was a little more predictable but still quite good. A long, thick slab of chicken breast had been thickly battered, deep-fried until crispy, and wedged between two halves of a soft, crumbly biscuit with a thin slice of melted sharp cheddar. A generous topping of steaming black-pepper cream gravy tied the whole thing together into a satisfying brunch delight that really did require a knife and fork.
Regardless of what you order at Little Red Wasp, there's one side you must try: the garlic cheese bread. Infused with aromatic garlic butter, the unusually thick bread slice had a cake-like texture and was topped with a glorious layer of oregano-flecked stringy white cheese. It was practically a meal by itself, but, like everything else we tried at the Wasp, still fancy in its simple, quality preparation.
[box_info]
Little Red Wasp
808 Main St, FW. 817-877-3111. 11am-midnight Mon-Fri, 10am-midnight Sat-Sun. All major credit cards accepted.
Reuben sandwich ……. $13
Ahi tuna sandwich ……. $19
Corned beef hash ……. $19
Chicken biscuit ………. $15
Garlic cheese bread .. $8
[/box_info]