From a moving vehicle it's difficult to appreciate the bridges that span Fort Worth's two forks of the Trinity River. Railings fly by, obscuring the river completely or chopping the view into slices like a flipbook. Is the river up and running fast, or is down to puddles and dregs? Are there cyclists, hikers, kayakers, rowing teams, anglers? At that speed and height, who knows or cares?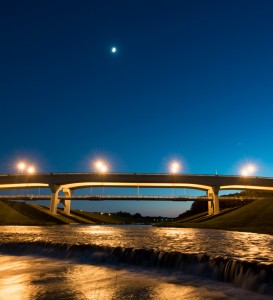 The real power, utility, and grace of the spans are revealed underneath. Old and new, on the Clear or the West Fork, the bridges here are best experienced from the 40 miles of biking, hiking and equestrian paths that make up the Trinity Trail system.
From that perspective one sees the shapes and mechanics that distinguish a truss bridge from a concrete reinforced arch. From below travelers can appreciate the distances and heights that the bridges span, get an inkling of the river's power and perhaps its history, as where the river flows –– meekly enough these days –– at the foot of the Tarrant County courthouse, not far from where Indians once camped and the city began. Or below Seventh Street, where deadly floods once thundered through, memorialized for decades by a high-water mark on the walls of the landmark department store that now houses Montgomery Plaza.