********
How far Range officials will go to keep people from criticizing them was made crystal-clear in a case originating in Mount Pleasant, Pa.
Stephanie Hallowich and her husband Chris bought a 10-acre parcel in 2006 where they planned to build their dream home. In a blog post, she described it as "pristine."
At the time they closed on the property, there was little drilling activity in their area. But less than a year later, in 2007, the first of four wells had been dug just outside their property line. By 2009 a compressor station, a gas-processing facility, and a frack-water waste pit had joined the wells. Their property was nearly surrounded by industrial activity.
The Hallowiches stopped using their well water in 2009 after it was tested by Pennsylvania's Department of Environmental Protection and discovered to have high levels of manganese, a neurotoxin. Their young children began to get nosebleeds. Stephanie and Chris began to get sick.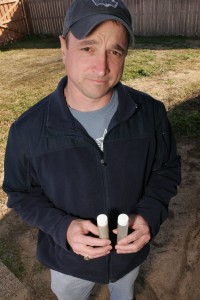 As Stephanie wrote on the Marcellus-Shale.us blog prior to signing a confidentiality agreement with Range, "We have a gas plant and compressor station next door, and we've had a lot of air issues, where it smells really bad, we get burning eyes, burning throats, headaches, ringing ears; we don't know what's coming out. We recently had some air testing done, and it's shown that there are high levels of volatile organic compounds coming out of these plants."
"The health effects of breathing these chemicals is very serious," said Dr. Theo Colborn, founder of the Endocrine Disruption Exchange, which studies the effect of ambient air exposure to toxic chemicals and their effect on human growth and development. "We have a large number of chemicals, hundreds of them, used in natural gas production, and many of them [are] very dangerous."
Colborn was lead author on a recent peer-reviewed article that described the effects of natural gas operations from the public health perspective. She and her co-authors wrote that more than 75 percent of the chemicals used in natural gas production "could affect the skin, eyes, and other sensory organs," as well as the respiratory and gastrointestinal systems. Nearly half the chemicals used can affect the "brain/nervous system, immune and cardiovascular systems, and the kidneys," more than a third of the chemicals can affect the endocrine system, and a quarter of the chemicals "can cause cancer and mutations," they wrote in the article in Human and Ecological Risk Assessment: An International Journal.
Asked if there were any known cases of cancer from ambient air exposure, Colborn told the Weekly that because cancer takes a long time to develop, "There is no way to nail anyone, make a direct link from gas wells to cancer after so many years have passed. The industry loves that."
In the Hallowich case, things got so bad that the family had to abandon their home. They sued Range and three other companies for polluting their land and came away with a $750,000 settlement in 2011. But the confidentiality agreement that came with it was quite unusual. Among the stipulations in the agreement — affirmed by all parties — presented in the civil court in Washington, Pa., in August 2011: The family would not be allowed to live within two miles of any existing gas or oil facility or within 1,000 feet of any property leased for oil or gas development. They would agree never to attend any meeting, including town halls and government meetings, if the oil and gas industry was on the agenda. And their minor children — a 7-year-old daughter and a son who was 10 at the time of the agreement — would not be allowed ever to talk about the problems that made them leave their old home.
Tim Ruggiero, co-founder of ShaleTest — a nonprofit that does environmental air and water testing for low-income families in oil- and gas-producing regions — said that such strident elements in the confidentiality agreement may have been a result of Stephanie Hallowich's work with ShaleTest.
"She's working with us, and then one day she called to say she could no longer be involved with us. Translation: She'd signed a nondisclosure agreement. But that agreement went so far as to say she could not only not talk about her case in particular, she can't talk about natural gas at all. And neither can their kids."
"Range just seems to love the conflict," said Ruggiero, who had to move out of his home in the Barnett Shale because the quality of life became so poor (half of his small acreage had become a drilling pad). "They go after people. They're just the most difficult to work with — and Stephanie Hallowich and her husband Chris are just another example."
In a twist on the confidentiality agreement — part of which was sealed until very recently — Range's general council, David Poole, told the Pittsburgh-Post Gazette that "Range has never, at any time, had the intention of seeking to hold a minor child legally accountable for a breach of that [confidentiality] provision of the settlement agreement."
Poole's comment would seem to contradict the statement of an attorney who represented Range in court when the confidentiality agreement was discussed.
The Hallowiches "are defined as the whole family," Range attorney James C. Swetz said in that proceeding. "That's the way the contract has been written. That's what we agreed to." And a few minutes later in the transcript, Swetz also said: "I guess our position is it [the confidentiality agreement] does apply to the whole family. We would certainly enforce it."
********