The clumsy manner in which Texas Railroad Commissioner David Porter kicked off a town hall meeting last night in Azle created friction that quickly grew to frustration. The 1,000-capacity high school auditorium was near-filled with residents concerned about earthquakes and natural gas drilling. Few left satisfied.
Porter's opening remarks could serve as a public relations educational tool on how not to face a crowd townfolk worried about the two-dozen earthquakes that have rattled and cracked their homes and created expensive damages that aren't covered by their insurance policies. The earthquakes have occurred near gas drilling activity, and many in the audience put two and two together and cast a suspicious eye toward the drillers.
The meeting began a few minutes late, and the crowd was growing restless when a middle-aged guy in a suit stepped up to a podium and began talking about how he was there to listen to their concerns.
"Who are you?" someone yelled from the crowd.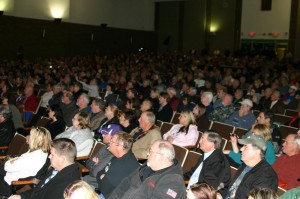 The man heard the loud voice and, perhaps thinking it was a heckler, continued talking without acknowledging the person. Others in the crowd repeated the question in shouted voices. The guy at the podium looked confused, then agitated. After he realized what people were saying, he introduced himself as railroad commissioner David Porter.
He and other railroad commission officials were there to discuss seismic activity (he never used the word "earthquake")  but were only going to listen. They wouldn't be answering questions or sharing information.
"That's absurd," said state Rep. Lon Burnam, who was sitting two chairs from me on the front row.
The crowd grumbled — they knew all about their problems; they were more interested in what state officials had to say.
Officials were only interested in information based on scientific studies and "not speculation that appears in some newspapers and some blogs," Porter said.
More grumbles in the crowd. The speculation Porter was referring to was the suggestion that gas drilling injection wells were causing the earthquakes.
Then he announced that the meeting would last until 7, at which time he would immediately have to leave because he had a busy schedule and would have to be back in Austin the next day. However, he added, the Sugar Bowl was going to begin at 7:30 p.m. and some people were probably anxious to get home and watch the football game.
Talk about misreading a situation.
Almost a thousand people in a small city show up at a high school auditorium at 5 p.m. on a weekday because they are frazzled and afraid, and Porter thinks they give a darn about a football game that didn't even involve a Texas university? Has he never heard of Tivo?
Porter sat down at a table with other officials on the stage overlooking the auditorium.
The crowd erupted in cheers after Parker County Judge Mark Riley said his constituents would like to see a timeline of action from the railroad commission soon.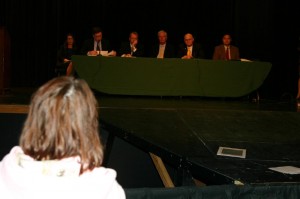 Anyone in the crowd who wanted to speak was asked to sign a form, and one by one they were called to a microphone.
The second speaker asked Porter how railroad commissioners could study or discuss seismic activity in an unbiased manner when the oil and gas industry funded their political campaigns.
The crowd cheered.
Porter stared.
He'd already said he wouldn't be responding to questions. So he stared. And stared. Emotionless. He barely changed expressions for two hours before bolting for the exit at 7 sharp without speaking to anyone, including reporters (all the major news organizations in the area attended).
Most of the concerns expressed by residents involved cracks in their houses' walls, windows, and foundations from recent earthquakes in a region where none had previously been felt. They complained that their water pipes had burst. Sinkholes. Their chickens had stopped laying eggs. Their insurance didn't cover earthquake damage. Their children were having nightmares. And, worst of all, they'd seen no accountability among state officials or the drilling industry.