Her (R) Spike Jonze's greatest film yet stars Joaquin Phoenix as a near-future divorced guy who falls in love with his smartphone's operating system (voiced by Scarlett Johansson), who's equipped with an artificial intelligence personality that evolves from her experiences. What could have been a glib satire on our dependence on technology instead becomes a surpassingly beautiful and serious-minded (though still quite funny) disquisition on the transformative powers of love and how people change during the course of a relationship. It's anchored by tremendous performances by Phoenix, bringing sweetness and humor that we haven't seen from him, and Johansson, who makes the OS's insecurities palpable despite not appearing on the screen. The movie's DIY feel gives this vision of the near future great texture, and its loneliness make it haunting. Also with Amy Adams, Rooney Mara, Olivia Wilde, Chris Pratt, Portia Doubleday, and Matt Letscher. Additional voices by Spike Jonze, Brian Cox, Bill Hader, and Kristen Wiig.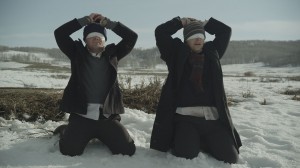 The Hobbit: The Desolation of Smaug (PG-13) A distinct improvement on the first Hobbit movie though not enough to actually make it good. Martin Freeman returns as the plucky Bilbo as the hobbit and his band of dwarves make their way toward the final showdown. Peter Jackson engineers a couple of fantastic action set pieces, Richard Armitage continues to make an inspiring dwarf leader, and Evangeline Lilly is a nice addition as an elven warrior. Yet the plot goes off in several different directions in the last hour, and Jackson mishandles this pretty disastrously. This will be worth renting on DVD, where you can fast-forward to the good parts. Also with Ian McKellen, Orlando Bloom, Benedict Cumberbatch, Luke Evans, Lee Pace, Ken Stott, Aidan Turner, Mikael Persbrandt, Stephen Fry, and Cate Blanchett.
The Hunger Games: Catching Fire (PG-13) Everything that was ragged about the first movie has been smoothed over in this sequel containing the future adventures of Katniss (Jennifer Lawrence) as she has to fight to survive a special edition of the Hunger Games. Director Francis Lawrence (no relation to the lead actress) takes over the series and devotes time to the action before the Games and does a better job of integrating the special effects into the story, while the writers include more layers for the supporting characters and more material from Suzanne Collins' novel. The movie is missing a spark of greatness from the filmmakers, but Jennifer Lawrence picks up the slack, playing the shell-shocked heroine like her life depended on it. If the series can gather strength the way she's doing, it'll be formidable indeed. Also with Josh Hutcherson, Liam Hemsworth, Woody Harrelson, Elizabeth Banks, Lenny Kravitz, Stanley Tucci, Toby Jones, Donald Sutherland, Sam Claflin, Jena Malone, Jeffrey Wright, Lynn Cohen, Willow Shields, Paula Malcomson, and Philip Seymour Hoffman.