Within a five-mile radius of the University of Texas at Arlington is a vast patchwork of ethnic restaurants (Thai, Indian, Chinese, you name it). The area is also now home to Fork in the Road, a small eatery that isn't ethnic but is pretty flavorfully diverse. Owner/chef Josh Hopkins recently opened the place after cooking stints at several notable Dallas establishments — The Green Room, Café Brazil, and Star Canyon — and his experience shows.
"Eclectic" is probably the best way to describe the joint. Surrounding the intimate dining area (accommodating only about 10 tables) are walls adorned with superhero action figures perched on shelves. There's also a small window to the kitchen, through which Hopkins pops his head occasionally to chat with customers.
The hummus, fresh and mild, was glistening with olive oil and didn't overpower with garlic or lemon juice. What further separated this golden mound from traditional versions were several tiny slivers of jalapeño, which added a welcome kick. The dish was rounded out by three slices of warm pita bread and a side of cornichons (small pickles) and Kalamata olives.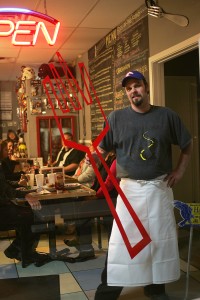 Next came an order of Crack-a-Roni. It wasn't illegal, but it sure was addictive: a heap of al dente macaroni clumped together with a gooey mix of three cheeses that ranged in flavor from mild to slightly tangy, everything drizzled with warm, nutty truffle oil. The blend of flavors and textures was heartwarming and filling.
Although the place's name would suggest otherwise, sandwiches –– eaten by hand –– are the main attraction. The cranberry chicken salad sammy consisted of two thick buttered and toasted slices of sourdough stuffed with chunks of moist white meat drenched in rich mayonnaise and spackled with dried cranberries and diced celery. The berries gave every bite a pleasant tartness.
Fork in the Road serves all of its burgers on ciabatta buns with a wide variety of toppings, including blue cheese, smoked Gouda, pepperoni, and pulled pork. The burger with cheddar and avocado was a masterpiece. Also piled with romaine lettuce, tomato, and red onion, the juicy and peppery half-pound patty tangoed elegantly with the creamy avocado and tangy cheddar.
Due to Hopkins' affinity for sodas, Fork in the Road also specializes in quirky soft drinks. The craziest brand is Tyler's Rocket Fizz, whose flavors include corn, ranch dressing (!), buffalo wing (!!), and bacon (!!!). The initial shock –– "There's bacon in my soda!" –– quickly gives way to joy, though, with the natural cane syrup working its magic on the hickory-tasting pork notes.
There's only one dessert at Fork in the Road, but it's a good'un. Baked fresh daily, the red velvet fudge pie had a flaky, buttery crust, three inches of light, fluffy cake, and a topping of fudge that seemed a bit dense at first but became gentler with each bite.
That so much care and attention seems to go into every dish here is no surprise. Hopkins is the only chef, and he works just a few feet away from his customers.
[box_info]
Fork in the Road
1821 S Fielder Rd, Arlington. 817-459-3675. 11am-9pm Tue-Thu, 11am-10pm Fri-Sat. All major credit cards accepted.
Hummus ……………………………………. $6
Crack-a-Roni ……………………………… $7
Cranberry chicken salad sandwich . $7
Cheeseburger ……………………………. $6
Bacon soda ……………………………….. $2
Red velvet fudge pie …………………… $4
[/box_info]