Adam Adolfo just wanted to play one of Willy Loman's sons. A Corpus Christi high school student and already a theater geek, he auditioned for the Death of a Salesman role in a community theater production — and, in one of those rare moments, was sure he'd nailed it.
But the days passed, and he got no callback. When the cast list came out, his name wasn't on it.
In that moment 16 years ago, Adolfo, now artistic director of Artes de la Rosa, the resident arts group at Fort Worth's Rose Marine Theater, realized that many classic American plays weren't written for everyone. The disappointment spurred him to think about the limited opportunities available to him and other Latino artists, even in a supposedly liberal and diverse American theater culture.
"I realized then that the [Anglo] family in the play didn't have a place for me," he said. "Willy Loman wouldn't be played by a Latino actor, and neither would his sons. And I thought, 'I'm never going to get a chance at what they call the classics. That's just the way it is.' "
Fast-forward to Fort Worth in 2014: In five years as the artistic leader of Artes, Adolfo — in the estimation of many board members, staffers, and patrons — has revitalized the group as a lively, relevant theater entity known for staging politically daring works (The Fifth Sun, about the murdered Salvadoran priest Oscar Romero; Electricidad, a Chicano theater-style street gang take on a Greek myth) as well as family-friendlier fare (Romeo and Juliet; a stage version of S.E. Hinton's The Outsiders).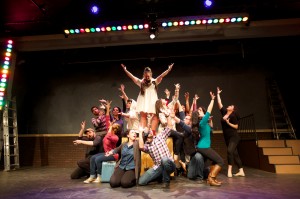 Perhaps most ambitiously, Adolfo, now 33, began an annual program called the American Classics Initiative, in which he and the Artes performers put a Hispanic spin on the canonical plays that Latino actors normally wouldn't be considered for. Lightly Latinized versions of Cat on a Hot Tin Roof and Arthur Miller's A View From the Bridge have won critical acclaim for Artes.
Another important shift for Artes de la Rosa and the Fort Worth Latino theater community came in May 2013: Artes produced and Adolfo directed the regional premiere of the Broadway musical In the Heights. It's a sprawling, intergenerational, multi-ethnic song-and-dance extravaganza about New York's Washington Heights neighborhood. Hundreds of Latino actors from around North Texas auditioned, and the show was cast with a mix of professional and amateur performers. It was a critical and financial smash for Artes, which has gone from being a ragged outlet for aspiring neighborhood amateurs to a more polished purveyor of ambitious shows whose best moments rival what you'd see at an all-professional company like Jubilee or Stage West.
Wanting an equally splashy follow-up, Adolfo and the Artes board selected not another Latin-flavored extravaganza like In the Heights, but legendary composer Stephen Sondheim's satirical musical Into the Woods, a melancholy comic romp that deftly reimagines various Brothers Grimm stories for grown-ups. Into the Woods, which has rarely received any kind of "ethnic treatment," was chosen by Adolfo as part of his classics program.
Steve DeLeon was a founding member of the Latin Arts Association of Fort Worth, the group that later became Artes de la Rosa, and has served on its board on and off for eight years. He credits Adolfo's sometimes-risky artistic choices for putting the organization on several maps.
"The musicals, in my opinion, have placed Artes as a strong, viable theater group in North Texas," he said. As for the American Classics Initiative, "The ingenious way that Adam has adopted a 'Latino twist' to some of the shows has increased our audiences from both the general public and the Fort Worth Hispanic community. So far his gambles have paid off."
And yet, Adolfo has decided not to Latinize any of the fairy-tale locations, themes, or characters of Into the Woods. He's doing the show as written and developed by songwriter Sondheim and book writer James Lapine. (In contrast, he transferred the story of Cat on a Hot Tin Roof to a Cuban family living on a Florida plantation.) The spin he's placing on Into the Woods has to do with casting, not interpretation: He's putting Latin and African-American (and some Anglo) actors in the traditionally Eurocentric roles of Cinderella, The Prince, The Witch, and The Big Bad Wolf. Though such a move sounds obvious and rather uncontroversial for any so-called "ethnic" arts organization, it has rarely been done with Into the Woods on the scale Adolfo is attempting. Or any scale, as far as he can find.
"We made no effort to introduce Latino cultural identity [into the book or the score]," Adolfo said. "Instead, I have my melting-pot cast ready to tell this story intact, with its Sondheim songs that're renowned for their difficulty." He paused to chuckle. "I guess you could say I'm introducing North Texas Latino audiences to Sondheim. We'll see if audiences accept 'ethnic' actors in these roles."
Adolfo is betting they will, and he's got a track record for putting across unlikely material to local audiences.