********
Adolfo is a bearded mountain of a man who speaks in a playful, casually cultured voice that doesn't sound affected. He studied theater at Stephen F. Austin State University in Nacogdoches and worked in artistic and administrative roles for stage groups in Arizona, Ohio, and North Texas before bagging the Artes job in 2009.
As a director, actor, and  conversationalist, Adolfo is well versed in everything from Shakespeare to Lorca to Rodgers and Hammerstein. (American musicals, for the record, are his first love.) When he arrived at Artes, the resident theater company at the Rose Marine was called Teatro de la Rosa and functioned mostly as an occasional community-theater outlet for rough, amateur productions.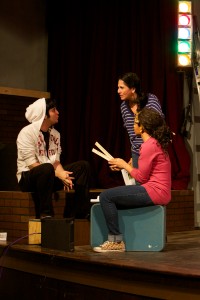 With the support of most of the Artes board, Adolfo shook things up with his mixture of politically edgy works, traditional fare like musicals and classical drama, and his classics initiative. Under his artistic directorship, the audiences have grown, and the critics have started taking Artes seriously as a Fort Worth theater organization. But Adolfo hasn't confined himself to directing Rose Marine shows — he's guest-directed productions for Stolen Shakespeare Guild (a radically stripped-down Henry V) and the LGBT performance group QLive! (Yasmina Reza's contemporary three-character comedy, Art).
Lauren Morgan, co-founder and co-producer of Stolen Shakespeare Guild, speaks highly of Adolfo's instincts for staging classical theater. She particularly appreciated his lack of blind reverence for the Bard.
"Adam is so much fun to work with," she said, "because he's willing to try anything with the material. He re-imagined Henry V, and suddenly it was no longer a play full of stately old men speaking Elizabethan dialogue. He placed it in an eclectic modern era that allowed you to see the characters in a completely new light."
Yet for all his theatrical versatility and willingness to experiment, Adolfo arguably didn't make his biggest impression on North Texas theatergoers until last May's regional premiere of In the Heights.
From rehearsals to final performance, it was a grand event for Latino performers in the area: More than 150 people tried out for the show during three days of auditions. Adolfo and his musical director ultimately chose a cast of 26 performers from Fort Worth, Arlington, Denton, Dallas, Rockwall, and other area cities. One thing that united everyone, including ticketbuyers at the production's sold-out performances, was the desire for a show featuring urban Latino characters that didn't focus on crime or immigration issues.
"In the Heights is not West Side Story, where the characters carry weapons and run around causing trouble," Adolfo said. "There's no gangs, no drug-dealing, no random pregnancies. But the show isn't Bye Bye Birdie, either –– it's not just a perky little musical. It's emotionally charged, full of ups and downs, heartache and joy. I think people were just happy to see it because, for this ethnic community, there are so few shows that we can call our own."
Artes' In the Heights was an unqualified critical and commercial hit, and everyone wanted to score another musical smash for the 2014 season. After considering everything from Evita to new-ish shows like Next to Normal and Women on the Verge of a Nervous Breakdown, Adolfo and the board ultimately chose Sondheim's 1986 Into the Woods, a witty adult updating of famous European fairy tales. Plot-wise, it's a complicated musical where a witch's spell interconnects the familiar stories of these famous characters in unexpected, sometimes sad ways.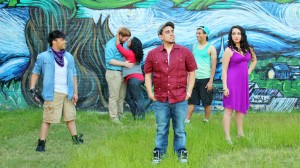 Adolfo had always loved the show but had never been quite satisfied with the many versions he saw, both live and recorded. And while you wouldn't think that race and ethnicity would be considerations when casting the roles of, say, Cinderella and her Prince, Adolfo knew of no major national or regional productions that featured a multi-racial cast. Come to think of it, he hadn't seen many live or filmed adaptations of fairy tales period that had, say, a Latina Rapunzel or an African-American Jack (of Beanstalk fame).
And so last December Artes announced open-call auditions for Into the Woods. The criterion for trying out was simpler than for In the Heights but also a little tougher: Instead of the typical monologue and a song, actors had to prepare and perform one Sondheim tune from any of his musicals. Again, Sondheim compositions are considered challenging for their elaborate melodies, precise wordplay, and sudden changes of mood and tempo.
Kristin Spires, an actor and singer who served as musical director for In the Heights and is doing the same for Into the Woods, has performed in several shows Adolfo directed. She compared the different demands of the two musicals and the different kind of performers who showed up to audition.
"Generally, the difference between the two shows would be one of style," she said. "Into The Woods requires a little more of a classical, 'trained' sound from some characters, while In The Heights has a much more contemporary flavor and is a heavy dance show. Of course, a performer doesn't have to be confined to one style or the other. We have cast members in Woods who were also in Heights. Both shows need strong, intelligent singers who have a great sense of rhythm and diction."
Adolfo's explanation for his singing-only auditions was simple: "This is Sondheim. If you don't have a voice, no amount of acting is going to save your performance. If you can sing and have personality, then I know you can act. If you can sing and it's all technique, I'll give you the opportunity to show me more [with another Sondheim tune]."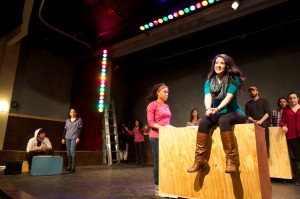 Adolfo and Spires saw more than 80 actors from all over North Texas ­­–– many of them Latino, but also a generous share of black and white performers. From that group they cast the show's 18 roles. Though not as large a turnout as the cattle call that brought actors to audition for In the Heights, that's still an enormous number for any musical staged by a Fort Worth company, professional or not. (Because of time and budget constraints, local troupes tend to shy away from productions with such large casts.)
About half the actors who made the cut had performed at least small roles in other Sondheim musicals. Artes' Into the Woods still isn't as racially diverse as Adolfo wanted — he hoped to cast at least one Asian actor, but none auditioned — but it's pretty close and certainly more multiracial than any previous production he's seen or heard of.
During rehearsals, Adolfo cultivates a deliberately casual atmosphere so that performers will have a feeling of spontaneity and open creativity. Padding around in bright, elaborately patterned socks, Adolfo paced from one side of the theater to the other on a recent evening as he delivered instructions to the actors onstage, often waving his hands in a style he calls "very Latin." He encourages cast members who are present but not currently practicing their scenes to send Twitter, Instagram, and Facebook messages about the rehearsals. That would be verboten for a lot of directors, but Adolfo considers it free marketing and advertising for the upcoming production.
Jeremy Coca is a 17-year-old student in the theater program at Dallas' Booker T. Washington High School for the Performing Arts. He's the youngest member of Artes' Into the Woods cast (he plays Jack). The show represents his first foray into Sondheim and his first paying theater gig. (Performers in Artes shows typically receive a small stipend for their work.)
"Working with Adam is like riding a roller coaster you've never been on before," he said. "You don't know what to expect until you get to rehearsal. At times he can be gentle and sincere, but he's also passionate and intense about theater. That's my favorite thing to watch."
Coca confirmed that Sondheim deserves his reputation as a demanding composer to perform. "He can really kick your butt," he said. "He doesn't write in the traditional sense of how music naturally flows. What I love about Into the Woods is that there's a different melody for each character. Then Sondheim will change the mood of the piece in an instant, even in the middle of a song."
As it happens, Adolfo's production will beat by several months the summer release of Disney's big-budget movie version of Into the Woods starring Meryl Streep, Johnny Depp, Anna Kendrick, and Chris Pine. (Again, there's not an actor of color in any of the major roles.) Choosing to stage their version before the blockbuster film was a deliberate choice from the very beginning.
"I'm a guerilla marketer for my shows," Adolfo said with a laugh. "I was aware that people would already be hearing the title Into the Woods by now, so yes, we wanted to capitalize on that. We're riding the movie's pre-publicity right along with it. We considered doing it later in the year [after the film's release], but I couldn't imagine answering the phone all day at the Rose Marine with people asking, 'What are today's screening times?'"
 ********
Artes de la Rosa will open Adolfo's production of Into the Woods on Feb. 21 and perform it through March 16. So far, the rehearsals are humming along nicely. One of Adolfo's goals for the show is to make it a more "athletic" piece, to force the actors to move around and interact a little more than in other productions he's seen. He's introduced bits of choreography and stylized movement, and so far, the performers seem to have taken to it. And of course there are the Sondheim songs, which are acrobatic in their own way.
"Sondheim is a mental workout for singers," Spires said. "The rhythms are often tricky, the melodies can cover wide ranges, and the pitches can seem to be pulled out of nowhere, often with no help from the accompaniment. So far, I've been impressed with the preparation the cast members are doing before the music rehearsals. It's music that has to be in you, be internalized."
Many of the Artes folks regard the sold-out success of last year's In the Heights as a kind of good-luck charm, a happy harbinger of audience support (especially in the Latino community) for another big-cast musical delivered in the intimate Rose Marine theater space. And as Adolfo knows, there is a recent Fort Worth precedent for casting Sondheim musicals with racially nontraditional actors.
In summer 2012, Jubilee Theatre presented an almost entirely African-American version of the composer's urban relationship saga Company. Most of the performances sold out. Adolfo didn't see the production, but he considered it another sign that local theater audiences will accept what, at first, sounded a little odd on paper –– lily-white Sondheim, a god among affluent Anglo patrons of American musicals, rendered in somewhat darker skin tones.
"Tre [Garrett, Jubilee's Company director] knew there was no reason not to do it," said Adolfo. "Are you telling me there are no men in the African-American community with commitment issues? No black women looking for good men? That's what Company is about, in part. The fact that it's 2012, 2014, and we're just starting to explore these things? Theater is a mirror, so we need to start reflecting reality."
Regardless of how well Into the Woods does with audiences and critics, Adolfo feels he's well on the way to accomplishing the goals he had for Artes when he took the artistic reins in 2009. First among those ambitions was establishing Artes as a venue for Latino theater artists to gain experience and exposure. He remembers being a young director in college and, after graduation, a freelance director moving from company to company. It was hard to get hired for jobs, and when he did land a gig, it was difficult to get people to come see the shows. He hopes Artes de la Rosa ultimately serves to reduce such obstacles.
"I like to think of Artes as the place between community theater and professional theater," he said. "We want to be big enough to do big, exciting shows, but small enough to cultivate careers."