Feeling the need to accomplish other things, Olson left the Rangers in 2012, though he continued doing contractual work for them while the team found a replacement. Since then, he has shot TV commercials and training films as well as writing a movie script, but his work in West is currently the biggest item on his agenda.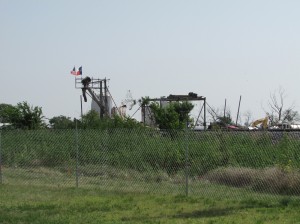 After West High School was badly damaged in the blast last spring, the Fort Worth firm of Huckabee, Inc. (which had built the existing school) was tasked to build a new one for the small Texas town. Company officials knew from the start that they wanted to document the entire process on film, from the demolition of the old buildings to the opening of the new school.
The process received a boost on Feb. 10, when the Federal Emergency Management Agency announced a $20.8 million federal grant for the school rebuilding, which will help local taxpayers and allow the school to reopen on schedule in late 2015 or early 2016.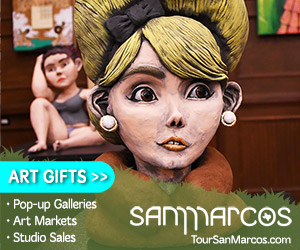 Ludisian Legion Entertainment, a Dallas firm that produces music videos, graphics, and audio recordings. He met Olson 10 years ago when they were both aspiring musicians. (Olson still plays bass and sings backup for country-folk singer DeAnna Wendolyn.) Later, Olson hired French to do production work for the Rangers. Now Olson is French's client, using his company's production facilities, including for the West project.
"I've worked with off-the-cuff directors," said French. "Rush isn't like that. He's one of the most organized people I've ever met. He's diplomatic, and he treats the personal assistants the same as he treats multimillionaire ballplayers. You never get a curveball from him."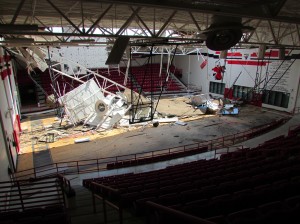 It was a delicate task, strangers bringing cameras into a town that had just been through a significant trauma. "These are great people, but they had just been bombarded by the press," said French about the people of West. "They were looking at us like, 'Who are these guys?' "
"I was trying to wrap my head around the magnitude of the destruction," said Olson. "From the outside, [West High School] doesn't look that bad, but once you go inside, you see the damage. That really drove it home." Indeed, he has pictures taken inside the building showing caved-in roofs and ceiling tiles rearranged in wavy patterns by the shock of the blast.
Olson tries to be as prepared as possible for interviews. "You can't really know what these people have been through until they start talking to you," he said. He cited his sports background as an aid in getting people to open up. "There are always new players [on a team], and they always have to talk to media as part of their jobs," he said. "It's all about establishing a comfort level and being genuine. When I was interviewing people, I'd explain the process: 'You're going to sit here. The light is here. This is Dave.' We get better material if [our subjects] feel invested, instead of just having me ask questions from behind a camera."
He also noted that his work was made easier by the levelheadedness of the teenagers whom he has interviewed. "They just seemed to handle it really well," Olson said.
Huckabee and school district officials chose high-achieving students to be interviewed, freshmen and sophomores who were willing to talk and who would still be in school when the new building opens for classes.
District Superintendent Marty Crawford was immediately receptive to Olson's project. "When you go through an experience such as this, you can do yourself a disservice by not documenting the positive things that happen," he said. "This film will document the rise of this community. You'll be able to see it 50 years from now and know how we came through this."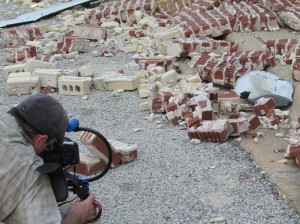 "West people are pretty astute about whether your heart's in the right place," Crawford said. "[Olson's and French's] personalities made it easy for them to fit in. They're not just manning a camera. They've been interested in what the kids have to say. They've been engaged with this community since Day One." He also praised Olson's and French's sensitivity and willingness to avoid disrupting the education process.
Neither Huckabee nor the school district has dictated the content of Olson's film. While he has had to negotiate regulations about safety issues (for filming on hazardous construction and demolition sites) and privacy (for interviewing minors), he said he has so far been given free rein when it comes to filming.
"They've always accommodated our ideas," he said of Huckabee. "They've never told us where not to go."
Some of the preliminary footage can be seen on Restore West ISD's YouTube page. The spots are polished, complete with background music and Olson's own voice providing narration. They're intended to attract attention to the work that's being done. Perhaps because of this, they're determinedly light in tone, with one featuring sophomore Griffin Paxton talking about getting lost on the temporary campus that the students are using.
The deeper emotions caused by the destruction and loss of life are mostly absent, though Olson does show a brief snippet taken at a West High School pep rally shortly after the explosion, featuring a motivational speech by former Baylor football coach Grant Teaff. The still photos that Olson has on hand from the first West High football game after the disaster point to the human portrait that his film could turn out to be. There's no word yet on how the finished film will be distributed.
In the meantime, his work as a consultant has led him to write and shoot promotional spots for the Dallas Sidekicks indoor soccer team, as well as animated short films for training sales staff. For the latter, Olson writes the scripts and then submits them to the web site GoAnimate.com, which provides crude but effective animation that plays out instructive scenarios. One, made for the sales firm RevenueForce, follows the attempts of a neophyte salesman to sell companies insurance against zombie attacks. In his spare time, he posts to a personal blog about issues at the nexus of sports and marketing.
In addition to the local sports teams, Olson roots for the English soccer team Liverpool FC, an interest that took hold when Tom Hicks owned both the Rangers and the Liverpool team. Hicks no longer owns Liverpool FC, but that hasn't changed Olson's loyalties. "I'm no fair-weather fan," he said.
Olson is also putting out feelers for a script for a thriller that was inspired by the Edward Snowden case. Entitled I Am Douglass (after the abolitionist and former slave Frederick Douglass), the script is about an FBI agent who wants to leak an important secret but must get to a secure location to do it.
"Snowden did a great job of collecting the information he wanted and leaking it, but he did a terrible job of running away," Olson observed. "I've done a lot of research on how to hide your internet searches and how to get away when people are trying to find you." He wants to direct the movie himself but is open to stepping aside if a name director shows interest.
Olson has gained a deep respect for the resilience of his subjects and the people of West.
"This terrible thing happened to them; they know they can't do anything about it now. They're focused on making the future better," he said. "You can either be caught up in something like this, or you can move forward."