It's been winter too long in Fort Worth, so the drizzly, overcast skies on a recent Saturday afternoon were both familiar and unwelcome. Inside the door of Dance Concept, cool gray walls and patterned gray carpet echoed February's tedious color scheme. Color and life were vividly present, though: The small lobby was filled with exuberant young dancers in constant motion.
From pint-sized beginners to seasoned high school-age veterans, the dancers, parents in tow, bustled about in excited groups,  in and out of the door of the studio on Bryant Irvin Road, picking up costumes for an upcoming performance, arriving for rehearsals. Boys and girls bounced over puddles, here and there spinning into joyful al fresco pirouettes. Some girls actually squealed, as if in full-throttle anticipation.
Amid the chaos, Debbi Jo Utter moved among the dancers, offering encouragement and reassurance about the February performance, talking about costumes and fit and how they'd work with the dances.
Utter is the founder and director of Dance Concept. Slender, muscular, and attractive, she wore black dance pants and a sleeveless black top, her long blonde hair pulled back and braided. She looks younger than 58 and walks with the turned-out feet and confident stride of a lifelong dancer. She's had two hip replacements in the last few years, results of decades of joint stress and physical punishment required of professional dancers.
"We just celebrated our 40th anniversary, but it doesn't seem so long ago that I first started teaching," she said.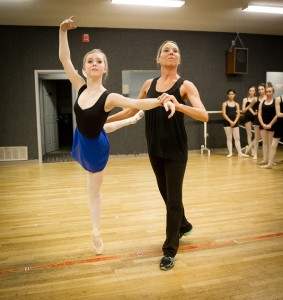 Kids who have taken lessons from Utter and her faculty, including co-director Leslie Senevey and hip-hop dance expert Michael Miles, seem to have a leg up in the professional dance world. Former Dance Concept students have landed scholarships in New York City and been hired by ballet companies there. They have snagged roles in Broadway shows, performed in music videos and TV commercials, toured with recording artists, and danced with Beyoncé.
"There have been so many of our kids who've gone into professional careers, I couldn't really list them all," Utter said.
But she could list her earliest protégés: Kurt and Kyle Froman, two of her five brothers, whom she inspired and both of whom danced with the New York City Ballet before branching out into other parts of their hugely successful careers. Kyle is a sought-after dance photographer in New York. Kurt Froman, an assistant choreographer and Natalie Portman's dance coach on the Academy Award-winning film Black Swan, is getting ready to work on another film.
The school that started with a high-schooler teaching younger kids in her garage now has almost 800 students, learning nearly every imaginable dance genre — jazz, lyrical, hip-hop, tap, contemporary, classical ballet, pointe, and musical theater.
"When you think about dance, you think about life. We start to dance in some way as soon as we can walk," Utter said. "The joy of movement and music is part of having a soul."
 ********
Kurt Froman was jazzed. The transplanted Texan had just heard that the film project Prima had gotten the green light from the production team. He will work on it as a choreographer.
He blurted out the details in a rapid-fire cadence, not a trace of Texas left in the voice. "It's by the producers of Up in the Air. The writer is Evan Greenberg, and Vera Farmiga is the star. She played opposite George Clooney in Up in the Air. There will be a troupe of 12- to 14-year-old girls who'll do most of the dancing — tons of dancing. It's a $3 million budget, so we'll get it done fast. It's shooting in Vancouver. We'll have local casting there from the major ballet schools."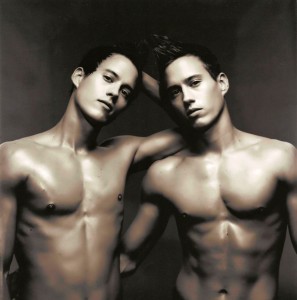 A week later, he was just as excited about another project. "I'm actually leaving tomorrow to go to Paris to work on a second movie, acting as assistant choreographer," he said in a rush. "It's an animated movie with lots of dancing, but not sure what it's being called these days or who is directing it. I guess I'll find out in a few days!"
The brothers both live in New York now — Kurt on Manhattan's Upper West Side and Kyle in the NoHo neighborhood — following paths that started with their sister Debbi Jo.
"She started teaching us tap and jazz around age seven," Kurt recalled. "I think I was nine when she insisted we take a ballet class." The siblings didn't tell their father, William, about the ballet classes for a little while. "He was against it, because we were boys," Kurt said. Their mother, Sally, also a dancer, encouraged them to follow their hearts.
The way Kyle remembers it, he and his twin brother found dance as a way to fill time. And because Debbi Jo insisted.
"Mainly, we were always looking for something to do," he said. "We taught ourselves to ice skate when Tandy Center had an ice rink downtown. We tried football because we were boys in Texas," he said, laughing. "We hated it."
When their older sister started teaching them to dance, "We liked her class almost immediately," Kyle said. "I think Debbi Jo provides such a wonderful haven for kids. It's why we kept dancing."
The Froman kids grew up in Tanglewood and went to Paschal High School. At home, they were immersed in the arts: Their dad, William, was a singer with the Fort Worth Opera. Their mother, Sally, danced mostly in musical theater. The couple had met in St. Louis while both were performing in summer stock. (William proposed to Sally during a production of Kiss Me, Kate.)
When the twins were 15, Kurt said, they received "the first Rudolf Nureyev scholarships to the School of American Ballet awarded by the New York City Ballet. Those scholarships paid for everything in New York — even the plane tickets up there."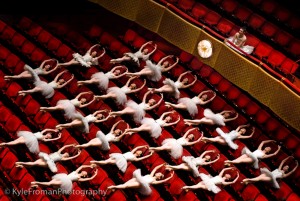 For the next three years, the teenagers traveled between New York City and Fort Worth. They were asked back three times for summer class sessions with the New York troupe, and they also took classes at the Fort Worth Ballet's company school while they finished high school here. As high school seniors, the brothers performed with the Fort Worth Ballet for a year.
When they turned 18, they were both hired to dance senior corps de ballet and soloist parts for "City Ballet," as the NYCB is familiarly known.
Ten years into his New York ballet career, Kyle 's ambitions began to separate somewhat from his brother's.
"In 2005, I wasn't having a very busy season with the City Ballet," he recalled. "We were performing six weeks of The Nutcracker, which is huge for the company and every performance is sold out."
Personally, however, Kyle was bored. "I started visualizing pictures around me," he said. "In class, I caught sight of arms in front of me and noticed the precision of battement tendus [a step that is part of a dancer's warmup routine] at the barre." Waiting in the wings during a performance, he began to frame vignettes of the dancers, close-up impressions of the smallest movements. "I just decided I should bring my camera with me. I did, and then I decided to make a project out of it."
He had always loved dance photography. "Martha Swopes' pictures of Broadway and ballet were such an inspiration, but I never thought I would do this," he said.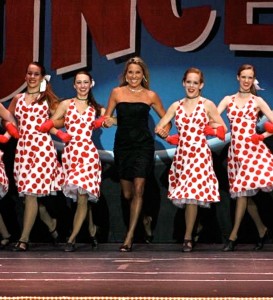 He got a literary agent to pitch the photography book idea but found no takers until his husband pointed out an article about another art book published by John Wiley and Sons. "We talked to them, and they were happy to publish it," Kyle said.
The resulting In the Wings was published in 2007 and positively reviewed as a true insider's look at the New York City Ballet.
At 37, Kyle's unique and artful takes on dancers and their world have been featured in national dance magazines, including Dance and Pointe.
When Kurt left City Ballet in 2009, he turned to Broadway, where he has prospered both as a dancer and a choreographer. He served as the resident choreographer for Billy Elliot, The Musical on Broadway and in a second national tour. He staged a work for the Paris Opera Ballet's Tribute to Jerome Robbins and was selected by famed choreographer Twyla Tharp for a starring role in her Broadway show Movin' Out that featured Billy Joel's music. Other dance credits include performing in the revival of Pal Joey at Studio 54 and in Julie Taymor's Across the Universe, with a Beatles soundtrack. He's danced on Saturday Night Live, Live from Lincoln Center, and in the teen dance-drama film Center Stage.
Kurt's work on Black Swan in 2010 led to the opportunity to be part of Prima. Natalie Portman's husband Benjamin Millepied, the choreographer on the blockbuster ballet film, recommended Kurt for the new project. (Millepied is also head choreographer on the new animated project Kurt is involved in.)
After the shooting of Prima wraps up, he's headed back to Paris to work on the musical theater adaptation of An American in Paris, based on the 1951 MGM movie. He'll serve as the dance captain and train understudies.
"I think it's much better than the movie, and that's strange to say about such a classic," Kurt said. He'll spend this fall and winter in Paris, where the show's out-of-town, pre-Broadway run is slated.
He hopes he can keep performing even as he fields offers to do choreography. "Teaching is a big part of being a choreographer," he said. "Debbi Jo has really influenced me as far as teaching goes. I try to bring the same excitement and energy into my classes as she does to hers.
"I'm missing my time with her," he said. Although he and his brother get back to Fort Worth as often as they can, "It's not often enough."
 ********