She was Debbi Jo Froman back then. She  studied dance from the age of four and early on wanted to teach others what she learned and loved about ballet and tap. "I taught a handful of kids in my garage when I was in ninth grade," she said, grinning. "I stuffed mailboxes with my fliers and talked the neighbors into letting their kids come to my dance class."
Because dancers, like all professional athletes, have a limited window of time in which to perform at their peak, college can often be a tough decision for young dancers. "That sets up a dilemma for a dancer [who] is tempted by offers for performing jobs," Utter said.
She opted for college. In North Texas three local universities offer dance degrees and noteworthy experiences with top-notch faculty — the University of North Texas, Texas Woman's University, and Texas Christian University.
"I was already teaching when I went to TCU," Utter said. She majored in art history rather than dance. "I had taken classes from some of the best [dance instructors] in Fort Worth. From Marilyn Gaston,  the late Nancy and Fernando Schaffenburg, and I was taking class and working as a teaching assistant at the Hollemon-Howard studio just before I opened Dance Concept."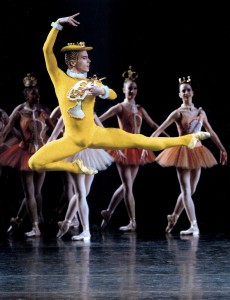 Utter was content to stay home rather than leaping into a national dance career. The chance to help prepare hard-working young dancers for professional opportunities has provided her greatest satisfaction.
"I think it's a combination of love for dance and my own background and professional experiences," she said. "I have had wonderful teachers and have knowingly and unknowingly incorporated the best of each of them into what I do with my students."
She and her staff try to provide a strong sense of family to their students, she said. Whether a student finds fame and fortune or simply satisfaction and personal achievement, it's all the same to Utter.
Kurt Froman said that's one of his sister's strengths. "One thing that's really special about her is she acknowledges that not everyone can have a professional career," he said. "Whether or not her students make it, they're learning something so valuable in life."
That work ethic he learned in his sister's studio still echoes with him: Show up on time; work as hard as you can; focus.
Kyle said that as a former student and an observer at Dance Concept, he believes students flourish in part because of the individual attention they receive. "It's not all about being good enough to get into a professional company, although you certainly could work hard and achieve that," he said. "It's about trying and improving."
More than 100 girls and boys of the school's 800 regular students will strut their stuff in Dance Concept's season- opening performance and fund-raiser on Feb. 23 at Will Rogers Memorial Auditorium. They are part of the school's competitive performance team.  In March and April, the students will present three more programs open to the public, and in May, they'll dance at Mayfest in Trinity Park.
Utter and her faculty go beyond classwork for their students, taking them to workshops in Los Angeles and New York for exposure and inspiration.
"One of our consistent opportunities is with the Tremaine dance organization," Utter said. Tremaine offers auditions around the United States with choreographers and dance schools. At Tremaine events in Los Angeles each year, Dance Concept students attend master dance classes, audition for film and video projects, and rub elbows with successful professional dancers who share their experiences and contacts.
"Glen Todd and Melinda Cantu were awarded apprentice positions, so they were able to travel all over with the Tremaine group" for several years, Utter said.
Asked about former students who have gone on to professional careers, she rattles off a quick list of names and recent accomplishments: Madilynn Mar, Jessica De La Garza, and Haley Falls just received scholarships to study with the Joffrey Ballet School based in New York City this summer. Tucker Heim dances and acts in a new Fruit of the Loom commercial. Melinda Cantu is on tour with Sky Blu, a hip-hop music artist who is part of LMFAO, the group that became well-known after recording "Party Rock Anthem." Glen Todd was a principal dancer in Disney's The Muppet Movie, and appeared in national commercials with Psy for LG, as well as in Reebok and Microsoft ads.
Across more than 40 years of instruction and encouragement, Utter figures she and her school have affected a hundred thousand kids.
"I hope they see my impact not only in the dance part, but in the life lessons," she said. "I spout what I think, and that has created some responsible, passionate humans."
  ********
Melinda Cantu remembers the college-or-job quandary.
A Dance Concept student from the age of six, Cantu began making her mark early; she had successful auditions with Tremaine Dance beginning at age 16.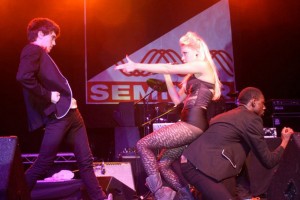 "Debbi Jo asked me to come on the Los Angeles trip, and I won a couple of scholarships and then went on tour as an apprentice for a year," Cantu said. She's clearly dazzled by the dance life and works hard to keep her edge in the competitive hip-hop dance scene in L.A., where she has lived for about six years.
"I promised my mom before I started high school that I would go to college before starting a dance career," she said. As her success in professional dance grew, she tried to back out.
"My mom said, 'You promised,' " Cantu recalled, and that was the only reason she went to college, at least that time around. She earned a bachelor of fine arts in dance and performing arts from the University of Central Oklahoma in 2009.
After that, Cantu moved to Los Angeles and got a string of professional gigs, mostly dancing hip-hop in music videos. She's now on tour with Sky Blu, half of the duo known as LMFAO. She's featured in Sky Blu music videos, including "Salud" and "Pop Bottles."
"I've been to the Dominican Republic, Ecuador, Nicaragua, Chile, Singapore, Argentina, London, and Amsterdam so far with this tour. It's so much fun," Cantu said. It's a workout, too, she admits. She dances one- or two-hour sets without a break and usually without a moment offstage. "I try to slip off for a couple of seconds and get a towel to dry off," she said. "It doesn't always happen."
Another of her career highlights is dancing with Beyoncé during the Billboard Music Awards in 2011.
"When I think about growing up in Hurst and then having these experiences, I give so much credit to my years at Dance Concept," Cantu said. "I take class there or teach a master class every time I go back to Fort Worth."
She remembers friends and dance classmates who decided not to continue with dance — not in college or as a professional. "I can't imagine my life without it," she said. "You have to have that in you. You have to want to go to the next level."
And, Cantu said, you have to have encouragement. "Debbi Jo is absolutely brilliant. I wouldn't be the dancer I am today without her. She knew I had the talent, and she was always positive about that. She never gave up on me."
At 27, Cantu wants to continue to specialize in hip-hop and stay in Los Angeles for a while. But she's also looking forward to that place she once couldn't get away from fast enough: college.
"I really want to teach dance at the university level, so I'm looking around for what's out there," she said. "I'm going to get my master's next."
  ********
Fort Worth has been a ballet town for more than 50 years. In fact, the Fort Worth company was more successful — in terms of community support and performance attendance — than its Dallas counterpart. When the two companies merged in 2003, becoming Texas Ballet Theater, the best of each city's dancers and related staff came together to build a more successful future and a financially solid organization.
The feeling that the hometown was big on ballet gave Kurt and Kyle Froman extra confidence. They were a little surprised at how quickly they fit in and were accepted in the New York City Ballet. "My Fort Worth experience served me well, and the more I saw of these big-city dancers, the more I appreciate[d] my training," Kurt said. "Plus, my sister showed me the sheer joy of dance. I was so greedy for it."
Kyle said he realized how, with practice, he could hold his own. "If we went to cattle call auditions for other projects, we'd laugh about coming from Cowtown and having an advantage," he said. The true advantage, he said, was having Debbi Jo as his mentor and coach.
"My brothers fulfilled my dream in a way," Utter said, who performed for one year with the Fort Worth Ballet but found she was happier in her own classroom. "I chose teaching. That's just what I do."
Cantu said Utter not only taught her to dance but also influenced her interest in teaching. "I pushed myself and absorbed everything Debbi Jo could teach me," Cantu said, "and I watched her even when I wasn't in class. She revealed something about how to express yourself through dance. It's deep, you know?"
Walking through the studio, Utter opened her arms to gesture toward the commotion around her. It's a seven-day-a-week job, she said, "and I love it."
North Texas freelance writer Annabelle Massey Malloy can be reached at annabellemm@sbcglobal.net.