R&B/HIP-HOP
Rivercrest Yacht Club is — like the song — back, yo! Heffminster de la Rocha, Generic, DDS, and their rhythm section are the favorites here, though they will probably get a run for their Natty Light money from the 2013 winner, the socially conscious Dru B Shinin', who had a great year onstage and in the studio. One of Dru's many collaborators, Big Cliff Watkins is a freestyle champ in the same vein as Playdough, who mixes gangsta with Christian. Both rappers throw back to the old school like Grey Matter and Fort Nox, whose latest EP, Riders of the Storm, is a master class in wordplay and poetry but not at the cost of thick grooves. Like the RYC, the duo MidWay is about getting the party started, and Lou Charle$ and Kevin Nolan's most recent album, FunEmployment, is perfect for frat-tastic throwdowns. — E.B.
JAZZ/WORLD
Johnny Case Trio's namesake pianist has witnessed much of Fort Worth's rich jazz history firsthand and continues to add to that heritage with his elegant straight-ahead performances and recordings. Flipside pushes boundaries with extended virtuosic solos that touch on bebop, modal jazz, and world music. A little bit of that flavor makes it into Los Noviembres, thanks to Flipside bassist Paul Unger, but bandleader and lead guitarist Paul Boll adds his own distinctive rock 'n' roll roots/French folk/Mexican Bolero influences. For fans of the more celebratory groove-driven side of jazz, there's Mix Magyk, whose shows are basically parties, and Tatiana Mayfield, a young soul diva and torch singer all wrapped up in one. — E.B.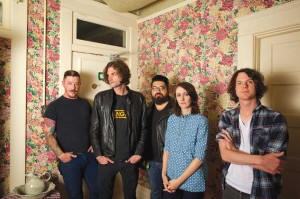 ACOUSTIC/FOLK/SINGER-SONGWRITER
Combining dark thoughts with jaunty, jangly bluegrass, Big City Folk's captivating sonic mélange defies easy categorization. Scott Copeland, besides being a talented singer-songwriter, just might be the funniest guy around when it comes to stage patter (if you like your humor dark). But it's the quality of his songs that has helped him to own this category in recent years. Jacob Furr, the host of a weekly song circle at Shipping & Receiving, is serious and his music seriously epic. Darrin Kobetich's hard-rock past surfaces at times in his current incarnation as an improvisational, experimental, acoustic composer, though no musical genre can totally claim him. Contemplative Americana singer-songwriter Jody Jones writes and sings with the same intensity he brings to his every-Monday gig as host of a singer-songwriter showcase at The Grotto. Troubadour Keegan McInroe is partly based in Fort Worth but spreads his brand of roots music across the country and in Europe, mixing up common genres and conceiving original songs that seem distinctive and familiar at the same time. Clint Niosi & The Unaccountable aren't afraid to bust outside the musical box, and few people can string words together as artfully and with such moody dissonance. — J.P.
SEMI-LOCAL BAND
The farthest we'll go to claim a band is Los Angeles. That's where Son of Stan mastermind and indie-yacht-rocker extraordinaire Jordan Richardson spends more than half his life when he's not in the Fort. The other nominees are all closer to home. The masterfully noisy Bludded Head (whose frontman, Nevada Hill, is from here) and the synth-rocking Mind Spiders (whose frontman, Mark Ryan, resides here) hail from Denton. The muscle car-powered Dangits, bluesy yet poppy Oil Boom, and stoned punks The Phuss all have a little bit of Little D, Big D, and Arlington in them. — A.M.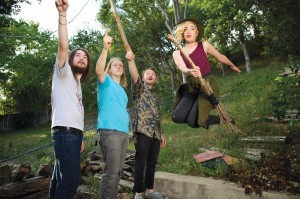 COVER/TRIBUTE ACT
No jukebox can compare to Big Mike Richardson, who, in addition to performing solo, also fronts a couple of tribute outfits (Led Zeppelin, Neil Young, Jimi Hendrix). Poo Live Crew and Velvet Love Box also have a firm grasp of the pop canon but are more into odd renditions. The Dick Beldings and Gold Soundz throw back to the '90s. As the former goes for radio hits and deep cuts, the latter is a tribute to avant rockers Pavement. — E.G.
PRODUCER
Two nominees had breakout years. First, working from Eagle Audio Recording on the Near Southside, Britt Robisheaux was behind the boards for new, earth-shattering records by Bludded Head and his own band, Drug Mountain. Second, Ben Napier (The Hanna Barbarians, Cleanup, Sally Majestic) began work on his new studio, Green Audio Productions. This doesn't mean all the other nominees were sleeping. Dreamy Soundz' Jennifer and Robby Rux recorded new albums by The Fibs, Slumberbuzz, and, with Robisheaux, the compilation Group Therapy, Vol. 2, while New Media Recordings' James Talambas worked on albums by The Migrant and DJ Niño Perdido. Fort Worth Sound's Bart Rose is still the go-to guy for Texas Music artists, and Spaceway Productions' Will Hunt deserves praise for twiddling the knobs on Holy Moly's album-of-the-year-nominated Brothers' Keepers. — E.G.
VENUE
What will it take to knock Lola's Saloon off its perch? The West 7th Street corridor club has won this category every time it's been nominated (a lot), which has to be some sort of record. And for bringing in an eclectic mix of indie rock and rap that you won't see anywhere else in town, Lola's deserves the praise. But don't forget about the smaller Grotto, right down the street, where a lot of important independent artists perform. On the country/Americana tip, Magnolia Motor Lounge offers great sound and great food — just like Fred's Texas Café. And, actually, just like The Live Oak Music Hall & Lounge, a newish and mostly easy-listening venue on the Near Southside. For some rock in that neighborhood, stroll on over to Shipping & Receiving. Downtown, Queen City Music Hall is poised for greatness, offering tremendous sound in a massive, beautiful room. — E.B.
TALENT BUYER
From basically one company, Spune Productions, just a couple of years ago, the scene has blown up. Now that Spune has begun focusing on festivals (Untapped, Index, Brewfest), the day-to-day (or night-to-night) void has been filled mainly by Ghostlight Concerts/Blackbox Presents (Lola's Saloon, The Grotto, The Chuggin' Monk). Dallas Distortion Music and Up to Eleven Entertainment have their ears on the underground, specializing in punk, metal, indie rock, and hip-hop, while Elmo Jones Productions brings a mix of touring and local metal to Arlington stages nearly every weekend. — E.G.
BASSIST PERFORMANCE
Putting the funk in Funkytown's low end, Elliot Arriaza's licks on Bomb Atomic's "Son of a Beach" and Lee Allen's percussive six-string groove on Rivercrest Yacht Club's "Crane Style" are as tight as a Swiss watch. Eoian Donovan's melodic runs on Kites and Boomerangs' "To the Moon" provide as much high-end momentum as subsonic anchor, while Zach Tucker's fuzzy thunder on Panic Volcanic's "Spider" is knotty but head-bangable. Jazzbo Paul Unger schools them all with his bowed improvisations on Flipside's "Safe at the Cheeseplate." — S.S.
DRUMMER PERFORMANCE
If there are more musical stickmen in North Texas, we'll eat our hat. Punk is the flavor of Brady Hamilton's furious, multilayered work on The Longshots' "Snakefoot" and Skyler Salinas' mercurial bashing on Fungi Girls' "Old Foamy." Thick, syrupy grooves define Lucas White on Rivercrest Yacht Club's "Hustle-N-Grind," Jon Teague on Pinkish Black's "Kites & Vultures," and reigning champ Matt Mabe on Quaker City Night Hawks' "Tell It Like It Is." Wyatt Adams is as loud and tribal on Ice Eater's "Scaredycat" as Dennis Durrick is skittering and snappy a la Elvin Jones on Flipside's "Safe at the Cheeseplate." — A.M.
GUITARIST PERFORMANCE
There's more to colorful axmanship than wonkiness. There's super-tasty, Steve Lukather-style soloing (Taylor Tatsch on Shadows of Jets' "Blinds"); crazily bubbly, crazily knotty metallic rifferama (Duston Daulton on Deaf Angels' "The Judge"); melancholy, flamenco-influenced acoustic picking (Darrin Kobetich's "An Air of Pall"); from-the-gut proto-blues (David Matsler on Quaker City Night Hawks' "Prize to Find"); mind-blowing harmonics and melodic fretwork (Kenny Wayne on The Orbans' "No Reflection"); and, yes, even some wonkiness, though it's stylish and tasteful (and very Satriani-esque) in the hands of Henry Sepulveda on Bomb Atomic's "Psychonaut's Love Song." — A.M.
OTHER PERFORMANCE
On rock keys, you've got Daron Beck on Pinkish Black's "Ashtray Eyes" and Kris Knight on Un Chien's "Speak Slowly." Knight plays buttery chords in the piano's sweet spot, displaying a mastery of dynamics. Beck builds to a haunting, high treble solo on a swirling bed of eeriness, beginning languidly, as if searching for something, before accelerating into wide, oscillating motions halfway through, only to smolder back into the primordial soundscape from which he came. Nick Spurrier also knows his way around a set of 88s, but on Lindby's "Pure Imagination," he dives into jazz, tying shimmering rolled chords to a string of blues-infused phrases to create a multilayered tapestry. Saxophonist Dave Monsch is also jazzy, telling a story on Flipside's "Safe at the Cheeseplate" through sheets of bubbly, brassy sound that have all the drama and joy of a squeeze play. On Holy Moly's "The Pace," steel guitarist Ben Roi Herring goes from light, contemplative chords to lyrical, lilting lines that fit around frontman Joe Rose's macho twang like a glove. Ukulelist Jeremiah Kirby chomps chords unrelentingly on Lazy Summer's "Empty," and noted guitarist Darrin Kobetich can also be quite nimble on the banjo. Case in point: the hypermelodic "Banjer in the Bayou." — E.B.
FEMALE VOCALIST PERFORMANCE
Ansley Dougherty on Panic Volcanic's "Santa Maria" and Tina Downs on Deaf Angel's "Run to Me" are like two sides of the same metallic coin — as Dougherty is pretty downtown, Downs is pretty Broadway. The remaining nominees aren't nearly as heavy but are just as intense. On Un Chien's "Against Love," Rachel Gollay stretches out sexily but icily, and on Animal Spirit's "Sam's Song," Sam Wuehrmann commands every note with a soft, insinuating performance. Ali Grant sounds as clear and lovely as spring water on Lindby's version of the Willy Wonka hit "Pure Imagination," and Steph Buchanan snarls wonderfully on The Diabolical Machines' '60s-inpsired rocker "Drag You Away." — J.F.
MALE VOCALIST PERFORMANCE
Un Chien's Stephen Beatty sounds like the ominous, vindictive spirit of heartbreak itself as he slips through the vanquishing march of drums and crashing guitars on the Pink Floyd-ish "A Heavy Hand." Tim Locke marries a joyous bubblegum-'60s vibe with jagged electro-instrumentation a la Bauhaus on Calhoun's marvelous "Fatal Flaws." The softness established by the heavenly choir that opens Quaker City Night Hawks' caveman-blues rocker "Tell It Like It Is" is soon beautifully destroyed by David Matsler's bourbon-roughened voice. The Unlikely Candidates' Kyle Morris knows how to enunciate a power-pop chorus with simplicity and winning clarity on "Follow My Feet." As one of Holy Moly's few slow and contemplative waltzes, "Linger On" is gorgeously put across by Joe Rose with his heartbreakingly simple but sophisticated countrypolitan drawl. The inventive arsenal of screams, barks, and yelps employed by Cameron Smith define War Party's raucous, gloomy "Some Sort of Exile," especially when he growls lines like "All your bones are catacombs / And your mouth's an insatiable tomb." — J.F.
SONG OF THE YEAR
All kinds of quality tuneage bubbled up from the Fort this year. "Daylight and Dark," the title track off Jason Eady's new album, is a rhythmically graceful C&W song about feeling disconnected from, well, everything and everyone. Equally lonesome is Guthrie Kennard's rootsy "Hummingbird," with its squalid acoustic guitars and scratched-thin vocals, and Telegraph Canyon's "Wheel to the Garden," a sprawling and rusty lament that swings and sways against a heavy backbeat. Somewhere in-between stylistically but way more upbeat, Holy Moly's "Time Travelin' " is perfectly in keeping with the quintet's penchant for shit-kickin', beer-drinkin', fist-throwin' music. It's just as fun as "International Waters," Rivercrest Yacht Club's party rap about "gin martinis and string bikinis." Among other things. — J.F.
ROCK SONG OF THE YEAR
Though The Orbans' immensely catchy "Backlit Eye" and Calhoun's hyper-melodic "Fatal Flaws" get some airplay on KXT, there's no good reason why all of these nominees aren't blasting from boomboxes across the globe. Agreed, Pinkish Black's monstrous, harrowing "Razed to the Ground," Fungi Girls' spookily punky "Old Foamy," and War Party's swaying, echoing "W.E.I.G.H.T." might be a little too aggressive for mainstream sensibilities, but what's keeping JJ & The Rogues' pianistic Anglo-pop gem "Mrs. Lyndonne" from worldwide audiences? Or The Longshots' banging and catchy "Me or California"? Or Son of Stan's squishy, effervescent "Noxeema"? Or, for all that's holy, Quaker City Night Hawks' gut-bucket blooze masterpiece "Tell It Like It Is"? What's a local music-loving body gotta do?! — A.M.
EP OF THE YEAR
Since previous Music Awards have proved that Quaker City Night Hawks are our voters' favorite band, it's going to take a lot to knock the boys' 7-incher Texas Heavy from the top. But don't count out Fungi Girls' Old Foamy and Toy Gun's/Vicious Firs' Love at First Fight, Vol. 2 — both loud, ragged, rich recordings represent the powerful Near Southside bloc. There's also The Me-Thinks' Three Chili Dog Night, 10 inches of fuzzy, blazed-eye burnout heaviness. The true dark horse may be Green River Ordinance's Chasing Down the Wind, the slightly countrified disc that brought the former major-label band back to national prominence. If there's one act that should be a household name, it's Calhoun, whose sugary, deliriously catchy Paperweights may be the best thing that co-songwriters Tim Locke and Jordan Roberts have ever done. The Unlikely Candidates, with their bristling, crystalline, darkly poppy Follow My Feet, are one local band that will be a household name — the guys just signed to Atlantic Records. All this indie-pop brilliance, and we haven't even gotten to Missing Sibling's Spies, scruffy melody-driven rock from The Book of Pavement, and Swindle Boys' Motion, a.k.a. what Kings of Leon would sound like if they stopped being so whiny. And don't sleep on The Diabolical Machines' quirky, literate, spunky Drag You Away or Killa MC's knotty but catchy OGK. — S.S.
ALBUM OF THE YEAR
The big dog is Holy Moly's Brothers' Keepers and not just because the band is one of the most popular in town — though rowdiness still rules, thoughtfulness and maturity abound. The album could be a punk country version of Luke Wade's The River, one of the most soulful, contemplative platters ever to come from the Fort, or Jason Eady's brooding C&W gem Daylight & Dark. On the way less mature side is Rivercrest Yacht Club's Aquanaughty, a party-starter full of clever rhymes and lots of bounce. Though sometimes lumped in with Red Dirt, Joey Green's Lo5 and The Will Callers' What Else Is Left? are as much rock as anything else. In terms of experimentalism, Beauxregard's steam-punking Ghosts of the Gaslamp, Igneous Grimm's countrified Everything Is the Same Thing, and Tidals' Experiments are exceptional but in wildly different ways. The last two nominees — I Love Fort Worth and Jazz Confusion — represent the best in hip-hop and jazz respectively in North Texas. — S.S.
ROCK ALBUM OF THE YEAR
The frontrunner is Pinkish Black's Razed to the Ground, the synth-doom duo's ominous yet hooky sophomore album that streamed on Pitchfork. A strong contender is To the Root, the 15-minute-long hardcore shredfest by former punk Panthy winners Raging Boner. On the less aggressive tip, Panic Volcanic's debut, Freak Fuzz, is massive and crunchy, In Memory of Man's self-titled album delivers brutality under the guise of mainstream accessibility, and Deaf Angel's Brutally/Beautiful is a masterstroke of soaring choruses and bone-crunching breakdowns framing chugging riffs and sticky melodies. Animal Spirit's eponymous debut isn't as heavy as the others but is equally energetic and inventive, making great use of male/female vocal leads to generate haunting harmonies. — S.S.
INDIE-ROCK ALBUM OF THE YEAR
Anyone who questions Fort Worth's coolness quotient needs only to glance at this list. Some of the favorites are also debuts: Son of Stan's deliciously poppy, sublimely melancholy Divorce Pop; Ice Eater's prismatic, coolly robotic Don't Care; The Longshots' clanging, locomotive self-titled work; War Party's pure proto-punk Tomorrow's a Drag; and Un Chien's psychedelic yet poppy eponymous odyssey. The Fibs' riotous and moody Hex Hex Hex, Shadows' of Jets' catchy self-titled album, and Slumberbuzz' loud and hazy Slumberbuzz are also promising debuts. The remaining nominees are sophomore efforts: The Orbans' darkly Beatles-esque Vedere; Mind Spiders' Devo-inspired Inhumanistic; and JJ & The Rogues' valentine to Brit-pop, Sweet Talker. — A.M.
ARTIST OF THE YEAR
A few local bands made national headlines this year or just delivered really great recordings and fantastic shows. Pinkish Black, after releasing the Pitchfork-approved album Razed to the Ground, toured with Italian prog-rock legends Goblin. The Unlikely Candidates signed with a major label, Atlantic Records, and have received lots of airplay here and across the nation. Perennial faves the Quaker City Night Hawks not only basically wrote the soundtrack to FX's Sons of Anarchy but also put out the awesome 7-inch Texas Heavy. Holy Moly, though definitely twangy, became one of the first non-C&W local bands to play Billy Bob's Texas and also pounded out the stellar Brothers' Keepers. Calhoun offered the gemlike EP Paperweights, The Orbans returned after nearly four years with the simultaneously Beatles-esque and grungy Vedere, and, with the glee of a 16-year-old Sbarro cashier on his first day of work, Son of Stan served up a soft, squishy, and sweet billet-doux to yacht rock, Divorce Pop. — J.F.