For the past 17 years, Fort Worth Weekly has been celebrating Tarrant County musical talent by putting on the Music Awards, a popular vote for the best artists in town in categories as varied as rock and jazz, C&W and hip-hop. Winning isn't the point, though no one's saying winners shouldn't be happy knowing that their music is touching so many people. (Google Analytics indicates that votes come from all over the globe.) No, the purpose is simply to let everyone, including fellow Fort Worthians, know that, hey, there's some kickass music here.
As part of our celebration each year, we put on a daylong concert featuring 48 nominees. Our Music Awards Festival is now in its 12th year, and as the lineup indicates, the 2014 version is going to be quite a doozy.
Taking place on Sunday, June 22, at eight venues in the West 7th Street corridor, MAF '14 should have a little something for everyone. Hip-hop? Check out Dru B Shinin' and MidWay. Texas Music and/or Americana? Telegraph Canyon, Green Light Pistol, Kevin Aldridge & The Appraisers, Joey Green Band, Jody Jones, Patriot, and Devin Leigh have got you covered. And, yes, there's a full complement of indie rock and hard rock, including some of the biggest acts in the Fort and, indeed, in all of North Texas: Quaker City Night Hawks, Pinkish Black, Son of Stan, Telegraph Canyon, Ice Eater, The Longshots, Oil Boom, War Party, and The Hanna Barbarians.
The festival is, as always, free, but bring some moolah for frosty beverages and for copies of Frequencies, Vol. 5. Recorded live one May weekend at Eagle Audio Recording on the Near Southside, the album features 12 new or previously unrecorded tracks by select nominees, including Ronnie Heart, Slumberbuzz, Jetta in the Ghost Tree, The Fibs, Huffer, FOGG, and Leon Bridges. Proceeds from sales of the $5 disc will go toward this year's charity sponsor, the Tarrant Area Food Bank.
Thanks for having the good taste to support local music, and thanks to everyone who's helped us along the way, to the performers, and especially to the bands that weren't nominated but keep on rockin'. No one ever said our Music Awards were comprehensive. — Anthony Mariani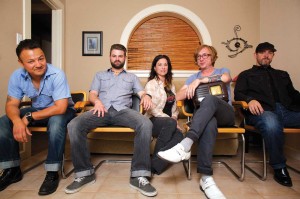 BAND
Several forms of rock rule this category. Gothic metal? Pinkish Black produces nightmarish soundscapes writ in pulverizing drums, sometimes monstrous, sometimes eerie, ethereal melodies, and blood. Rolling Stones-like rock? Quaker City Night Hawks and the Pitchfork-approved Longshots are also ragged and in your face. Pop rock? Recent Atlantic Records signees The Unlikely Candidates, who just played Bonnaroo, and The Orbans specialize in huge hooks. Similarly, the synth-rocking Burning Hotels and Calhoun pen deadly effective earworms. — A.M.
ROCK
Clear frontrunners Quaker City Night Hawks swept every category they were nominated in last year. The biggest band in town is about to release its third album, undoubtedly another slab of greasy, soulful rock 'n' roll. The slightly less bombastic Foxtrot Uniform recently expanded its ranks and its sound — newcomer Katie Robertson (keys, vocals) adds some sweet, dynamic soul. A bit bluesier, The Hanna Barbarians are poster boys of the "Fort Rock" sound. The remaining nominees share a psychedelic bent. Secret Ghost Champion conjures up images of King Crimson fronted by Neil Young: Among the many changes in key and tempo, a patient folk sensibility runs throughout. The poppiest of Fort Worth's psych scene, Un Chien superbly mixes dark and light, and KatsüK founder and frontman Daniel Katsük just returned from a crowd-funded tour of New Zealand, where he tried to get his song "There and Back Again" into the upcoming Hobbit finale. — J.F.
NEW ARTIST
The 2014 freshman class is full of talented musos old and new. After years of fronting Flickerstick and after recently kicking alcohol and drug addiction, singer-songwriter Brandin Lea has returned with rawer, grungier, more psychedelic sonics in the form of Jetta in the Ghost Tree. The singer-songwriter's ability to craft juicy hooks, however, is still in full effect. Bummer Vacation, featuring members of War Party and Skeleton Coast, has quickly become a hot ticket for pumping out Cure-inspired post-punk. Duell: no gimmicks here, just straight-ahead, turbo-charged thunder. With guys from The House Harkonnen and The Phuss, this quartet dials into the punk-influenced hard rock of the Palm Desert scene to deliver hook-injected highs. Day Waster manages to turn Queens of the Stone Age comparisons on their ear by adding a power-pop component that Queens and their fellow desert rockers mostly neglect. (Imagine if The Strokes quit worrying about their vintage jackets and just rocked.) Jack Thunder & The Road Soda's no-nonsense, "have drum and guitar, will travel" garage rock is like a party with a self-replenishing keg. Two dudes playing three instruments at once is pretty tough, but guitarist/singer Preston Newberry and drummer/guitarist Todd Klepacki make it seem like NBD, their kick-drum thump and snarling Fender clang drowning in reverb as urgent as it is fun. Just as punky are The Fluorescents, who temper the genre's speed with angular indie-rock guitar jangle. Lazy Summer's jazzy combo of ukulele, bass, and trumpet is the perfect score for sunset porch drinking, while Lion Eye's positive, irie vibrations are appropriate for when you go inside to burn one. The Royal Savages' dreamy indie-pop pivots on wondrous male/female vocals, the kind of thing for rainy days or introspective nights. — S.S.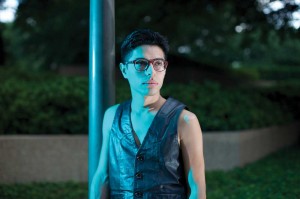 AMERICANA/ROOTS ROCK
Approaching their 10th anniversary (!), punk-influenced country boys Holy Moly remain the guys to beat here. But if there's one band with something to say about that, it's Telegraph Canyon, whose big-hearted, big-sky compositions remain vital. Close behind Telegraph is most likely Whiskey Folk, whose Ennio Morricone-influenced tunes have made the band one of the most popular in North Texas. The Will Callers are more rock than anything else, and their last recording, What Else Is Left?, is up for album of the year. The remaining nominees are all singer-songwriter projects. Jake Paleschic's Patriot combines gorgeous acoustic guitar, deeply personal lyrics, and high, lonesome vocals into a haunted sound that's decidedly country but definitely not twangy. Kevin Aldridge & The Appraisers also nod toward C&W but are more apt to find inspiration in The Carpenters and Big Star than Willie and Waylon. Mills & Co., whose songs are terrifically zen, spotlighting the good in a sketchy world, is the brainchild of Taylor Craig Mills, he of the soaring voice and ability to nail falsettos easily. — J.P.
HARD ROCK
Even if you can't tell the difference between hard rock, heavy metal, and the various shades of black in between, there's no denying that Fort Worth is thick with distorted pile-driving music. Vicious Firs hone the retro-doom of The Sword into their own weapon of stoner destruction, while FOGG mines similar territory: the murky depths of Sabbathian gloom. Huffer's brand of shoegazey, desert rock chugs along with the best, which includes FTW's monolithic, post-apocalyptic, amp-worshiping biker metal and The Me-Thinks' walls of fuzzy burnout rock. Pinkish Black sucks audiences over the event horizon of a black hole swirling with dark synths, odd time signatures, and sometimes weirdly catchy hooks. — S.S.
TEXAS MUSIC
This genre is becoming more diverse, and it's about damn time. Devin Leigh probably doesn't care what constitutes Texas Music. Whether he's cranking up amplified resonators and using a slide to get a muddy mojo or fingerpicking an acoustic for a fresh-as-a-daisy timbre, his repertoire is as varied as the Lone Star terrain. Five of the six members of Green Light Pistol, winners of The Range's 2013 Shiner Rising Star contest, are siblings, leading to easy musical interplay and Wranglers-tight vocal harmonies. Jason Eady isn't afraid to appear literate, describing his new album, Daylight & Dark, as representing "one man's journey through the complexities of the heart." Phil Hamilton takes the old-school Robert Earl Keen/Pat Green sound, spins it around inside his shaggy head, and molds it into an interesting blend of contemporary country with a renegade sensibility. Gravelly voiced Ryan McBride might be the most despondent man in Texas Music, writing with gutbucket intensity about loss and loneliness while banging out his pain on an acoustic guitar. — J.P.