With Art Studios on Race Street (formerly The Work Room), owner Flora Brewer is re-envisioning the way painters and sculptors work. Instead of holing up in separate rooms by themselves, artists share a public space, allowing them to observe one another's work and even welcome passersby to chat.
Jan Ayers Friedman, one of seven resident artists at Race Street, said the concept has had a huge influence on her. "We don't do the same things, but   we influence each other," she said. "By opening our studios, we found that we could connect to art students and [art] lovers."
Opened in 2012, the studio occupies the spacious first floor of a large two-story building in Fort Worth's Riverside area. The exterior's east side is adorned with graffiti-inspired imagery. The inside is industrial, with ample glass windows and custom masonry near the entrance. The artists' workspaces are delineated by partitions. Across the street is WoCA Projects, a newish gallery for artists who are women of color.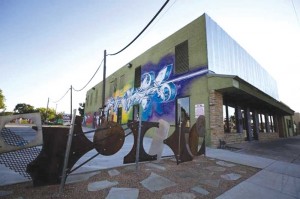 The close proximity and lack of privacy in the workspaces aren't for everyone, Friedman said, but for her and her colleagues, the concept is fresh and invigorating. They're all professionals and know how to focus when they have to.
"You have to be serious about art," she said. "There's a common thread of seeking innovative, contemporary, and abstract artworks."
Resident artist Rose Marie Mercado said that joining any studio is a bit of a gamble. But when the painter walked inside for the first time in February, it "felt like home."
At the time, there were only a couple of resident artists. "We all seem to have a similar work ethic and are respectful of each other's time," she said. "Now artists in Dallas are looking at what we're doing, because there's not really anything like this there. The open studio concept is very appealing to some people. You can come in and see the artists working and talk to them."
Owner Brewer described the studio's creation as the result of "a long journey." In 2005, before she had ever heard of open studios, she was pondering what to do with the property. At a friend's suggestion, Brewer hosted an exhibit during Gallery Night and was approached by several artists looking to rent the space. The initial floor plan included closed studios.
"Some artists need to be in their own homes, and others are hungry to bounce their ideas off others while needing their own room," Brewer said.
The opportunity to design a shared studio came in 2009. That's when friend and community advocate Debby Stein began looking for studio space for student artists at Carter-Riverside High School.
"The students never panned out," Stein recalled. "One thing led to another, and I thought about sharing the space with professional artists too. Frankly, there was not a lot of artist space anywhere in Fort Worth. The question was, 'Would they want to be next to each other?' I thought, 'Why not?' "
Art Studios on Race Street has become quite the social hub. And quite the gallery. In January, the resident artists got a visit from dozens of bus-driven tourists from Wichita Falls. Mercado recalled one woman who was mesmerized by a painting that had just dried. The woman asked Mercado what the painting represented. Mercado said it was an abstract piece and didn't have a literal meaning. " 'Oh, no,' " Mercado recalled the woman saying. " 'That's Niagara Falls.' " And she bought the piece.
Mercado said moments like that are gifts. The open studio makes for a "congenial atmosphere that's not just retail," she added.
Friedman is confident her work has improved during her time on Race Street.
"Advising art lovers and kids to trust their skills has helped me confront my insecurities by being more trustful, to trust that the mark I'm making has value," she said. "An artist's life usually involves becoming bolder and bolder, and our guests see us going through the same fears, the same worries of 'Is this good enough?' They can see from us that it's going to be OK."