Artspace 111 has always been a little nontraditional. For decades after its founding in 1980, the studio/gallery in a warehouse on a desolate eastern edge of downtown was a gritty, appointment-only exhibition space, quietly contradicting the world-class caliber art regularly on display –– veterans John Hartley, Nancy Lamb, and the Blagg brothers, Daniel and Dennis, are just some of the artists who have worked there and who are represented by the gallery. Even long after an ownership change and a massive remodeling effort in 2008 that made Artspace 111 a nice spot for a wedding, the gallery wasn't exactly the kind of place you just popped into while on the town.
But with its new exhibit, Artspace 111 seems to be building a bridge to the rest of the North Texas art world.
Featuring 77 pieces by 57 artists from across the Southwest, Artspace 111's inaugural Regional Juried Exhibition is a feast of various media, styles, and subject matter, from photorealist portraits and landscapes in paint or charcoal to abstract-expressionist mixed-media work, architectural photography, hanging sculpture, and more.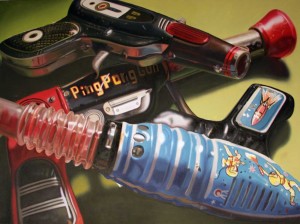 Artspace 111 owner Margery Grella got the idea for a group show a couple of years ago. But this summer, she said, "just presented itself as a good opportunity to do it."
Her first order of business was to find a juror –– or jurors. Andrea Karnes, a curator at the Modern Art Museum of Fort Worth, and Ron Tyler, former director of the Amon Carter Museum of American Art (2006-2011), were at the top of Grella's list. Tyler has been a friend of the gallery's "for a long time," Grella said, and Karnes is an active supporter of North Texas' gallery community.
Grella first put out the call for artists on Spring Gallery Night via CallforEntry.org, social media, ads, and good old-fashioned word-of-mouth. Before the submission period ended on May 30, more than 900 pieces from 92 artists across the Southwest had arrived on Karnes' and Tyler's virtual doorsteps. Regional Juried Exhibition opened late last month and will run through mid-August.
"We have a large stable of artists that we represent, but we're always looking for new artists," Grella said, "and this kind of thing gives us the opportunity to see a lot of art that we wouldn't normally get to see, especially since it's from all around."
As part of the exhibit, the jurors picked their favorite pieces for cash prizes. The best-in-show winner was a pair of black-and-white photographs, of a Wyoming church and an abandoned gas station in Baker, Nev., by Diane Durant. Tyler's favorite was "High Plains," a vibrant oil-and-charcoal portrait of a cowboy painted and drawn on corrugated board by Fort Worth's Terry Crum. Karnes chose "Vacation Rental," a haunting photograph of a house in a haze of vivid blues and greens by Fort Worth's Mary Collins.
"I think it's a dynamic exhibition," Karnes said. "It is nice to have two points of view" during the selection process.
Artspace 111 assistant director Brooke Baumgardner said the show's eclectic fabric is a tribute to Karnes and Tyler. "It was nice having two jurors who really didn't have a whole lot in common," she said. "I think it made the show a little bit more reflective."
[box_info]
Regional Juried Exhibition
Thru Aug 15 at Artspace 111, 111 Hampton St, FW. 817-692-3228.
[/box_info]