The Hundred-Foot Journey (PG) Yet another way-too-tasteful literary adaptation by Lasse Hallström. This one is adapted from Richard Morais' novel about an Indian patriarch (Om Puri) who opens a family restaurant in the French countryside, incurring the wrath of the traditional chef (Helen Mirren) who owns the Michelin-starred restaurant across the street. One of the few actors who can stand up to Mirren, the sepulchral-voiced Puri walks away with the movie, though Manish Dayal (as Indian restaurant's cooking savant who's caught in the middle) does well just to hold his own in such company. All this talent should have come to more. Also with Charlotte Le Bon, Amit Shah, Farzana Dua Elahe, Dillon Mitra, Aria Pandya, Michel Blanc, and Rohan Chand.
The Identical (PG) Asking what might have happened if Elvis Presley's twin had lived is a terrific premise for a movie, but the filmmakers here don't do anything with it. Nashville singer-songwriter Blake Rayne plays both an Elvis-like 1950s rock star and a humble mechanic who was born his twin but given up for adoption. The movie has terrific supporting talent and a period look that's different from the contemporary appearance of most Christian music films, but the movie hews so slavishly to the conventions of music biopics that it plays like Walk Hard: The Dewey Cox Story without the jokes. Rayne is overextended in his acting debut, and the songs don't convince us that either twin is a musical genius. Also with Ashley Judd, Ray Liotta, Erin Cottrell, Brian Geraghty, Amanda Crew, Seth Green, Waylon Payne, and Joe Pantoliano.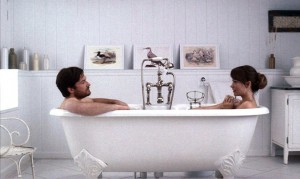 If I Stay (PG-13) For once, Chloë Grace Moretz plays an ordinary teen who's not going to kill anyone, and, well, she's kinda boring in the role, but this weeper doesn't give her much to work with. She plays a classical cello prodigy who's in a car accident that kills the rest of her family, and her spirit wanders the halls of the hospital to observe her friends' reactions while her body clings to life. Bad dialogue leads to one of the worst sex scenes I've seen in a while, R.J. Cutler botches his first attempt at directing a fiction film, and Moretz is fundamentally miscast as a shy girl who thinks everyone is cooler than her. The soundtrack has good cello music (played by Alisha Bauer) and a nice turn by British newcomer Jamie Blackley as the boyfriend. Still, this movie collapses into a pool of treacle. Also with Mireille Enos, Joshua Leonard, Liana Liberato, Jakob Davies, Ali Milner, Aisha Hinds, Lauren Lee Smith, and Stacy Keach.
Into the Storm (PG-13) The natural-disaster movie goes the found-footage route in this film that features two tornadoes converging on a small town in Middle America during a high-school graduation. Some people are in this thing, but they don't do or say anything of any interest whatsoever. The special effects here are good, but they're nothing we haven't already seen before. Let's face it: This thing is just Twister shot with smartphones. Starring Richard Armitage, Sarah Wayne Callies, Matt Walsh, Nathan Kress, Max Deacon, Alycia Debnam Carey, and Jeremy Sumpter.
Kundo: Age of the Rampant (NR) This Korean historical epic wants to be Django Unchained but falls way short. Ha Jung-woo plays a 19th-century butcher who joins a band of outlaws and vows to protect a princess (Han Ye-ri) and her baby from a psychopathic bastard prince (Kang Dong-won) who wants to take power. The lithe and terribly good-looking Kang is the best thing here, as a villain who can get ambushed by a dozen killers and take them all down, but the characters are cardboard and the narration for viewers not versed in Korean history is clumsy. Director Yun Jong-bin goes all Tarantino with his whip pans and zooms to close-up (and composer Jo Yeong-wook's spaghetti Western-style score), but his movie is still a logy exercise. Also with Kim Seong-gyun, Lee Sung-min, Ma Dong-seok, Yun Ji-hye, Kim Hae-suk, and Lee Kyeong-yeong.
Let's Be Cops (R) A bad movie that comes out at a spectacularly bad time, this comedy stars Jake Johnson and Damon Wayans Jr. as two L.A. losers who decide to impersonate police officers full-time after they're mistaken for cops on their way to a costume party. The set pieces don't work, and the two leads have astonishingly poor chemistry considering that they've worked together for more than a year on TV's New Girl. This movie would be unfunny even if the events of Ferguson, Mo., hadn't happened, but since they have, it's really hard to laugh at a movie that gets laughs out of idiots in cop uniforms acting irresponsibly. Also with Rob Riggle, Nina Dobrev, James D'Arcy, Keegan-Michael Key, and Andy Garcia.
Lucy (R) Scarlett Johansson once again shows off her dynamism as an action heroine starring in this incredibly stupid thriller as an American student who becomes an unwilling drug mule for Korean gangsters in Taipei and then a super-intelligent reality-warping being when the drug accidentally gets into her system. Writer-director Luc Besson gets all manner of history and science wrong, but Johansson does an uncanny turn as a woman who seems to be hearing frequencies that nobody else can hear and can drop a corridor full of cops with a wave of her fingers. This movie is like Transcendence, except it's actually fun at times. Also with Morgan Freeman, Choi Min-sik, Amr Waked, Julian Rhind-Tutt, and Analeigh Tipton.
Magic in the Moonlight (PG-13) One of the most inept comedies of Woody Allen's career, and that's saying something. An overacting Colin Firth plays a 1930s spiritual debunker who sets out to discredit a pretty young American (Emma Stone) who claims to be a medium in the south of France. Allen tries to balance light farce with a disquisition on the purpose of spirituality in a godless universe, and he fails miserably in every phase. Stone is the only remotely palatable element here; let's hope Allen makes better use of her in his next movie. Also with Marcia Gay Harden, Eileen Atkins, Simon McBurney, Hamish Linklater, Jeremy Shamos, Erica Leerhsen, and Jacki Weaver.
A Most Wanted Man (R) The late Philip Seymour Hoffman is pretty much the only reason to see this sluggish, mediocre spy thriller. He plays a burned-out German intelligence officer trying to foil a terrorist plot in Hamburg revolving around an illegal Chechen immigrant (Grigori Dobrygin). This is based on yet another John le Carré tale of a spy who comes to grief when he tries to behave decently, but director Anton Corbijn (The American) keeps getting caught in up the spy trade's minutiae at the expense of momentum and mistakes solemnity for depth. Hoffman's weary, chain-smoking gravitas gives the film a grounding and layering that it doesn't deserve. Also with Rachel McAdams, Willem Dafoe, Daniel Brühl, Nina Hoss, Homayoun Ershadi, Mehdi Dehbi, Rainer Bock, Martin Wuttke, and Robin Wright.
The November Man (R) Not good. Pierce Brosnan stars in this dreary thriller as an ex-CIA hit man who's called out of retirement and finds himself in a life-or-death battle with his former star pupil (Luke Bracey) over a humanitarian worker (Olga Kurylenko) in Belgrade who has information that can bring down Russia's next president. Director Roger Donaldson can still orchestrate a decent action sequence, but this story fails to make any sense at all, and the actors either have no idea what's going on or can't be bothered to care. The seriousness of this movie's intentions kills off any joy. Also with Bill Smitrovich, Amila Terzimehic, Lazar Ristovski, Patrick Kennedy, Dragan Marinkovic, Mediha Musliovic, Caterina Scorsone, and Will Patton.
Planes: Fire & Rescue (PG) I learned more about aerial firefighting from this movie than I ever imagined I would know. Dane Cook reprises his role in this animated sequel as a crop-dusting plane who decides to become a certified firefighter, training under a hardass rescue helicopter (voiced by Ed Harris). Some of the plot developments are highly predictable, and the drama doesn't uncover anything new with these characters. However, the movie doesn't drag, and it does have its occasional flashes of wit. On disc, this will be a nice afternoon's diversion for the kids. Older crowds will relish the CHiPs parody featuring the voice of Erik Estrada. Additional voices by Julie Bowen, Teri Hatcher, Curtis Armstrong, John Michael Higgins, Wes Studi, Brad Garrett, Barry Corbin, Regina King, Cedric the Entertainer, Patrick Warburton, Steve Schirripa, Jerry Stiller, Anne Meara, Fred Willard, Stacy Keach, Hal Holbrook, and John Ratzenberger.
Sin City: A Dame to Kill For (R) Eva Green is naked a lot in this movie, which is pretty much the best thing I can say about the long-delayed sequel to Frank Miller and Robert Rodriguez' 2005 hit. Here, various characters old and new (Jessica Alba, Joseph Gordon-Levitt, and Mickey Rourke) form a loose alliance to take down the depraved U.S. senator (Powers Boothe) at the heart of the city's corruption. The directors' distinctive visual style was startling nine years ago, but now it's old hat, as is the doom-laden tone and Miller's pulp-poetic narration. If this movie had come out in 2007, it would have been a huge hit. Also with Josh Brolin, Rosario Dawson, Dennis Haysbert, Stacy Keach, Jaime King, Lady Gaga, Ray Liotta, Christopher Lloyd, Christopher Meloni, Jeremy Piven, Juno Temple, and Bruce Willis.
Teenage Mutant Ninja Turtles (PG-13) This might be the worst movie of the summer, and this is a summer that includes Hercules and the fourth Transformers movie. Never mind your nostalgia for the TMNT of the '80s — this movie fails because it just isn't fun. Director Jonathan Liebesman is so in love with a joke about the ridiculousness of the turtles' backstory that that's pretty much all there is. (For the record, it's funny exactly twice in the course of 101 minutes.) Like a lie that has spun out of control, the new twists on the TMNT mythos require more exposition, which requires more talking, and talking in movies doesn't play to the strong suits of star Megan Fox, cast here as the turtles' reporter-friend April O'Neil. Fox is icily beautiful, but her acting can be summed up by a single facial expression: open-mouthed confusion. It's a role that would be perfect for a talking doll, but, unfortunately, April is supposed to be a person. Of course, this movie is also supposed to be about crime-fighting turtles, but they're just painful to watch and annoying. Also with Will Arnett, William Fitchner, and the voices of Johnny Knoxville and Tony Shalhoub. –– S.S.
When the Game Stands Tall (PG) The ungrammatical title is forgivable; the rest of the movie isn't. Jim Caviezel stars in this completely unoriginal sports drama based on the story of Bob LaDouceur, the coach of the football team at California's De La Salle High School, which had to cope with a player's murder, LaDouceur's heart attack, and the snapping of the team's historic 151-game winning streak all at the same time. Michael Chiklis steals this thing away as a bespectacled, goateed assistant coach who steps in for his ailing boss, but he can't begin to compensate for this movie that contains just about every cliché of football movies that there is. You're better off watching Friday Night Lights, the movie or the TV show. Also with Laura Dern, Alexander Ludwig, Clancy Brown, Ser'Darius Blain, Jessie Usher, Matthew Daddario, Stephan James, and Maurice Jones-Drew.
DALLAS EXCLUSIVES:
But Always (NR) Snow Zou's romance stars Nicholas Tse and Gao Yuanyuan as two lovers from Beijing who rekindle their romance years later in New York.
Frank (R) Michael Fassbender stars in this black comedy as a troubled musician who struggles to cope with his band's newfound fame, which is somewhat related to the fact that he wears a giant papier-mâché head all the time. Also with Maggie Gyllenhaal, Domhnall Gleeson, François Civil, Carla Azar, and Scoot McNairy.
The Longest Week (PG-13) Jason Bateman stars in this comedy as a wealthy gentleman of leisure who loses his fortune just as he falls in love. Also with Olivia Wilde, Jenny Slate, Billy Crudup, Jayce Bartok, and Tony Roberts.
Love is Strange (R) John Lithgow and Alfred Molina star in this drama as a longtime gay couple who must look for new housing after they're evicted shortly after they're married. Also with Marisa Tomei, Darren Burrows, Cheyenne Jackson, Charlie Tahan, and Harriet Sansom Harris.
No No: A Dockumentary (NR) Jeff Radice's profile of former Pittsburgh Pirates pitcher Dock Ellis, a former drug addict who now works as a drug counselor.
The Trip to Italy (NR) Steve Coogan, Rob Brydon, and director Michael Winterbottom reunite for this sequel to their 2010 film The Trip, as the two actors joke their way through a tour of Italy's finest restaurants. Also with Rosie Fellner, Claire Keelan, Marta Barrio, Timothy Leach, and Rebecca Johnson.