People warned me that watching a movie being shot is like watching sap run down a tree. However, what they described as slow, methodical, and boring turned out be interesting and even enthralling to me.
Movies kick ass.
This week's cover story ("A Script For Texas," Sept. 17, 2014)  describes the making of Windsor, a movie shot in Gainesville by first-time director Porter Farrell of Fort Worth.
To me, watching a movie being made is like looking behind the curtain at the Wizard of Oz — it removes some of the mystique, but adds another level of magic.
Actors rehearsing their lines, making dialogue suggestions, and then performing their scenes on camera, sometimes a dozen times in a row, is an intimate process to watch. For years I've created original music on a home recording studio. The music and movie making processes are similar – rehearsal, trial, error, multiple takes, playbacks, fine tuning, editing, etc.
I was equally fascinated watching the crew prepare sets, lay down tracks, level them, install cameras for tracking shots, make wardrobe adjustments, watch for continuity, etc.
When my visit was done, I had more notes, quotes, and photos than I could fit in my cover story. Over the next couple of days I'll be posting highlights culled from the cutting room floor.
Windsor features a half-dozen up-and-coming actors, although I have to admit the only one I'd heard of was Nick Krause. He's the Austin actor who nabbed the movie-stealing role of the goofy teenager Sid in The Descendants (2011).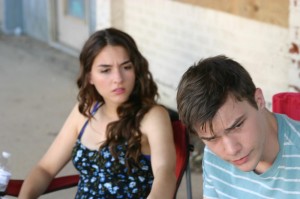 Krause (pronounced Krau-see) is now 22 and finding steady work. Director Porter Farrell was thrilled to cast him for the movie.
"He's funny as hell," Farrell said. "He was the only funny part of [The Descendants]."
Windsor was filmed in the brutal heat of August. I found Krause on set one day trying to get cool inside a van. He agreed to leave his oasis and go sit outside and discuss the movie and his career.
While we talked, lead actress Madelyn Deutch wandered up and sat down to listen just as I was asking Krause how he'd been clicking with the other actors.
"The cast is fantastic," Krause said. "We've all gotten to be really good friends over the course of the shoot. I can't imagine a better group of people…except for Maddie."
"Yeah, except for me," Deutch said, smiling.
Krause moved to Los Angeles after The Descendants was released, and he's worked steadily since.
"I loved living in Texas and if I could come here at some point and be confident that the work throughout the year would be there for me as an actor, I'd be here," he said. "In Los Angeles and California as of right now there is a little more going on, which is a shame because Texas has a dedicated film scene, Austin especially. There is more work in Los Angeles, a lot of the opportunity is out there and I'm chasing it. It's a bigger pond overall. I like the competition. It keeps you on your toes and always bettering yourself and trying harder."
I complimented his turn as Sid in The Descendants, and he laughed, thanked me, and said he taped the audition with his then-13-year-old sister reading the George Clooney part. Afterward he was invited to fly to New York to read for the part.
"I got everything out of my savings account and bought a ticket," he said. "I wanted something to make me look unique. This was my big shot. I wanted to stand out."
So he bought a bag of Cheetos, walked into the audition in character as Sid, handed the Cheetos to director Alexander Payne, and said, "You must be hungry." Krause figured it was something goofy that Sid would do. He got the part.
Four years later, his hair is shorter and he looks leaner and meaner.
"I get recognized for [Sid] less and less because as time goes on I look a little less like Sid," he said. "Lately I get recognized more for playing Berto on [the TV series] Parenthood. A lot of times I'll go into a restaurant and there will be somebody across the room giving me an evil eye, like they can sort of tell they've seen me somewhere but can't tell whether they saw me in a movie or I served them French fries sometime."
Clooney has a reputation as a prankster, and I asked Krause if the mega-star pranked him on set.
"That guy's filled with them," Krause said, laughing.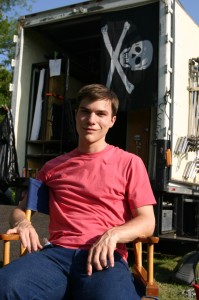 Just before an intense scene was about to be filmed, Clooney stumbled and fell, hurt his arm, and yelled in pain. "Everyone was stunned," Krause said. "We were all silent. Our big star just got injured and it's three days from finish."
Clooney's a great actor; he wasn't really hurt, he'd fooled the entire room. I asked Krause if the tomfoolery was distracting.
"George came to set every day so prepared that he could afford to have that spirit of levity to keep everybody happy, and then switch right on to where he needed to be emotionally for the scene, which was cool," Krause said.
Farrell walked past and I asked him how Krause was pulling off his character.
"Not bad, he'll do in a pinch," Farrell said.
"Do tell, Porter," Krause said.
"He's a consummate professional, a great actor, and a great house guest," Farrell said. "He and three of the other kids came to Fort Worth and stayed at our house and didn't get arrested or tear up our house."
"Was that difficult?" I asked Krause.
"What, not getting arrested?" he said. "Yes, it was a challenge."
He spoke highly of Fort Worth but said his heart belongs to Austin. He particularly loves the Sixth Street entertainment district.
"Down there is my favorite part of any city I've been in," he said. "It definitely beats the Sunset Strip. It's more alive. People really come out to see live music in Austin. It's a communal thing. In L.A. you can't walk down any street and hear a different blues band coming from every bar like you can in Austin."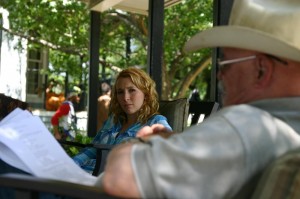 Windsor's protagonist is portrayed by Deutch, who comes from Hollywood royalty — her mother is Lea Thompson — "Mrs. McFly" of Back to the Future fame (and a thousand other movies and TV shows and, currently, Dancing With the Stars). Madelyn's sister Zoey Deutch is an actor as well.
Madelyn Deutch lives in Los Angeles and fronts Maddie and the Bad Hats. Here's a link of her performing a song on piano.
Deutch is feisty and funny and agreed to sit down for an interview, but our timing was off and it never happened. Still, we had fun one day on set. I would take a photo and show her the result on my camera monitor, and she would cringe.
"Eeeewwww," she'd say each time I'd show her a photo.
My photographer-feelings were getting bruised until she told me that she dislikes candid still shots, but has no problem being seen in moving pictures.
"A lot of actors are that way," she said.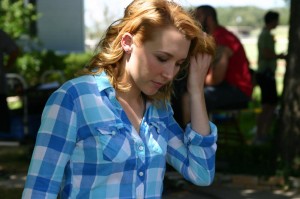 "This is a great shot," I said, showing her my latest attempt.
"Ugh," she said.
"Now what's wrong with that?" I demanded.
"I look like a hippo," she said.
She's young, pretty, and movie-actress thin — at 23 she can still pass as a high school student. She's been eating different foods on location and is apparently feeling a little puffy after three weeks of snacking on the chips and deli trays set out for cast and crew.
During a break I saw her deep in thought and snapped a photo while she wasn't paying attention.
Later I showed it to her and said, "OK, I got the money shot."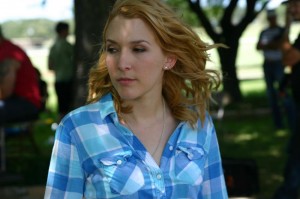 She took a look and remained quiet for a second. Surely she'd like this exotic pose while looking all distracted and sexy.
But then… .
"I look mean," she said.
"No, you look sultry," I countered.
"Yeah, right," she said. "I look mean, but that's probably what I look like most of the time."
Not hardly. She was a jewel on the set, engaging, playful — and patient with a pesky photojournalist who kept intruding on her space while she was trying to work.