Texans don't know what to think of New Yorkers half the time. That TV commercial wasn't far off the mark, the one where a Texan discovers his hot sauce is made in New York City and says, "New York City!?!?!? Get a rope."
Throw in a head-on collision with the train wreck TV show Jersey Shore, and it's no wonder Quinn Shephard confused some locals. She was born in New York and lives in Jersey City. She'd never visited Texas before coming down to portray Kat, a high school cheerleader in the fictional town of Windsor, filmed recently in Gainesville ("A Script For Texas," Sept. 17, 2014).
During a break in filming one afternoon, Shephard sat down to chat about her visit to the Lone Star State. Cast and crew used a nearby church for relief from the oppressive August heat, and we found a cool place inside to sit. A bunch of kids were playing basketball on an indoor court while we talked.
Her accent sounded remarkably Texan, at first anyway. She was still in character. As we talked and she relaxed, her New York accent surfaced here and there, although she'd catch herself and slip back into twang mode.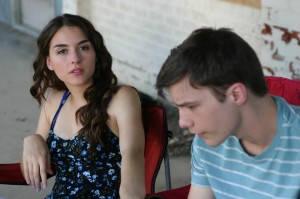 She worked on her accent mostly by watching Friday Night Lights. As she worked on the dialect she worried about overdoing the twang. She didn't want to sound as if she were parodying us.
Then she came to Texas and heard people talk.
She quickly realized she wasn't overdoing the accent at all.
"Now the second I go into a restaurant or shop and start talking to someone, I cannot help it, it comes in, it's such an easy and comfortable accent," she said. "Everybody here thinks its ridiculous that I'm from New Jersey. All they know is Jersey Shore. It's got a bad rap in Texas."
Shephard's character in Windsor is perky and bubbly, a new take for the dark-eyed, dark-haired actor, writer, and director who tends to go dark in her professional choices.
"Kat is a character unlike any I've ever played before," she said. "I've played a lot of dark characters, a lot of tough girls and crazy girls. When I read the script initially I wasn't sure I was right for it, but I decided to commit to it because, as an actor, especially in the last year, I've figured out I should stop limiting myself. I was never a cheerleader, I'm not Southern, and I'm probably not nearly as girly and peppy as Kat is, but honestly I had so much fun doing the audition and getting into that head space."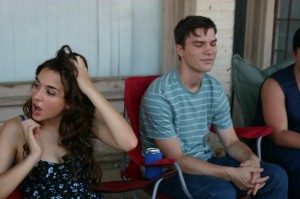 Shephard carries herself with confidence and maturity beyond her 19 years. She's enthusiastic – we shook hands; the gal's got the grip of a blacksmith. She's also ambitious.
Shephard is raising money to film a screenplay she's written. One reason she chose to work on Windsor was to observe first-time director Porter Farrell making a small budget film. She's an independent filmmaker with several short films, and now she's "looking to go into pre-production on a script I wrote that's full length," she said.
During a break from filming Windsor, Shephard and fellow actors Nick Krause, Madelyn Deutch, and Peyton Clark paid a visit to Fort Worth.
"Our trip to Fort Worth was the best," she said. "It's a beautiful town. Being out here in Gainesville for like a month, we drove to Fort Worth one weekend and started freaking out because of all the skyscrapers. Being in such a small community forces you to live the life that your character is living. The only thing we have to do is hang out with each other and shoot the breeze. It's cool. I like it."
While in Fort Worth, she bought a pair of cowboy boots, went bowling, and splurged on chicken wings and ice cream.
However (she is an actress after all) her favorite eatery was AF&B in the Seventh Street entertainment district.
"It was healthy food and we were so glad because we were all wanting kale salads," she said.
Afterward, it was back to Gainesville to finish the movie, and then back to Jersey City. She took more than a pair of cowboys boots home with her.
"Every time you play a character you take a little bit of them with you, and it's fun for me to get a chance to take a part of someone who is so perky and friendly and funny like Kat is," she said.
Safe travels, Quinn, and thanks for making it so easy to nab a cover shot for this week's story. The first day I visited the set, I walked up to where a scene was about to be filmed and saw Shephard sitting in a chair while two crew members applied her makeup and fluffed her hair. It was so Hollywood and so perfect for the story, I had to shoot it.
"Do you mind if I take a couple of photos?" I said, instantly sorry I'd asked because I'd given her the opportunity to say no.
Luckily, she told me to shoot away, and even gazed at the camera to provide the perfect pose. The shot was candid, captured in an instant with a basic Canon Rebel — no flash, lights, reflectors, photoshopping.
I included the original photo above. Here's the cropped version that appears on this week's cover.