The Outlaw era of the 1970s exploded just as I was becoming a rebellious teenager obsessed with music. Before long I was hooked on Willie Nelson, Jerry Jeff Walker, Steven Fromholz, Michael Murphey, and other artists who grew long hair, raised hell, and merged folk, country, and rock music into a genre alternately referred to as progressive country, Outlaw, country rock, and Texas Music.
So the publication of Jan Reid's The Improbable Rise of Redneck Rock in 1974 blew my mind.
This was long before the internet. Finding information about the obscure Outlaw artists being played on local FM stations wasn't easy. Back then fans got most of their information about artists from the liner notes on their albums.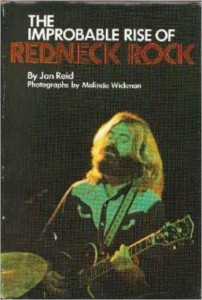 I was in a bookstore one day in Arlington and saw a photo of Murphey on a book cover. I couldn't believe my eyes. A book filled with long, descriptive chapters about each of my new musical heroes? WTF! I was in heaven. I can't remember what I paid for the book, but I'd have gladly paid double.
Four decades later, my first edition copy is in tatters. The dust jacket is long gone, the pages are yellowed, the cover is ragged, and the binding has come loose. But the words inside are still fascinating.
I pulled the book off my shelf for the first time in ages while writing a profile of Willis Alan Ramsey for this week's paper. Re-reading the chapter on Ramsey reminded me of how much it impacted me at age 15. At the time, I'd never heard of Ramsey or his music. But Reid's description of the songwriter was so intriguing that I bought a copy of Willis Alan Ramsey and started absorbing the songs. The young man on the album cover looked cocksure and nerdy at the same time. His voice was thin and reedy, but pleasing. The songs sounded as if an old man with a youthful heart had written them. The lyrics were whimsical and yet deep.
Ramsey was not an easy guy to peg.
The quotes attributed to him in the book seemed strange to me. Here was an unknown Texas singer with a rare record deal, signed to a great company (the artist-friendly Shelter Records), and riding the crest of a solid debut album that featured musical contributions from stalwarts such as Leon Russell and J.J. Cale.
And Ramsey seemed unfazed by any of it.
Reid had trouble finding Ramsey to interview him, and when the author finally tracked down his prey in 1973, Ramsey was in Austin holed up in a "makeshift studio in an alley behind a dry cleaning establishment," Reid wrote.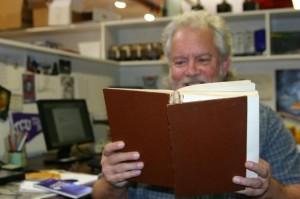 Reid described Ramsey's first album in glowing terms and wrote that "there wasn't a bad cut on the album, and when it came to the subtlety of his use of language, Murphey was the only songwriter in town who could touch him."
Reid asked Ramsey if he was working on his second album.
"Not right now," Ramsey responded. "As soon as I get the material together I will." (Forty years later, Ramsey is still working on that second album.)
Then Reid asked whether Ramsey was satisfied with Shelter's promotion of his first album. The conversation that followed made my youthful brain believe Ramsey was either the coolest guy alive, or a complete bullshit artist.
"I asked them not to promote it," Ramsey said.
Reid was dumbfounded. He asked why Ramsey wouldn't want his record promoted.
"I just don't like advertisement," Ramsey said. "I don't like somebody to feel like they've got to shove something down my throat before I'll find out about it. Because I know that people who listen to records as much as I do will gradually hear one if it's any good. Let it stand the test of time. Just float it out there and see what happens."
Ramsey went on to describe various dust-ups he'd had with music industry types, and then grew reflective. "I guess I'm one of those sensitive-artist types that ends up being broke and at odds with everybody in the music industry," he said. "It seems like I'm fast working myself there. But I don't give a shit."
Can you see now why a 15-year-old kid from Fort Worth was so impressed?
I'm still impressed. Ramsey wasn't exhibiting bravado to look cool. History shows he was genuinely expressing how he felt.
All these years later, he's still an interesting interview. We spent more than an hour on the phone recently discussing records, touring, recording, marketing, and other industry stuff, although the topic most on his mind these days is his private recording studio in Colorado. A flood drenched his work space a year ago, and he and wife Alison Rogers (a musician who opens many of Ramsey's shows on tour) are still trying to repair the damage and resume working on the second album.
"We hadn't been touring a whole lot recently," he said. "We cut back because it's one of those things where if we didn't pay attention to things that had happened, the situation would go from bad to worse."
Ramsey was just a few months away from finishing his second album, Gentilly, when the flood hit, he said.
"We had the rest of the money we needed to finish it," Ramsey said. "All that went away with the flood. Getting back onto the project after a year will be slightly daunting. But there are a lot of people who are in worse shape."
The flood ruined numerous boxes of memorabilia and family photos stored at the studio. "We lost some irreplaceable and meaningful things," he said.
I asked him to describe them, but he wouldn't.
"I try not to think about it, or we'll have to stop the interview and I'll go have a good cry again," he said.
Without studio backing, Ramsey is funding the second album himself and through investors. But the money has dribbled in over a long period of time. He records when he can.
"It looks like I've come up with the most expensive way to do an album – long, extensive, and trying on everybody's nerves," he said. "All you kids out there wanting to make a record now, go to Kickstarter. And finish up before the flood hits."
Despite the DIY nature of his second album he still managed to wrangle topnotch sidemen, including harpist Mickey Raphael (Willie Nelson) and legendary bluegrass musicians Sam Bush and Tim O'Brien.
Hell, who wouldn't want to play on the so-called mythical second album that's been four decades in the making?
Ramsey makes a rare appearance in Fort Worth at 8 p.m. Oct. 16 at Shipping & Receiving, 201 S. Calhoun St. Tickets are $20. Ramsey's uber-talented wife Alison Rogers opens the show.