In a Home Depot parking lot near AT&T Stadium in Arlington, a small group of people, mostly in their mid- to late 20s, stand by pickup trucks filled with flags. It's a Saturday afternoon in late September, and they're gathering for another walk. Dressed in various kinds of shorts, khakis, t-shirts, and sport jerseys, some wearing hats, some with tattoos, they'd look like everyone else heading to the college football game if it weren't for the rifles slung over their shoulders.
The rifles are loaded, one of the marchers assures. "But we make sure there are no bullets in the chamber."
The group is part of Open Carry Tarrant County. Coordinator Kory Watkins had invited about 2,000 people via Facebook to attend the day's march. About 40 said they'd come, and 15 have shown up.
Watkins, a tall, thin 31-year-old in an off-brand striped polo shirt, khaki shorts, and a white fedora, has strapped on a fluorescent safety vest and an AR-15, a magazine-fed weapon that looks like a machine gun.
The group, having heard a patriotic pep talk from Libertarian legislative candidate Robert Harris, form up with Texas flags and those of Open Carry Tarrant County to march two blocks to the busy intersection of Collins Street and Six Flags Drive to hand out literature.
Across the street, a camera tower used by the Arlington Police Department seems to watch the group and the long-haired straggler who carries flags that read "Come and Take It" and "Don't Tread On Me." There are no officers on hand and no indication of whether the cameras are actually filming the marchers.
Watkins and others say Open Carry Tarrant County members are just standing up for their constitutional rights. But their actions over the last year have outraged the Arlington City Council, the National Rifle Association, a mothers' group, and at times even other Open Carry groups.
Open Carry Tarrant County is beginning to seem, at times, more interested in provoking police than in peacefully asserting their rights; many members also participate in North Texas Cop Block and Tarrant County Peaceful Streets Project, two groups that use cell phones to videotape police. Three Open Carry members were arrested in September while recording a routine traffic stop.
Little of that, except for the rifles, is on display on this afternoon.
"Remember, an armed society is a polite society," says Harris, as the group starts toward the intersection.
********
It's been more than a year since the Open Carry movement began in Texas, prompting groups of armed citizens to stand on street corners and wander through Wal-Marts and other public places to protest what they say are flaws in Texas' gun laws. On a few occasions, they've lined up on freeway overpasses, displaying their guns and waving their flags.
The carrying of handguns in public has been regulated in Texas since 1871. A century later, when some other states began to allow citizens to carry concealed weapons, Texas legislators pushed for similar changes. But it wasn't until 1995 that the Texas Legislature passed, and then-Gov. George W. Bush signed, a bill to allow the concealed carrying of weapons. Today, gun rights activists continue to push for more gun freedom.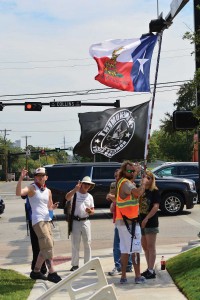 Over the last several years, however, mass shootings have become all too common in the schools, workplaces, theaters, and restaurants of this country. An FBI report released in September confirmed mass shootings have risen drastically since 2000. The sight of people armed with semi-automatic weapons in public doesn't make many Americans feel safe these days.
Another recent study found that in the United States there are 88 guns per 100 people and 10 gun-related deaths per 100,000 people, rates higher than any other country studied. According to data collected by the United Nations, the U.S. gun murder rate is 20 times the average of countries like Israel, Chile, and Italy.
Army Master Sgt. C.J. Grisham, a decorated veteran of the Iraq conflict, understands the dangers facing Americans. He's always carrying some kind of weapon whether concealed or openly. As a soldier (about to retire), he says, his weapon has become an extension of himself.
So he didn't give it a second thought in March 2013, when he picked up his AR-15 for a hike with his son in the woods outside the Central Texas city of Temple. Snakes, mountain lions, and other dangers could be lurking in the deep woods. But Grisham's problem turned out to be with a human, not a critter:  Alerted by a concerned citizen, a Temple police officer  stopped to ask Grisham why he was carrying that kind of weapon.
When Grisham's answers didn't satisfy him, the officer tried to take the gun away, and Grisham resisted. He was arrested and eventually convicted of interfering with the duties of a peace officer, a Class B misdemeanor. Along the way, his arrest became a rallying cry for gun rights in Texas. At one point more than 400 people turned out to support Grisham, carrying weapons and protest signs reminding people that carrying the semi-automatic guns is legal.
Kory Watkins heard about that rally and Grisham's arrest and decided to join the movement. He formed his own local group with other activist friends, called Open Carry Tarrant County. They started carrying loaded assault weapons into places like Wal-Mart, Target, and Kroger, mimicking Grisham's Open Carry Texas and handing out Open Carry Texas literature.
But Grisham says the Tarrant County group is not in line with what he's trying to do with Open Carry Texas. The two groups promote the same ideal — passage of legislation to allow the open carrying of handguns — and they still sometimes conduct rallies together. In other ways they execute the mission quite differently.
Grisham's group calls businesses and law enforcement to alert them to upcoming demonstrations. Watkins' group takes loaded assault weapons into grocery stores, fast-food restaurants, and other businesses unannounced, frightening employees enough to make them call police and causing managers to enact their own gun ban policies.
Watkins says his group is trying to be ludicrous to make a point. "It's like, 'Hey, look, this is not cool. I mean, really? We can walk around with this, really? I mean, come on, this is ridiculous.' "
Not everyone finds it ridiculous. When Open Carry Tarrant County goes out to protest, calls from concerned citizens pour into police call centers across North Texas, reporting people carrying loaded assault rifles and looking very threatening.
"A man approached my car to give me literature with a giant gun in his hand," reported one Arlington resident. "I don't know if it [the gun] was real or not, but it freaked me out. I don't oppose people's right to carry, but I oppose the fact that they can wave their guns around at public intersections and frighten people."
 ********