The police chief who led Fort Worth through a number of difficult times in the past six years announced his retirement today during the pre-City Council meeting at city hall.
Police Chief Jeff Halstead said he will continue working until Jan. 9, 2015, and then retire.
He worked at the Phoenix Police Department for 20 years before moving to Fort Worth. He and his family have fallen in love with Fort Worth and plan to continue living here after his retirement, he said. His wife, Kim, attended the announcement.
Fort Worth police officers had some major screw-ups during his six years of tenure, but Halstead earned a reputation for addressing problems quickly and transparently.
He oversaw the infamous Rainbow Lounge gay bar raid, Taser deaths, and the dozen-plus officers who have been involved in drunken driving incidents, including Halstead's own chief of staff. Another officer drove his car after drinking at a bar and collided with a car driven by a young mother, who was killed.
Halstead established a zero tolerance policy for officers caught drinking and driving, issued body cameras, pushed for safer Tasers, and has responded to various calamities and controversies with a reasoned calm. He didn't shirk his responsibility, quickly facing news cameras, angry residents, and concerned elected officials who all watched over his shoulder.
Halstead was only a minute into his retirement speech before his voice began cracking as he fought back tears while describing the hard work of his staff, and his decision to step down.
"I'm not moving," he said. "I love it here so much. This is our home. My wife is a native Texan. If I want another 27 years of happy marriage I better stay in Texas."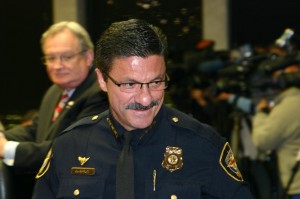 Halstead joked about media reports that he was being forced out of office and had been butting heads with Mayor Betsy Price. He said the only feud they have is which is a better way to spend an afternoon, off-road biking or on-road biking.
"The employees of this organization are a class act," he said.
Afterward, the city council members took turns singing his praises.
"As chief you've been no stranger to adversity, just like any chief in a major city," Price said. "Fort Worth is the 17th largest city in the nation. Chiefs face big adversity and major decisions, and nobody has handled them any better than you. You should be very proud of your legacy. "
Rick Van Houton, president of the Fort Worth Police Officers Association, said Halstead will be missed.
"We are a better police department today than we were six years ago," he said.