The Dallas Cowboys head coach couldn't lead his team to a winning record in his first three seasons, and fans questioned his abilities.
The quarterback was mega-talented but couldn't seem to win when it counted. Fans booed him and called him a choker.
Yep, people really got pissed off at Tom Landry and Don Meredith back in the day.
Flash forward 50 years to this season and people were saying the same thing about Jason Garrett and Tony Romo as recently as October, after the Cowboys lost to the struggling Washington Redskins in Week 8, and then got hammered the following week by the Cardinals, both losses coming at home. But the boo birds and doomsayers really turned out after that dreadful 33-10 loss to the Philadelphia Eagles at home on Nov. 27.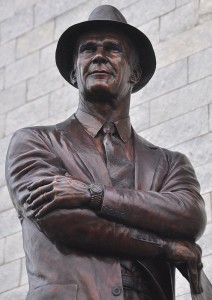 December loomed, the Cowboys were shaky, and the sports columns, radio shows, and Monday morning quarterbacks predicted another December curse and Tony Romo choke.
I don't recall anyone predicting the Cowboys would sweep December [so far] and storm into the playoffs as the team to beat. And the "Romo is a choker" mantra has proven hollow — Romo is now considered a viable candidate for the NFL's player of the year.