Casey Smith might be considered tall and gangly if not for a frame bulked by building things for a living and drinking whiskey when he's done. He talks fast and enthusiastically, jumping from hypothetical situations to unbelievable stories, the kind of hyperactive thought processes that drive tired teachers crazy. Not surprisingly, he's a hilariously bad speller — he quit school in fourth grade.
"They thought I was retarded, and they made me go to this resource room even though I wasn't," he said. "I lived a mile from my school, so I just kept leaving class and going home. My dad asked me why, and when I told him, he said I could come work with him."
So instead of a childhood spent working against a learning disability in school, he acquired various construction skills that would eventually lead him to get his general contractor's license and start a construction business at the age of 18. In his teenage years, the wanderlust that inspired him to abandon formal education took him on some interesting sojourns. At 16 he was living near Lake Michigan as part of a Christian fellowship community. At 18, prior to starting his business, he and friend Ben Rogers went to New Orleans, looking for work in the wake of Hurricane Katrina. They ended up being live-in security guards at a mall. He once vacationed in Hawaii literally for a song, busking with a harmonica and sleeping on the beach.
All that travel, combined with his construction skills and a fertile imagination fed a willingness to think big, to figure out how to make crazy things happen. "Whenever someone has an idea," he said, "I'm always like, 'Let's try it!' "
In 2009 Smith had made a lot of money remodeling 70 homes at the Naval Air Station Fort Worth Joint Reserve Base, which allowed him to invest in The Usual, a Prohibition-era cocktail bar on West Magnolia Avenue, with a few others: his father Bill Smith, Jon Carney (who also co-owns The Chat Room Pub and Lola's Saloon), then-elementary school teacher Sarah Harper, and Tina's Cocina owner Juan Solis.
One day, Smith met a guy named Jeff Harper, who told him about a building he had available for lease.
Smith checked the building out, and it immediately fired up his imagination. "It was a dump, all broken down, but I could see how you could turn it into something really cool," he said. Still, he ran the idea by his girlfriend of five years.
"She put her foot down," he said. "I wasn't going to get the building if she was going to be that unhappy about it, but this awesome place just fell into my lap. I told her, 'I've got to do this,' and so we broke up."
The relationship ended, but Smith got started immediately on what would become The Where House. He rented the building from Harper for a pittance — about $400 a month, Smith said. That same day, he got hold of Rogers, who had recently disbanded the Metrognome Collective, which put on concerts and art exhibits in Firehouse Pottery & Gallery (formerly Firehouse Gallery) in Meadowbrook.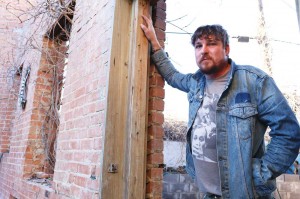 "Metrognome's lease was up, and we were sort of looking for a spot," Rogers recalled. "I was living in a place on College Avenue, and Casey called and said I could live in one of the units in this new place he found."
Smith was impressed with the shows that Rogers had been putting on at The Chat Room. So along with offering him some cheap digs, Smith tapped Rogers to help him shape what the building would become. They both envisioned a community arts space and even bandied about the name The Hemphill Arts Development Center. But they just kept calling it "the warehouse," which became widely and later officially known as "The Where House," because that's how Smith thought "warehouse" was spelled.
In October 2009, Rogers moved into a small room off what would become the lounge.
"There was a couple, some friends who lived in the building, too," Rogers said. "At first we didn't have that much going on there, because we didn't really want to live in a place that had shows all the time, but then we had a New Year's Eve party, and that kind of showed us we could hold pretty big stuff there."
******