The woman who's been renting chickens to city folks is now delivering organic goodies in her Veggie Van.
"The Veggie Van is a fun and unique way for people to buy fruits and vegetables they may not think to try at the grocery store," said Beverly Thomas, founder of Cold Springs Farm and owner of the Veggie Van. "This way, you always get something that is good, local, and in season."
Fort Worth Weekly told you about Thomas's 2BuckCluck chicken rental business last fall. She grows produce at her 35-acre Cold Springs Farm in Weatherford, and is now introducing what she calls the "first mobile farmer's market in North Texas." Goods include seasonal, organically grown produce, farm fresh eggs, raw honey, pastured pork and poultry, as well as grass-fed beef and lamb.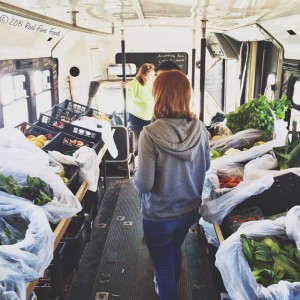 The Veggie Van parks on Wednesdays from 1:30 to 2 p.m. at Stir Crazy Baked Goods on 106 E. Daggett Ave., and from 4 to 5 p.m. at the T&P Lofts on 201 W. Lancaster Ave. in Fort Worth.
If you don't feel like fighting the crowd, the Veggie Van makes deliveries to residences, offices, and restaurants in Tarrant, Parker, Hood and Wise Counties for a minimal $40 to $54 purchase based on location.
For more info about the Veggie Van, Cold Springs Farm, or chicken rentals, cluck, er, click here.