Cowboy cook Grady Spears is opening a chicken-fried steak café in the Stockyards next month, and, since the joint holds only about 60 diners, don't be surprised if a line forms outside the door.
A few folks in line might have more than fried meat on their minds.
"He owes me a considerable amount of money," said Jarrell McDonald, owner of the Cross-Eyed Moose and a couple of other Stockyards businesses. "I'm going to get my money, or I'm going to give them grief when they open that restaurant."
McDonald vowed to send his employees to picket in front of the restaurant with signs calling Spears a deadbeat.
"That's better than paying a lawyer," McDonald said. "I'm willing to spend a lot of money on bad publicity for Grady just out of principle."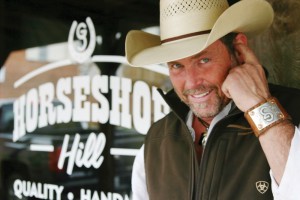 The chef who made his mark two decades ago is a tarnished star in 2015, down but not out. Celebritydom nabbed him in the 1990s after he began pushing rustic delicacies such as avocado enchiladas and grilled potato salad drenched in warm bacon vinaigrette. Cowboy cuisine wasn't new, but Spears turned it into the next big thing at the Reata restaurants in Alpine and Fort Worth. Cooks such as Tim Love, Brian Olenjack, Todd Phillips, and Lou Lambert worked in his kitchens before eventually becoming successful chefs and restaurateurs on their own.
Martha Stewart greased fame's gate by giving Spears a 13-page spread in Martha Stewart Living in 1995. Soon he was earning praise from The New York Times and other national publications. Restaurant & Institutions magazine put him on their list of Top Five Chefs of 1998, and he was pegged the Rising Star of 1999 by Restaurant Hospitality. Network morning news shows loved him for cooking segments. So did Food Network.
A publisher offered Spears $25,000 to write a cookbook in 1999. Spears rarely read books and never did well in school, but A Cowboy in the Kitchen: Recipes from Reata and Texas West of the Pecos sold 50,000 copies despite its $30 price.
Spears was handsome, fun-loving, charismatic, and a little daffy, with a vibe similar to a young Matthew McConaughey or a modern day Don Meredith. A Fort Worth native and former cattleman, Spears wore sandals, jeans, white chef coats, and beat-up cowboy hats and could charm the scales off a snake.
People wanted a seat on the Grady train. Investors were eager to bankroll him on restaurants, make money off his name, guarantee themselves a great table when they showed up for dinner, and feel special when Spears stopped by their table to drink with them.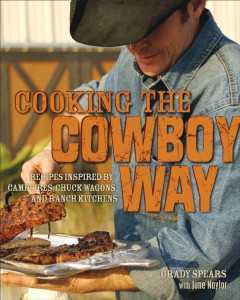 As his renown grew, so did his ego. Employees said he stopped spending much time in the restaurant. He was a young man with money and fame and a hunger for good times. He figured he could promote his restaurants and books best by cultivating his mystique, partying with Texas musicians such as Pat Green, hanging out with Nolan Ryan, taping TV shows, hunting and fishing, gambling and traveling, spreading his Grady-ness to the masses.
Reata thought otherwise and bought out Spears in 2000. Over the next dozen years, Spears oversaw the creation of numerous restaurants, including The Chisholm Club, Dutch's, and Grady's Restaurant in Fort Worth, Grady's Line Camp in Tolar, The Nutt House in Granbury, The Roadrunner in Las Vegas, and The Burning Pear in Sugar Land.
Most of the restaurants either folded or parted ways with Spears. Investors grumbled that he didn't take care of business, spent too much money, didn't reinvest enough in the restaurants, didn't spend enough face time in the kitchens or dining rooms, clashed with employees, partied too much, and so on. Over the years, Spears married –– twice –– and went through two divorces. Landlords and vendors sued him. He filed for bankruptcy. Fell behind on his property taxes. He had a son, Gage, now 11, and fell behind on child support.
After Grady's Restaurant on Forest Park Boulevard closed its doors in 2011 after a two-year run, Spears moved to Tolar and oversaw his Line Camp until it too closed. Afterward, Spears reconnected with cowboy friends from his past, spent time with Gage, and figured out what to do next.
Now he's back with a new concept and investor. Next month, Spears plans to open Horseshoe Hill at 204 W. Exchange Ave. The menu is still secret, but expect the basic fare to be dressed up somewhat to count as cowboy cuisine. Remember, this is a guy who's used everything from Dr Pepper to mescal to season dishes.
Spears wasn't back in Fort Worth for long before Grady sightings began to surface. He looked into renting the Bull Ring (the former Stockyards ice cream parlor) to cater private parties. He's been seen with a local developer and is possibly working as a consultant for a restaurant on Race Street. He's catered several local events and tried sweet-talking acquaintances into fronting him supplies, not always with success. He also apparently passed off another chef's creation as his own. These stories came to me from various sources. Seeing as how I cover news in Fort Worth, I'm compelled to look into them.
Spears isn't interested in discussing rumors or accusations. The cowboy cook wants to leave the past behind.
Skeletons, though, aren't always content to remain in closets.