******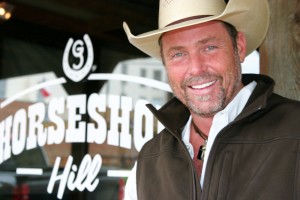 Spears agreed to meet last week on one condition: He wouldn't discuss the past. He opened Horseshoe Hill's glass door when I arrived, flashed his trademark smile, stuck out his hand to shake, and welcomed me inside. A crew was working on the remodel. The sound of electric tools competed with the sound of country music blaring over a stereo. Spears wore boots, jeans, a brown vest, and a straw cowboy hat. Tall and broad-shouldered, Spears still looks every bit the star, although the years have toughened his face. He seemed weary, and certainly wary, but was friendly.
We toured the small restaurant consisting of a couple of dining areas and a kitchen. It's a rustic, cool looking dive that fits snugly into the Stockyards scene.
We sat at a table to discuss his future.
Except Spears began talking about the past.
"I've made mistakes," he said. "I've also done things nobody else had done. I was writing cookbooks when nobody knew what intellectual property was. We've done licensing agreements when licensing agreements were unheard of in the food business. I would love to take back some of the things we've gotten into, but I got myself in those positions and, unfortunately, it was hard to get out of some of them. I take 100 percent blame for all of them."
Some projects involved too many people going in different directions, he said. He mentioned questionable accounting, bad contracts, and being surrounded by the wrong people, but he stopped himself. He was making excuses. Accepting 100 percent blame is more difficult than it sounds.
He knows people still have beefs with him.
"If I've done somebody wrong, come see me, and I'll do my best to fix it," he said.
His primary gig has been with the Houston Texans and NRG Stadium, where he's been the consulting chef for six years. His food is served in suites and kiosks during Texans games, rodeos, and other events. Since 2012 he's licked his wounds in Tolar and come to realize he doesn't need fame, TV shows, or a portfolio of restaurants to be happy. All he needs is a pickup, a good dog, friends around him, and a simple restaurant on which to focus his energies, he said.
"In the last couple of years I've repositioned myself with the guys I grew up with," he said. "Burt Shield and I have been talking and kicking things out and this came about. It felt good, and we just did it."
Leaving Fort Worth and clearing his head for a couple of years refreshed him, he said. At some point in the far future, he envisions moving back to Alpine and living in the open air. His earliest success was there, back in simpler times, when he'd risen from busboy to waiter to general manager to a famous chef in only a few years and without formal training.
"Until then I'm pretty content here," he said. "I just want the opportunity to do this again and make it right."
I asked whether Fort Worth had become a curse for him.
"I've been my own worst curse," he said. "Fort Worth is probably the greatest city in the world."
The future beckons with promise. He recently signed a deal to produce three cookbooks that he'll begin working on soon. He won't do a big, splashy grand opening for Horseshoe. He likes the idea of opening quietly. But Spears creates a buzz wherever he goes. His opening won't remain quiet.
"My goal is to put out the best product I can and make sure that people here have the best time they can," he said.
If this restaurant doesn't work out, he might as well do something else for a living, he said.
"I won't make the same mistakes twice," he said. "If we do it wrong a second time, then we're in trouble. I just need to leave for good."
Did he just say he was leaving the restaurant business if Horseshoe failed?
"If it fails, I'll take full responsibility," he said.
But is this his last shot?
"If this doesn't work out," he said, his voice trailing off before stopping. "This will work out. I know it will. I'm more excited about the future than I've ever been."