Tomorrow, the FIFA Women's World Cup kicks off in Canada, with a record 24 teams contesting for the championship of the world. Just like I did with last year's men's tournament, I'll be here all June blogging on the developments from up north, as well as posting pictures of the tournament's best-looking players looking hot. I'm kicking things off with a handy pocket guide in a Q&A format, and you can click on players' names to obtain a YouTube highlight reel. (Expectedly and thankfully, there are quite a few more of those than there were four years ago.) Oh, and there will be no mention of Sepp Blatter and his shenanigans. That post is here.
Who should we thank for this tournament?
Uh, Sepp Blatter, weirdly enough. (Look what you made me do!) Despite the man's history of sexist remarks, his casual objectifying of women, his failure to recognize the sport's biggest stars when he met them personally, and the high likelihood that he only did it to create another giant pile of money, he still created the Women's World Cup. It's okay to raise a thimbleful of liquid to him for that.
How is USA looking?
Like one of the favorites. They are in the tournament's Group of Death, but because there's 24 teams, four of the third-place finishers in the group stages will advance to the next round as well as all the first- and second-place teams. If USA can't manage that, something has gone desperately wrong. Nevertheless, there's powerful incentive to win the group and secure an easier road through the knockout stages.
Which of our women should we watch for?
All eyes are usually on Alex Morgan, not only because she's pretty, but because she's as good at setting up teammates' goals as she is at scoring herself. She's coming off a knee injury, but if she's hampered, USA's attack features the likes of Christen Press, Sydney Leroux, and Amy Rodriguez. These front-line players are arrows, so it's good to have all-time women's top scorer Abby Wambach as a sledgehammer alternative. They'll be supplied by indefatigable winger Megan Rapinoe and midfield operator Carli Lloyd, though what shape the midfield will take remains to be seen. Meanwhile, Hope Solo returns to the net, leaving all her off-field drama (we can only hope) behind.
How's our coaching situation?
Longtime assistant Jill Ellis took over as head coach after Scotsman Tom Sermanni (who did a good job with Australia in 2011) was unexpectedly fired following a seventh-place finish at the 2014 Algarve Cup.
Is the Algarve that big a deal?
It's an annual invitational tournament held in Portugal, and it has been around longer than the Women's World Cup or any other women's tournament. Finishing last in the group (to Japan, Sweden, and Denmark) wasn't good, but the problems seemed fixable. Firing a national-team coach a year before a major tourney isn't the best way to do business. I wonder whether we've heard the whole story here.
What about that Group of Death you talked about? Who are playing us?
Pia Sundhage coached our women to the WWC finals in 2011 and the Olympic gold medal the following year. Now she's trying to do the same thing with her home country, Sweden, which crushed everybody in sight in European qualifying, thanks to the play of midfield general Caroline Seger and big striker Lotta Schelin, who faced USA in '11. The Swedes are a dark horse pick to win the whole thing. Meanwhile, Australia will fight, but there's a lot of question marks. Will projected starting goalkeeper Lydia Williams be recovered from her ACL tear? Will Clare Polkinghorn play in central defense or as a defensive midfielder? Can 5'0" playmaker Katrina Gorry stand up to the punishment at this level? Then there's the undisputed best African team, Nigeria, with Desire Oparanozie and Asisat Oshoala providing the scoring threats, the latter starring when Nigeria's girls made it to the finals of the under-20 World Cup. The Super Falcons are brimming with confidence even in the face of this group. All these teams are bruising, physical opponents. We'll have to keep an eye on what kind of shape USA is in after the group-stage games are done.
What other teams could win the tournament?
The defending champions are Japan, and they have the bulk of their winning 2011 squad back. Will the likes of Aya Miyama and 40-year-old Homare Sawa be too old to repeat, though? (What happened to Spain in the men's World Cup is not encouraging.) On the other hand, Germany is largely rebuilt from the last time, and if any team's offense can stack up against USA's, it's theirs, thanks to striker Célia Šašić, with attacking mids Anja Mittag and Dzsenifer Marozsán trailing behind her. They also have goalkeeper Nadine Angerer, one of the few in Solo's class. Plus, you can bet that they'd love to have both the men's and the women's world champions at the same time. Then there's eternal bridesmaid France, with the wizardly playmaking skills of Louisa Nécib and the finishing of diminutive Eugénie Le Sommer.
What about dark horses?
Host Canada has home-field advantage and a burning desire to avenge their 2012 Olympic semifinal loss to USA (enabled by bad officiating), and they have Christine Sinclair, a forward as good as any on our team. If anything happens to her, though, the team is screwed. Like France, Brazil is looking to surmount that last hurdle, although their sights might be set on Olympic gold on home soil in 2016. (Head coach Vadão is setting up a full-time residency program for his players after this tournament, lasting until the Games in Rio.) The ageless Formiga bosses the midfield, while the great 29-year-old Marta will want to make an impression near the end of her prime. Playmaker Andressa Alves, who looks like Marta's successor, might be shoehorned into the lineup.
Eight teams are making their WWC debut in this expanded field. Break them down.
Netherlands and Spain are powerhouses in men's soccer, so it's strange to think of them as soccer debutantes. Still, the Dutch are led by dead-eye teenage striker Vivianne Miedema, and despite some defensive inconsistencies, they are terrifying when they're on. Meanwhile Spanish coach Ignacio Quereda is at his first WWC in 27 years at the helm (wow!) and has mercurial superstar Verónica "Vero" Boquete as his disposal. Ecuador and Ivory Coast have overcome steep odds to get here, the former ten years removed from determining their team by open tryouts and the latter having only played one match — a friendly — in the last seven months. Costa Rica saw their men advance to the quarters last year, and now their women have made history. And Thailand gets in here because North Korea was banned after several of their players tested positive for steroids. The North Koreans claimed that they were just receiving elk gland therapy after being struck by lightning.
Uh, what?
That's the sort of news that comes out of North Korea. Somehow The Interview couldn't dream up anything that outlandish.
Who else should I watch for?
Mexico's Charlyn Corral was frozen out of the national team for mysterious reasons, but in this cycle she has been her country's leading scorer, so now's her chance to show the world what she can do. Costa Rica's playmaker Shirley Cruz is one of the world's best, and leading her country to the tournament is a nice feather in her cap. South Korea's string-puller Ji So-yun has looked capable of magic against top-line teams. New Zealand fullback/winger Ali Riley will be found tearing down the left side for her squad. England's towering Jill Scott (not to be confused with this Jill Scott) will be her team's midfield stopper, while fullback Alex Scott (no relation to either Jill Scott) will provide an attack. Cameroon's goalkeeper Annette Ngo Ndom is the sort of backstopper who can steal games for her team.
What about the turf? I heard that some of Canada's stadiums have turf fields, and some players don't like it.
The Canadian soccer association and FIFA have been pointing fingers at each other, while some of our northern neighbors have cited the difficulties of maintaining grass fields in Canada's climate. Most experts think turf is bad for a player's long-term health, though a minority think the concern is overblown, and it's worth noting that MLS teams in Vancouver, Seattle, Portland, and New England (as well as a few other men's teams in colder countries) play on turf. FC Toronto is battling the CFL's Toronto Argonauts over whether BMO Stadium in that city should remain grass or switch to turf. Still, the fact that no men's World Cup has ever been played on turf sends a message to the women that their tournament is a place to experiment. There's also this picture of her lower limbs that Sydney Leroux tweeted after one match on turf.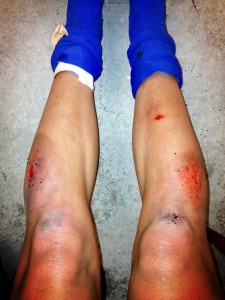 Speaking of Leroux, isn't she Canadian?
Yes. She switched nationalities to compete for a team that had a better chance of winning the World Cup. Expect her to get a villain's welcome from the Canuck crowd.
What will USA's uniform look like?
The men's and women's teams always wear the same design, so changes to one mean changes to the other. The primary uniform is the familiar basic white strip: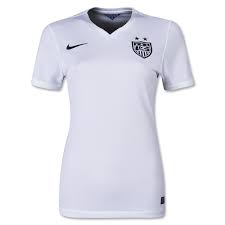 On the other hand, I prefer the secondary uniform, which features a handsome blue gradient color: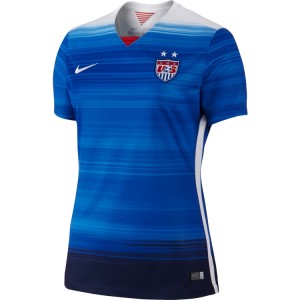 The men debuted the blue in a friendly match earlier this year. It's certainly better than the Bomb Pop look that the men were wearing in last year's World Cup (and which the women wore on occasion as well). New this year as well, the women's replica jerseys are now being sold in men's sizes, so if your daughter idolizes one of USA's players, you can wear that player's jersey while taking her to the game. That's nice.
What else should I get excited about?
Something that won't happen until September, when EA Sports releases FIFA 16. The company's soccer video game comes out every year, but this year's will be the first version that lets you play as the women's teams. The game will only have 12 teams (not Japan, oddly enough), since there doesn't seem to be much game tape on Thailand's players for programmers to study. Still, it's enough to stage your own mini-tourney at home.
When does it all start?
The host team kicks off against China tomorrow afternoon, and USA plays its first game against Australia on Monday. I'll be back after the first games have been played.