BY EDWARD BROWN, ERIC GRIFFEY, ANTHONY MARIANI, JEFF PRINCE AND STEVE STEWARD
PHOTOS BY VISHAL MALHOTRA
Welcome to the Fort Worth Weekly's 13th Annual Music Awards Festival (and 15th Annual Music Awards). And, in an indirect way, welcome to Fort Worth's heartbeat. "City of cowboys and culture," the chamber of commerce's old slogan, barely begins to describe the dynamism manifest in the United States' 16th most populous city. Punk, funk, doom metal, underground rap, neo-disco –– you name it, and at least one local band or artist excels at it. Don't bother wondering why. Just revel in the sounds. Before you know it, Fort Worth will become the cosmopolis it's always threatened to be.
Quaker City Night Hawks, The Unlikely Candidates, Son of Stan, Pinkish Black, Ronnie Heart, Jetta in the Ghost Tree, Oil Boom, Gollay, Andy Pickett, Squanto, Ryan Tharp, Feletha Black, Dead Vinyl, Jake Paleschic, Un Chien, and Vincent Neil Emerson are just some of the 48 Fort Worth artists slated to perform at MAF '15, 4-10 p.m. Sunday, June 28, at eight venues in the West 7th Street corridor: Lola's Saloon, Magnolia Motor Lounge, Trinity River Tap House, Reservoir, Fred's Texas Café, The Grotto, The Robust Energy Drink Tent Stage at Studio 80, and Poag Mahone's Irish Pub. Not too shabby, eh?
Every venue will be staffed by friendly, super-intelligent, and good-looking Weekly volunteers, who will be selling soundcards of Frequencies, Vol. 6. Featuring new or previously unreleased tracks by 2015 nominees Son of Stan, Duell, Ryan Tharp, Toy Gun, Dead Vinyl, Blank-Men, Tornup & Berto G., Chris Watson Band, Shake the Moon, Igneous Grimm, Trai Bo, and Chingalotus, Frequencies, Vol. 6 will cost $5 a pop, with proceeds benefiting Lena Pope, an 80-year-old Fort Worth nonprofit providing family counseling and childhood education. For more information, visit LenaPope.org.
Admission to the festival is free. If there's a better deal in town, well, you don't know cowboys from culture.
–– Anthony Mariani
BAND
Rock rules this category, much in the same way that the genre rules the Fort. And we're not talking just four on the floor and some barre chords. Bummer Vacation pivots on cold, dark, staccato pop, while at the opposite end of the sonic spectrum, Quaker City Night Hawks want you to feel their music below the waist. As The Cush and Jetta in the Ghost Tree purvey a prismatic form of psychedelia, the remaining nominee, Chucho, brings to its soulful alt-blues a sense of the theatrical. — A.M.
ROCK
Alright. We admit it. Some of these bands had relatively quiet years and are here only because of their enormous contributions to not only Fort Worth's scene but all of North Texas'. Anyone who discounts the greatness of Burning Hotels, Calhoun, and The Orbans knows nothing about Fort Worth music. Period. KatsüK, Secret Ghost Champion, Un Chien, and Vicious Firs also have been quiet but get by on their recent histories. Only The Longshots, who have just put out a 7-inch on major vinyl-only indie Mock Records, and The Unlikely Candidates, who are putting the finishing touches on their major label debut, have had the time to thrive. — A.M.
NEW ARTIST
Somewhere beneath the twitchy, glitchy beats and the warbling, sampled chaos of Squanto lies a story about a kid in the suburbs, possibly on drugs, freaking out about … consumerism? The internet? Kids in the suburbs on drugs? Whatever is lurking inside all of this electronic confusion, it's pretty genius. Bad Blonde, from a foundation of Stooges-esque proto-punk, anthemic grunge, and melodic pop, have established themselves as a legit force in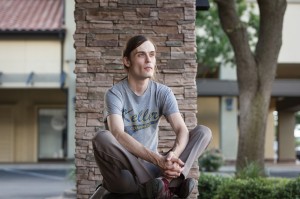 North Texas –– quickly. These guys have been playing together only a couple of months. Malfredo Alfanira isn't unplugged or a collection of deconstructed anthems. Chingalotus' debut recording is simply a mansion built from Popsicle sticks and Elmer's Glue or a car that goes 200 miles an hour on static electricity. Dead Vinyl, loud, bruising, and oh-so soulful, imagines Led Zeppelin at their bluesiest and rowdiest. This newish project, which features former Frisky Disco wildman Hayden Miller on vocals and Tyler Vela on hot-shit guitar, is working on its debut recording. Henry the Archer's When Something Means Nothing is the kind of first album any band would be proud to claim and any local music scene would like to call its own. The nine tunes are tight, stripped-down, and more hook-filled than a large-mouth bass in a summer Texas lake. Yacht rock but only if your yacht is black metallic and goes a million miles an hour –– Shake the Moon is all about sumptuous pop rock that's densely layered, semi-funky, and, despite its intentionally rough, occasionally bombastic edges, as smooth as the sand at Venice Beach. Establishing herself as a solo folkie poet in the spirit of early Joni Mitchell and Joan Baez has never interested Rachel Gollay. On Gollay's album of the year-nominated debut, Built for Love, she has achieved the warm and ethereal but reserved studio sound of some of the unabashed FM pop bands she has long adored, from The Carpenters to Elton John to Radiohead. Mountain Kid, built from the remnants of Head of Savage and The Royal Savages, is a whole 'nother something. Ambitious as Supertramp and as tight as Toto, this new super-group is working on its debut album. Surf's up when The Ape Hangars are onstage, and Blank-Men hark back to New Traditionalist-era Devo for inspiration. The last three nominees, Chucho, Picnic Lightning, and Natural Anthem practice a kind of Southern gothic brand of psychedelia. — A.M./S.S.
ROCK SONG OF THE YEAR
Whether you call it post-desert rock, stoner punk 'n' roll, or a night after the sun comes up, Duell's "Back to Drunk" is heavy on wiggly, brain-tickling vocal effects and charging guitars, but beneath the Kyuss-ian phenotypes beats a hooky heart. The woozy synths and sarcastic funk of Son of Stan's "Loseyomind" may make you feel like the devil on one shoulder has pushed the angel on the other one into the toilet while you're puking and you're all kind of laughing about it. "Mermaiderator/ADD DDR" is chock full of Bitch Bricks' signature surf-punk snarl, but it's the track's garage-rock strut that makes it an essential document for future punks. Bummer Vacation's "Bummer Condo" ain't no cure for the summertime blues, just a crafty Cure-worshipping ode to the disintegration and resulting ache of a relationship. Over snapping drums and a relentlessly melodic bassline, the nervous, reverb-y guitar on Fungi Girls' "God Cops" makes it sound like a bunch of frayed, shorting-out wires in the shape of a man surfing a jetty of broken beer bottles glued together with Bubble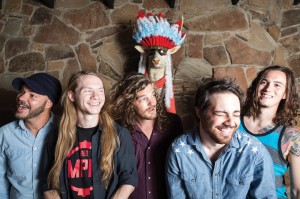 Tape. The Phuss' "Golden Overdrive" nods to Zeke and Judas Priest before blasting off into the night, while Shake the Moon's "Light as a Feather" sounds like a jam by Lionel Ritchie fronting Huey Lewis' News. Caliche Burnout's "Out Here in Eternity" is a loud and anthemic slab of punk 'n' roll, while Blank-Men's "Radio Silence" tunes the station to Devo and turns the volume up to 11, shorting out your circuitry with synth-crazed punk. The Dangits "Straight as the Crow Flies" may make you feel as if you're listening to Metallica while driving 90 mph to a KISS concert with your head out the window, and War Party punches your brain right in its medulla beerbongata with the do-woppy pop-punk of "Teenager on Drugs." — S.S.