Fort Worth, you have good taste.
If you'll allow me to continue blowing smoke up your ass, you're also very intelligent, supremely attractive, and exceedingly well mannered.
Every year, the Music Awards ceremony is a blur. It's only a couple of hours long, and we've got 200 categories to get through. Not really, but you know what I mean. And while this year's was no different, just as head-spinning and just as insane as it's always been, I really found myself hit by the sensation that this town –– its musicians and, more importantly, its voters –– acquitted themselves handsomely. Honestly, the ballot is pretty damn stout. Anyone could reasonably argue for any nominee's superiority in any category. Though I'm sure some amazing bands were left off, I think we did a pretty good job. Fort Worth did a pretty good job, because the ballot is assembled from write-in votes by nearly two dozen movers and shakers. And the results? Pret-ty, pret-ty, pret-ty good.
There were lots of anti-surprises. I fully expected Quaker City Night Hawks to win best band, Holy Moly for Americana/Roots Rock and Live Band, Big Mike Richardson for Cover/Tribute Act, Lola's Saloon for Venue, Jacob Furr for Acoustic/Folk/Singer-Songwriter, Black Box for Talent Buyer, Smooth Vega for Rap/R&B, and major label darling Leon Bridges for best blues/soul and vocalist performance and also song of the year ("Coming Home") and artist of the year. And it's not that I didn't expect the other winners. I was just super-glad they won, especially Son of Stan. The nom de rock of singer-songwriter Jordan Richardson took home top honors for Rock Song ("Loseyomind") and EP (Georgia), and he is this close to replacing Burning Hotels and The Orbans (tie) as my favorite F-Dub band. No pressure on your next record, brah.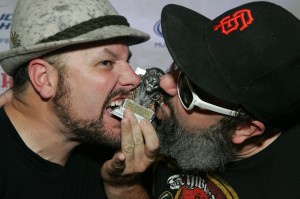 I was also glad to see Tyrel Choat bring home the award for best guitarist performance for "Voltaire," a single by his metal band, The Cosmic Trigger. Not "Tiger," contrary to the nameplate. And while Choat was gracious about the typo, as he is gracious in all things non-Cowboys related, some people on Fuckbook had a ball with it. Which is fine. All I'll say is that next time you fudge a note onstage, I'll be there, and I'll be sure to make a big stink about it. Oh, to be as perfect as you.
Additional love: I also was jazzed that Gollay's debut Built for Love was voted album of the year.
Essentially, I loved a lot about the awards. Everything, in fact. Including the rest of the winners: Jetta in the Ghost Tree for Rock Album of the Year (Clandestine, Vol. 1) and Drummer Performance (Joe Carpenter for "Reaction"); Flipside for Jazz/World and Paul Unger for Bassist Performance ("Perfectly Sane"); The Longshots for Rock; Shake the Moon for New Artist; The Me-Thinks for Hard Rock; Green Light Pistol for Texas Music; Walker & The Texas Dangers for C&W; Tidals for Avant Garde/Experimental; Luke Wade & No Civilians for Pop; Fungi Girls for Punk; The Dangits for Semi-Local Band; Ben Napier (Green Audio Productions) for Producer; and Panic Volcanic for Heavy Metal, even though the two guys and a girl in the band have said they don't think their music is heavy metal at all. In response, I'll leave you with this entry from AllMusic.com: "Led Zeppelin was the definitive heavy metal band."
If you're in the same category as Zeppelin, that's not bad, right?
Contact HearSay at hearsay@fwweekly.com.