Native son Bill Paxton was as Texas friendly as you'd expect at this evening's opening of the Ninth Annual Lone Star Film Festival. The star of movies (Alien,Tombstone, Titanic) and television (Big Love, Texas Rising) was a creative hell raiser while growing up in Fort Worth, making homemade movies in the 1970s with buddies such as local filmmaker Tom Huckabee (Carried Away).
Paxton looked Fort Worth cool in black cowboy boots, black jeans, white shirt, and dark jacket, hanging out at Reata Restaurant and the Four Day Weekend Theatre next door. He dined with local businessman Ed Bass and friends, bragged on his actor son James Paxton, and cheered on Malcolm McDowell, who spoke to the audience before a late night screening of A Clockwork Orange (1971).
The festival opened with a near-full house at Four Day Weekend, as writer/director Robert Edwards introduced When I Live My Life Over Again. Christopher Walken is in fine form portraying a washed up Frank Sinatra-style crooner looking for a comeback while dealing with his dysfunctional punk rock daughter played by Amber Heard. The audience ate up the comedy drama, laughing in the right places, staying quiet during the dramatic turns. Watch for Fort Worth Weekly movie critic Kristian Lin's take on various movies showing at the festival.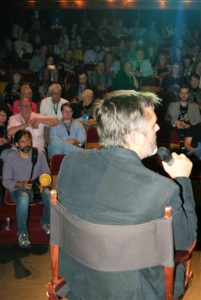 During a Q&A after the movie, Edwards told the crowd he'd just inked a distribution deal. The movie is slated for a spring release under a new title, One More Time.
McDowell was particularly entertaining during his Q&A, describing how a relatively unknown actor from Liverpool landed the role of a psychopathic thug in Stanley Kubrick's now classic A Clockwork Orange. The movie's cavalier approach to juvenile violence was so disturbing for its time that it was originally released with an X rating.
During filming, McDowell thought the movie was a dark comedy. But audiences took the story literally. Most were shocked and disturbed. McDowell saw the movie in a theater shortly after it's release, and was surprised by the crowd's reaction: "I went into the lobby and a woman ran past me and threw up."
Young audiences today are more likely to view the movie as it was intended. "Finally you've caught up," he said.
The festival continues through Sunday at Four Day Weekend Theatre and AMC Palace in Sundance Square.