Fort Worth Weekly Homebrew Throwdown Update 
Dallas Morning News recently included the Fort Worth Weekly's Homebrew Throwdown in its Top Ten North Texas Beer Week events not to be missed. (Tickets are $10 and $15, not $20 and $25 as listed in the article.) The daylong craft beer event at Panther Island Pavilion will be like none other. Arrive at noon to catch the Cowboy's game. At 2pm, we'll open the judging portion with brewers from Rahr, Martin House, Panther Island, CBP, and more. Afterwards, we are opening up a Q&A panel between local professional brewers and the public. We'll feature live music by the beergrass hillbilly group, Shotgun Friday. In addition to nine beer samples, brews will be sold by The Bearded Lady. Plus, there will be tons of food. We crown the homebrew winners at 6pm and then are heading to The Bearded Lady for an after party, where your first pint of local beer is free with your Homebrew Throwdown wristband or commemorative pint glass. Follow our Facebook event page for updates. The fee includes nine samples from local breweries.
Martin House Brewing Company
Episode Two — Riding the "Rasta" (a.k.a Josh Neimand's van)
I'm going to let you in on a little secret: The Martin House Brewing Company suds you grabbed last week from Tom Thumb or wherever didn't get there by magic. The reason it was stocked, fresh, and looking pretty has more to do with the Martin House beer reps and delivery crews who frequent those retail stores. Just the fact that it was sold there is a small miracle. There's a lot of competition for shelf space these days.
Last week, I introduced readers to Martin House's four beer reps (Sam "Shugg" Cole, Dylan Stefanos, Josh "Tree" Neimand, and Asa Yoakam) and told the story of their role in getting beers like The Imperial Texan and The Salty Lady out of the brewery and on taps and shelves across most of Texas. For this week, I'm chronicling my ride-along with Neimand (who didn't look too bad in his pink dress at the recent Martin House Boo-ery Tour, despite his hairy legs).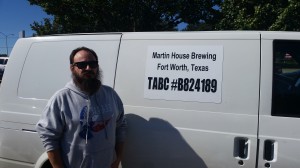 All I had was a set of instructions: Meet Neimand at Whole Foods Market in Colleyville at 11a.m. Beyond that, I didn't know what to expect. Neimand, sporting a gray Martin House hoodie and shorts, greeted me warmly in the parking lot outside of the grocery store. As we stepped inside, he gave me the low-down of what he was there to do.
"Our first priority is merchandising," he said. "That means making sure all our beers are pulled forward on the shelves and facing forward. I'll tell our delivery guys if we're out of anything."
Neimand greeted each Whole Foods employee by name and asked how their kid or favorite sports team was doing. As we chatted, he grabbed his phone and shot off an e-mail when he noticed that Daybreak was out. He apologized for the interruption, explaining that he'd forget if he didn't take care of it then and there. We didn't have to walk far to reach our next destination a few shops north, Goody Goody Liquor.
The store's beer patron was on the clock when we showed up. Neimand greeted the department manager like he'd greet any friend, because, as he later told me, he sees them as more than employees. The two of them chatted for more than a few minutes before they began talking about beer.
"Yeah, we could use three more cases of Salty Lady and two more of Bockslider," the Goody Goody Liquor
employee said.
As Neimand left, the two talked about the upcoming Boo-ery tour at Martin House.
"I'll be there," the employee said before heading back.
Outside, we mounted Neimand's craft beer chariot. Sure, she has seen better days (probably A LOT better), but the faded white, mid-1990s GMC Safari passenger van we hopped into was his de facto office 30-plus hours a week. She doesn't have power windows, and sure, most farm tractors have a better turning radius, but the Rasta more than makes up for those shortcomings with character.
As it turns out, every van at Martin House has a nickname. Most are unimaginative like "Vanna" and "Truckie." Neimand calls his ride Rasta, as in Rasta(Sa)fari. Get it? Ya, well neither does most of the Martin House crew.
As we very slowly took off, Neimand checked his watch against a map and itinerary of stops for the day.
"I hate being late, so I always add a little cushion in between stops," he said on our way to Market Street.
Beer reps get a lot of "windshield time," he said. He prefers being behind the wheel to being in an office cubicle any day, though. Yes, he's been there, and he ain't going back. The other perks include getting to set his own schedule and driving routes.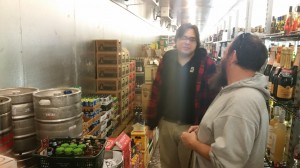 At Market Street, he chatted with a youngish looking beer manager. As usual, Neimand didn't start by talking shop. He asked her how she was settling in after moving back from Florida. After catching up, Neimand looked at the beer shelf and gave some advice.
"It's getting cooler," he said. "Let's get you some Pretzel Stout."
Next stop: Bear Creek Spirits & Wine.
Our trip to Bear Creek taught me something new about the beer rep's job: There's a quiet turf war between beer companies. No, we weren't in Juarez, but selling out of beer could mean more than a few lost bucks. As we stepped behind the fridge locker, we noticed the Cellarman's IPA was down to two six-packs. The danger in that situation, Neimand explained, is that a competitor could take that fridge space if it were empty. When that happens, and it does happen, the beer rep is at the mercy of the store manager. These are the situations where personal relationships come into play. Neimand keeps a good rapport with his clients, meaning if Dos Equis decides to squat in his spot, it takes a quick phone call to set things straight.
Farther north, we stumbled upon a crew from mega-distributor Ben E. Keith. Two employees from that company were finishing up a reset. That's code for resetting the entire stock of a grocery store. It's partly to adjust for seasonal beers like stouts and partly to ditch brands that aren't selling.
Martin House is guaranteed a spot ("on the set," as the grocery lingo goes) on the cold shelf, but the Ben E. Keith folks seemed blissfully unaware of the local brewery's absence. Every inch of refrigerated space was taken up fizzy ciders and Budweiser. Literally, every inch.
The Martin House rep played it cool and chatted up the distributors about the slight. As we made it to the back storage space of Tom Thumb, we confirmed what we thought. An entire case of Gateway Blonde and Cellarman's IPA, along with barcoded labels, were waiting for a home up front.
"It's cool," Neimand explained. "I'll call the manager tomorrow and get back on the shelf."
Tom Thumb posed yet another obstacle. In the back storage space, a dolly loaded down with a dozen boxes of red wine blocked access to the Martin House reserve stock. Neimand explained that he would rather not move merchandise, but there was little choice. As he slowly rolled the dolly back, he glanced back and forth at the boxes, watching for any loose bottles.
"Sometimes there's so many obstructions that I can't get to our products, he said. "But that's rare."
At our last stop we talked with a congenial wine and beer manager named Pete. As we chatted, the Kroger staffer abruptly turned to say hello to every passing customers.
"We had a meeting this morning and were told we didn't greet people often enough," he said.
Like all of his stops, Neimand took an equal amount of time cultivating relationships with employees as he did moving beer. The gesture comes easily to the Martin House rep, whose friendly, extroverted personality is no secret. But it's also a crucial part of surviving and flourishing as a small business in a massive multi-billion dollar beer market.
As we parted, Neimand joked to his friend about chatting too much.
"I like talking to you," Pete confided. "A lot of reps come in here, but we have a relationship."
Martin House Brewing Company
220 South Sylvania Ave #209
Fort Worth, TX 76111
(817) 222-0177
Tours & Tastings
6-8pm every Thursday and 2-5pm every Saturday.
On Tap This Week:
Fort Worth Weekly events
Fort Worth Weekly's First Annual Homebrew Throwdown will take place at noon on Sunday, November 15. Homebrew Throwdown is a chance for local home brewers to compete against one another with a panel of celebrity judges awarding best suds in town. Come out and support home brewers and local breweries. Along with the judging, we will have 6 local breweries offering samples, and your tasting ticket allows you 12 samples. These breweries include Collective Brewing Project, Martin House, Panther Island Brewing, Rahr, Revolver, and Shannon Brewing. Once your card is spent, you will also be able to purchase beer of a select menu of these breweries. To start the day, we will be showing the Cowboy game on the projection screen, there will be a Q&A session with a group of local panelists, food trucks, and we will finish the night with live music from Shotgun Friday. This festival is strictly 21 and up. Also everyone must purchase a ticket to get in. What a great way to finish out North Texas Beer Week! Advance tasting tickets are $20, and $25 at the door.
The Keg Cop
Local homebrewer Chris Jones (a self-described "geek who likes to drink good beer") has put together a Kickstarter campaign for a cool idea — an IOS powered smart kegerator. It's a great way to encourage friends to pitch in some money instead of drinking all your homebrew.
North Texas Beer Week
Starting this Monday is North Texas Beer Week. All your favorite breweries, brewpubs, and gastropubs will be doing special events. For event listings, click here.
On tap for next week is a craft beer journey down the rabbit hole with Rabbit Hole Brewing.