City leaders and Stock Show officials donned Western attire and said hokey stuff like "howdy y'all!" in speeches today to celebrate the latest renovations at the Will Rogers Memorial Center complex.
City Council members are compelled to dress up like drugstore cowboys every time they cut a ribbon at the Stock Show or a Stockyards event.
Why?
Nobody knows.
More than 100 people showed up to see the renovations. The main attraction was the Tower Promenade, a 300-foot long covered walkway that stretches between Cattle Barns 1 and 2.
The arched pedestrian walkway gives visitors a break from the elements while walking between the new south parking lot and the Stock Show facilities.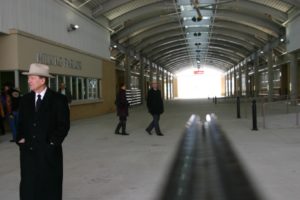 Cattle Barn 2 has been renovated with new lighting, ventilation, and electrical enhancements, and now features a milking parlor.
Improvements were also made to the Stockman's Café, hallways, and restrooms.
Total cost: $15.4 million.
Renovations in Cattle Barns 1, 3, and 4 are expected in the future.