Jim is not unlike many middle-aged people in Fort Worth. He works hard and pays his taxes. He's proud to live in the Lone Star State. He appreciates his family and home and loves his job but can get stressed out at times. He smokes a little weed to stay on an even keel. Jim, who asked that his full name be withheld, says he's been toking for 40 years and can roll a joint with one hand in the dark with a fan blowing.
"I smoke in the morning to wake up and get ready for the day," he says. "It's like my coffee."
When a friend recently offered him marijuana "wax," Jim was baffled. He had never heard of it before but was excited about the prospect of smoking weed in a new way. Marijuana wax, a.k.a. dabs, Earl, crumble, shatter, honey, or sap, is the latest rage in the marijuana community. Originally called hashish, or hash, wax began its rise from obscurity in California around 1980. Wax is cannabis oil extracted directly from the buds that you would typically smoke in a joint.
However, wax is way more potent. Sometimes, one toke is plenty.
Jim had reservations.
"As an old school dude, I enjoy the pleasure of marijuana, breaking it up, rolling a joint, passing it around, taking numerous hits," he said. "Why would you want to smoke just one hit of wax and be done?"
And he didn't like the equipment required –– a glass rig that looks like a modified bong, a long nail in place of a bowl, and, most shocking, a blowtorch. The accessories made him feel dirty, like a drug addict freebasing coke or something.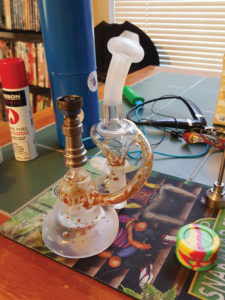 "The set-up looks like a science experiment," he said. "This is intimidating to a guy who just rolls joints or uses a one-hitter."
The wax pipe, or oil rig, is similar to a traditional bong except that in place of the bowl, there is a metallic nail (usually titanium) covered by a glass dome. Remove the dome and heat the nail until it glows red. Place the dome back over the hot nail for protection from loose clothing, wayward fingers, or being dropped. A small amount of wax varying in size from a pin tip to a dime is collected on the tip of the dab tool that looks like a straight dentist pick, the object that Jim thought was a stick of incense. The wax is then melted onto the hot nail with the dab tool, and as the wax melts it produces smoke that is inhaled.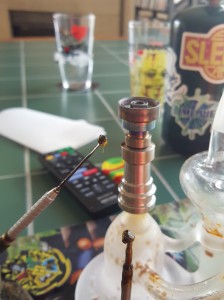 Jim asked for just a small hit.
"Typically, smoking a whole joint is way too much for me," he said. "I usually only take three or four hits."
With hesitation, he found where to suck from. He closed his eyes and listened to the sound of the bong bubbling to life. His eyes got big, and his cheeks puffed outward. Then his face relaxed, his eyes lowered, and he sat back in his chair.
"That was mild," he said. "It had a bit of a chemical taste, but it was a clean hit. I didn't really feel any smoke coming in, and then when I blew out, I was surprised how much came out."
Jim learned what many younger smokers have already figured out. Wax is the way to go.
Mike, a twentysomething who lives near Mansfield, said he discovered the ganja in college four years ago. He started with regular, leafy weed on a regular basis, but eventually he switched to wax –– for the higher quality and discretion.
"Driving with bud is my biggest concern," he said. "The smell in my car makes me paranoid to even drive home with it, but with wax, there is very little smell, and cops probably won't catch it."
Like Jim and Mike, many Texans are looking into this new product that is evolving in North Texas. Easy to find, transport, and consume, wax is driving a new underground market. It can last longer than regular pot, meaning it's easier on the wallet.
"You're getting a lot of extra goodies that come out in those solvent extracts," said Bob Melamede, associate professor of biology at the University of Colorado and president and CEO of Cannabis Science, a bio-tech company that develops cannabinoid-based therapies. "Aside from the oils, there are all sorts of compounds that come out that probably have beneficial value. We've got indications that there are differences in the effects, pain-relief properties, and potentially other important phenomena. We don't really know at this point. All we know is that this plant is quite the magical chemistry set."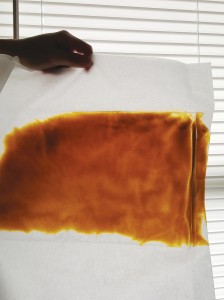 Wax is packaged in pieces of parchment paper, each the size of a dollar bill that is folded, and sometimes placed in an envelope. It can also be placed in plastic containers called oil slicks made with high-grade silicon that prevents the wax from sticking. A gram ranges in price from $50 to $75 depending on the quality, texture, and consistency. Figure it like this: A gram of bud for $20 gets you about 30 hits. A gram of wax is $60 but can supply about 100 tokes, ones that are more concentrated and more potent.
From oils to edibles to suppositories, marijuana has diversified from being smuggled up your bum to actually treating your bum –– comedian Tommy Chong is using cannabis suppositories to treat his rectal cancer. And instead of smoking a fatty and reeking of hydro, a vape pen filled with wax can be used at the bar with nobody noticing. Marijuana has taken new forms, some of which are even legal in Texas.
******