Chris Lopez can regularly be found without any clothes. And not only in his house. One of the 29-year-old's favorite all-nude activities is a good ol' fashioned 5K (always on private property). He enjoys the exercise and the chance to work toward overcoming insecurities about his body, an issue he's had since childhood.
"I started going to these events because I was afraid to even take my shirt off at the pool," he said. "I told myself, 'I'm going to get over these fears by going all out.' "
And at nudist colonies such as Bluebonnet Nudist Park in Alvord, Texas, he has met some of his closest friends.
His enthusiasm is shared by Jose Dallas, who got turned on to the idea of baring it all while serving in the U.S. military overseas, where nude beaches are not totally uncommon. He was struck by how prudish people are stateside.
"We're completely flipped around on the public nudity issue compared to much of the world," he said.
He also said that as a society we seem to be regressing to Puritan days, noting that many gyms have started installing private changing stations even in locker rooms among the same gender.
As for Amanda (who wished to remain anonymous), she says she's always felt more comfortable nude since she was a child.
Whatever the reason, these North Texans like being in their birthday suits. But what separates these folks from previous generations' nudists is their age.
Hanging out with naked people in their 50s, Lopez said, is fine. He just prefers hanging out with people his own age.
Which is why in 2014, Lopez, Dallas, and Amanda started a nudist group for North Texans aged 18 to 35.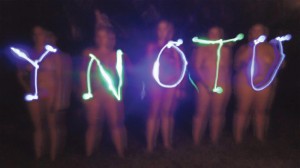 The Young Nudists of Texas United's first official event was the Nude Games that May at Bluebonnet. The idea was to offer fun activities (tug of war, sand and water volleyball) without risking anyone's sensitive areas. About 40 people showed up.
Through the creation of a website and implementation of several social media tools, YNOTU began hosting weekly at-home parties and at one point organized a roller skating event in Grand Prairie. The business owners, Lopez recalled, were impressed with how well behaved the young nudists were.
"They've already told us we are welcome back anytime," he said.
YNOTU's membership, which includes several Fort Worthians, stands at 25 and is 60 percent male, 40 percent female, although most YNOTU events are also attended by many nonmembers.
Perhaps not surprisingly, young women appear to be more open to the concept than young men, Lopez said. But a lot of the women may not participate as much because their (male) significant others may object.
"For my parents' generation," Lopez said, "it was the complete opposite."
YNOTU is a member of the American Association for Nude Recreation, a national advocacy group that "promotes nudity and nude recreation in appropriate settings."
Last summer, Lopez attended the Young Nudist Leaders Summit in Union City, Mich., where he heard (presumably clothed) speakers discuss the future of nudism. There's little consensus among young nudists. Some are actively political. Free the Nipple's members see the censorship of female breasts as an affront to women's rights. YNOTU, though, stays out of politics, Lopez said. However, individual members are free to support particular causes or attend protests.
Lopez said there's still some misunderstanding about YNOTU. A bright red message on his group's website makes one point unmistakably clear: If you are looking for a sexual encounter of any kind, you will not find what you are looking for here.
Upcoming events include nude laser tag on Friday, Feb. 26, in Hurst and a handful of 5K races across North Texas throughout the spring. In May, Lopez and his friends hope to pull off another series of nude games at Bluebonnet. While YNOTU was created to become a statewide group, and while some attendees have expressed interest in starting chapters in Houston and Waco, Lopez said, the group's membership is entirely North Texan.
Whatever the reason people have for attending his events, YNOTU has a much simpler agenda than Free the Nipple's or that of the countercultural naturalism movement of the 1960s and '70s.
"Our events are a great way to make new friends at fun events," he said.