Tornup's Collider Scope
Collider Scope (Ephemeral Hangs), Fort Worth rapper Tornup's follow-up to Impossible Dreams, is a sonic collage of experimental music and vocals. Tornup is a talker. The Fort Worth underground rapper known for his socio-conscious lyrics and rapid-fire flow takes his gift of gab to new heights on his new album. Recorded over a week in December at Cloudland-Recording Studios with producer Ricky Williford (War Party, Bummer Vacation), Collider Scope has 10 tracks but only about five songs –– the others are a recording of two guys talking philosophy. The album's brevity notwithstanding, Tornup succeeds in delivering dreamy, slightly offbeat brain food.
After some dialogue between two unnamed voices waxing over the problem of a lack of originality in the arts, the beat on the album's first song "Kaleidascope" jumps between a minimal tribal thump and more reverb-drenched East Coast-style beats. Tornup and Seattle rapper Teal Suns spit quickly delivered rhymes in a staccato baritone reminiscent of early A Tribe Called Quest –– until Tornup turns his rap speed-dial up to 11 and flows like the Micro Machine Man.
"Flowers (Couple More Bars)" is probably the album's catchiest track. The funky, soul-inspired track that features samples of Curtis Mayfield's classic "The Making of You," strikes a good balance between beauty and grit. Tornup weaves between rapping and singing about an anonymous crush. He rhymes, "I had to sing about you / I wrote a couple of bars and then a couple of more / and I had to scream about you."
The final tune, "Party Favors" doesn't actually contain any vocals. It's a display of Tornup's talents as a guitar player, and it also shows off beatsmith Yandon's more experimental side. The groovy beat is an amalgam of layered percussion instruments a la mid-'70s Aftrobeat. The song has elements of Latin Jazz and garage rock and harks back to Tornup's previous life, when he fronted local psychedelic sludge surfers Spacebeach.
On his Bandcamp page, Tornup added a disclaimer to Collider Scope: "We knocked this out real quick." While the record has more than its share of moments, it lacks the depth and polish of Impossible Dreams, his previous release from 2015. Aside from the spoken tracks and instrumental, the tunes are short bursts of beats and quickly delivered rhymes, and many feel like incomplete thoughts, great ideas that were never fully explored.
The album is the first in a series of five EPs, the rapper told Fort Worth Weekly. –– Pablo Arauz Peña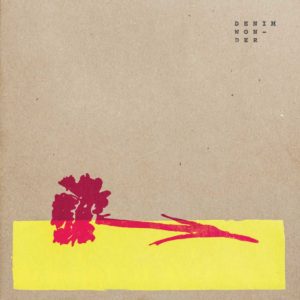 Denim Wonder's Carnation
Denim Wonder's debut album, Carnation, is a theatric slice of Americana with psychedelic flourishes. In 2012, the former Dallas Observer music critic and Radiant drummer Daniel Hopkins anonymously released two tracks to Soundcloud while still working for the Observer.
"Keeping the project anonymous was important because I wanted the songs to have a fair chance with critics and I didn't want to create a conflict of interest," he said. "Plus, it was fun."
After ditching the gig at the paper, he revealed his identity and created a Kickstarter campaign that would fund the full-length album.
Carnation was recorded with producer Matt Pence (Centro-matic, Justin Townes Earle) at Echo Lab studios in Denton. Hopkins also called upon members of Air Review, Bethan, and Radiant to flesh out the charming Arcade Fire meets My Aim Is True-era Elvis Costello soundscape he had constructed.
The album begins with a short instrumental track entitled "Benediction" and closes it out with a similar prayer-like tune called "Benediction (Goodnight)." Both are very fitting compositions to sandwich the remaining songs, allowing for a pleasant entrance and exit.
The production is vintage Pence: understated yet full-sounding drums, unmatched acoustic guitar tones, and an ambience that is driven by an assortment of instruments –– most notably the pedal steel guitar.
All of the elements are best heard in "Breaking Your Heart." Hopkins laments, "I'll keep you at a distance till you're gone / That's how I'm breaking your heart."
The song moves sullenly through two verses and a bridge, and then comes to life at an ethereal crescendo.
Carnation is psychedelic enough for a mushroom in the country, yet approachable enough for radio play –– at least most of the songs are. The album is meant to be heard as one cohesive piece. It's the sort of work that musicians and recording geeks will play on repeat. –– Kenny Uptain