Megan Morris stands at the end of a long white table. Her opponent faces her at the other end. Eight feet separate these modern gladiators. Money, reputation, pride, and opportunity are on the line. Morris tunes out every distraction and lines up her next shot.
Inside this bustling suburban sports bar in south Arlington, a DJ spins rap, techno, alt-rock, and other music at brain-shaking volume. Wannabe Guidos bang their fists on a punching bag video game nearby. Bar games are everywhere, with their bright, flashing lights and curious bells, rings, and whistles. Girls twerk on the dance floor a few feet away, shaking their butts as if they were buffing an imaginary Buick with their backsides.
Pool sharks sink bank shots, card sharps shuffle cards at poker tables, and dart throwers let 'em fly toward the bull's-eyes.
The noisy background might be enough to sidetrack even the most focused air-traffic controller. Not Morris. She is in the zone. She's in training. She is figuring out the best way to bounce a pingpong ball with precision into a 16-ounce cup full of water.
A pastime once confined to frat houses, dorm rooms, and your parents' basement is now almost as mainstream as Monopoly. Beer pong is being played all over the world in official tournaments with sanctioned hosts offering ever-growing payouts. Beer pong might never rival the NFL for TV ratings, but plenty of pongers think their tournaments could make for thrilling television –– at least as thrilling as bowling, poker, or golf.
Morris is practicing for the Texas Beer Pong Tour's 2nd annual 3v3 (or three-on-three) championship Friday and Saturday in Austin, where 40 teams from all over Texas and Louisiana will gather to pong with the best of the best to win a place in the World Series of Beer Pong XI in Las Vegas in July, a four-night stay at The Westgate, and $300 in cash.
Past World Series events have attracted more than 1,000 pongers from all over the country and even around the world, offering the largest payout in beer pong history –– $65,000.
Previous World Series winners Kevin Kessler, who works in corporate finance, and Rob Dix, a golf professional, continue to compete in national beer pong games, even though they have full-time careers.
"It's not just a dumb college drinking game," Morris said. "It is a real sport that takes time and practice just like every other sport."
It also requires something of a hollow leg. Contestants play with glasses of water in tournaments, but most players have a personal beverage in hand or nearby. No matter whether a pong ball hits its mark or not, beer will often be consumed shortly after. Lightweights have no long game.
******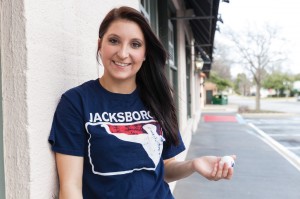 Success at the pong table doesn't require biceps or brawn, just a little hand-eye coordination. As easily as NBA superstar Lebron James can be the king of his sport, Morris –– a 5-foot-tall twentysomething waitress and preschool teacher who weighs no more than 100 pounds –– can be beer-pong champ.
Morris' brother introduced her to the sport last summer. Before that, she had played only at house parties in high school. Now, she can't wait to get off work every other Friday night and head to a pong tournament.
On a recent Friday night, she left her restaurant in West Fort Worth off Camp Bowie Boulevard at about 10:30 p.m. and changed into her pong attire of Vans, jeans, and a T-shirt in her car. Then she raced the half-hour drive east on I-30 to the weekly tournament at the The House Sports Bar & Grill in Arlington.
Weaving in and out of traffic, she was so pumped to pong that she had forgotten all about those long daily commutes to Jacksboro to help her dad with his construction business three days a week. She had forgotten about making all those lesson plans and wiping runny noses at the learning center. She had even forgotten about her aching feet from serving steaks and lobsters all evening on weekends. Pong provides a stabilizing balance in her life.
Some people don't take the game as seriously as Morris and other players. She's there to have fun, sure. But she wants to take home the gold.
"I practice every day or at least as much as I can," she said. "Yes, I play for fun, but I want to be good, too," she said.
Pong, like any hobby, can become addicting.
"I am a very competitive person," she said. "I like the rush it gives me. I want to win. Plus, there is money at stake."
Many women players, she said, are more focused on having fun, catching a buzz, and maybe meeting someone special.
"I have had some partners just throw the game because they got too drunk or they just did not care," she said.
Her first pong partners were her older brother Wayne and various pals from Jacksboro. Wayne bought her a pong table for Christmas a couple of years ago and told her to start practicing. Morris' first official tournament was in San Antonio with a 6v6 team.
"It is so different playing in an official beer pong tournament than at a house party or at some bar," she said. "The rules are crazy extreme. I have seen the referee pull out the rule book in the middle of the game."
Her primary partner these days is Kevin Kerry, her boyfriend and pong mentor. They met at a Texas Beer Pong Tour 6v6 tournament in Austin last July.
Back at the The House bar, Kerry shouted encouragement to Morris, whose palms were sweaty. Her heart was beating fast as she set down her cold can of Bud Light on the dirty bar table behind her to shake hands with her opponents. Competitors shake hands before and after every match.
Kerry, a 30-year-old oil field and construction worker, started playing at house parties for fun 12 years ago. He moved up to the big leagues five years ago.
"There is a lot of money in beer pong," he said. "I have played at so many bars around the DFW area over the years and have won so much money."
He estimates his winnings at around $10,000.
Kerry never reached the ultimate prize –– World Series champion –– and probably never will since he's considering putting away his pong balls to focus more on work and his son from an earlier relationship. Morris, though, still has the eye of the tiger.
"She has a lot to learn," Kerry said, "but she has become really good really fast. She is better than a lot of the girls, and I think she can win a bid to the World Series."
******