Most local guitar pickers go to Mark Cigainero when they need work done on their six-string babies.  Cigainero and his brother, Mitchell, have been repairing axes for three decades in Fort Worth.
A few years back, Larry Joe Taylor took a sick guitar to Mark Cigainero. They began talking about Taylor's annual music festival and chili cookoff, and Cigainero joked about building a guitar in the shape of a chili pepper.
They laughed it off.
But, three years later, Cigainero outlined a guitar top in the shape of a pepper, cut it out of spruce, cut the guitar's back and sides out of mahogany, and hand-cut a bridge in the shape of an armadillo. He's going to unveil the instrument at this year's Larry Joe Taylor festival, which starts today and runs through Sunday. Cigainero spent 95 hours creating the instrument.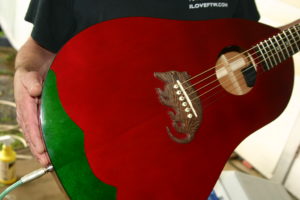 "I wanted to start building guitars again and I needed the practice," he said.
He hadn't built one from scratch since he cranked out a special order for a former roommate, Rob Grogan, in 1987.
"I'd only built two guitars before this [pepper] one," Cigainero said.
He can make more money repairing old guitars than building new ones.
He braced the pepper guitar like a vintage Gibson J-45, installed a Fishman pickup, painted the body red and green, and installed tuners taken from a Martin guitar.
What started as a joke became "a serious guitar," Cigainero said. "I put a lot of time and effort into it."
It plays well and sounds good unplugged. When plugged into an amp, the guitar's deep, rich, tone is impressive, a real cannon.
The Fort Worth Star-Telegram profiled Cigainero in 1987 and photographed him working on Grogan's guitar. Grogan still plays his Cigainero custom. I took these photos this morning while Grogan and Cigainero were getting ready to leave for the LJT music festival and chili cook-off.