Coastal-and-western singer Larry Joe Taylor christened the chili pepper guitar that Mark Cigainero introduced to the world yesterday at the annual LJT music festival and chili cook-off. The event runs through Sunday.
A few years ago, Taylor had joked around with Fort Worth guitar repairman and luthier Cigainero about building a pepper-shaped six-stringer. It took a while, but Cigainero finally went and did it. He toted the guitar to the festival to surprise Taylor (as reported here yesterday).
"Larry Joe loved it," said Rob Grogan, serving as my roving reporter at the music festival. Grogan photographed Taylor playing the guitar on stage last night.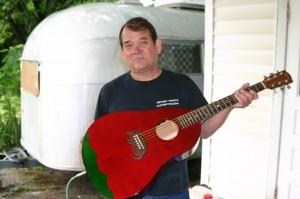 I referred to the guitar as "Pepper" in yesterday's article but later suggested that "Chili Nelson" might make a better name. So far, that name has stuck.
"Chili Nelson is going to be hard to top," Grogan said.
The guitar sounded excellent over the loudspeakers, Cigainero said.
"It took a minute to get it dialed in, but after that it sounded great," he said.  "It has a lot of punch and it put a big smile on Larry's face. He did some songs with  Deryl Dodd and Dave Perez from the Texas Brothers. Afterward, they all stopped by the side of the stage and took a peek at my weird little creation. Larry wants to play it again this weekend."
Yesterday's Blotch article is even turning Cigainero into a celebrity.
"Somebody recognized Mark already from the post and asked if he was the one who built Chili," Grogan said.
What next? Paparazzi? Groupies? Hangers on?
A guy can only hope.