When game time comes, Cardwell said, things get pretty serious. The players are representing their tribes, their schools, and their families.
"They've been jawing at each other all week," he said. "It's one of the hardest hitting football games you'll see. It's tribal. There's all of this pride. It's like, 'This is how we do it in Arizona!' "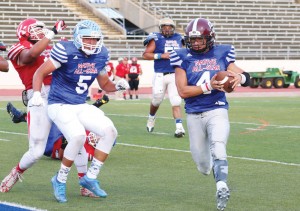 Since many players will not go on to play college ball, Cardwell said, they play as hard as humanly possible. It's their last game, after all.
Though one player was accepted to Stanford University, most are like the handful of Zuni players from 2011. All they wanted to do was get their degrees and bring football back to their former high school in New Mexico.
"Many won't leave, because that's their reservation," he said. "They don't need a lot of money. To know that every year we make a difference in these kids' lives that is going to affect generations of their family is the coolest thing. It's a magical feeling that is irreplaceable by any other means."
A lot of former players agree. Some come back just to help around, making Gatorade, taking out the trash, or washing laundry.
Last year, long after the game had ended, Cardwell stood looking out over the empty field at Maverick Stadium. An American flag waved in the background. He remembers thinking how happy he was that Kloza and his staff had already cleaned the field for him.
"I'm usually so tired, and then we have to pick up trash," Cardwell said. "I remember thinking, 'I love this guy, and I love this university.' "
Maverick Stadium was recommended to Native ReVision by the Arlington Chamber of Commerce. Everything clicked, Cardwell said. Now players can enjoy not just a football game but all of Arlington's entertainment options, including Six Flags and Hurricane Harbor.
The Native American Football Classic is much more than a game, Cardwell said. Playing ball, getting a taste of life on a college campus, and even getting to hear motivational speakers –– the Classic and everything it entails offers involvement and hope.
"We don't want to scare them, but we want to lead them into higher education," Cardwell said. "UTA is not an intimidating campus. They are comfortable here."
Cardwell said because the university is so culturally and ethnically diverse (and includes several Native American students), the players don't feel like they stand out.
"Higher education is a lot of stress," he said. "Traditionalists call you a sellout. They'll call you an apple: red on the outside, white on the inside. So that student has to deal with that."
Traditionalists focus on tribal ceremonies and do not place a high value on Western education, Cardwell said. Every young Native American loves his or her family, but he or she also wants to do better. Unfortunately, Cardwell said, there's no road map.
"My football players aren't lost," he said. "They graduated high school. No pass, no play. They did their homework, because they wanted to play football. [But] we've got to get these other kids to want to survive, to keep living, so they too can have dreams and goals. This is what Native ReVision stands for … to refocus where we're going, because we have got to correct this. Somebody has got to."
Karen Gavis is a student at the University of Texas-Arlington and freelance writer. She can be reached at karen.gavis@mavs.uta.edu.